Did you know soup can have sexy secrets? Take this Vietnamese Beef Pho with Coffee which is full of aphrodisiac ingredients to get your engine running AND you will not feel so full that you are too tired for a romping!
I bet you are surprised to see a Vietnamese Beef Pho as part of my Getting Sexy in the Kitchen Series. But all the spices and herbs in here are sexually potent stimulants. It is the perfect soup to serve on Saint-Valentine's day as it is a real "pho play" for the taste buds. Get it! I am so good at sappy sexy jokes!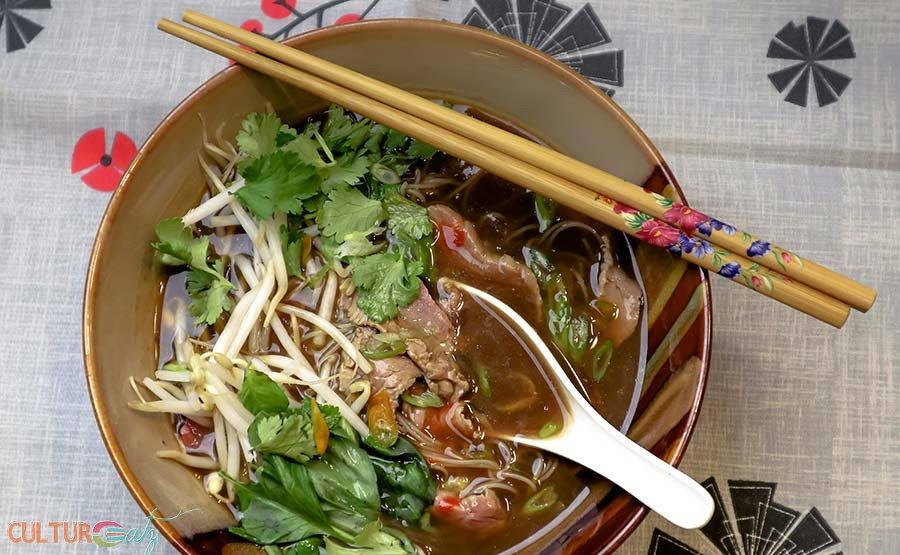 Whom do YOU Love the Most?
I am very sorry, but there is no way I will be able to top the shocking confession I made last week. But I have some good stuff to share still 😉
I know a lot of people resent Saint-Valentine's Day. Yes, it was invented as a marketing ploy. If you are in a relationship you better live up to your partner's expectation or there will be trouble. A couple who can't stand each other try to ignore it as best they cant. And the singles are sure there is a LOOSER tattoo stamped on their foreheads.
I say phooey! I say the most important person you should love is YOURSELF! If you don't love yourself, who else will. And if no one is bright enough to figure out that you are AWESOME, then you will still be fine on your own. Whether you are alone or in a relationship, make sure to regularly spoil yourself and be sexy too and for YOU.
Update: just released an awesome video about the Getting Sexy in the Kitchen Series – check it out!

How Can You Learn to Love Yourself?
Stop reinforcing negative thoughts you make about yourself. Check out cognitive behavior therapy worksheets online.
Sleep well, eat healthy, exercise and meditate.
Buy yourself flowers or treats. Splurge!
Learn to say no.
Keep a gratitude journal: write 3-5 things before bed that you appreciate.
Masturbate! Stop blushing and do it. You know how to satisfy yourself better than anyone!
Tell people in your life "I love you". I am talking about friends, close co-workers and family. If you don't say it chances are the others are afraid to say it too.
And spas are awesome to make you feel good.
I was invited by Espace Nomad to try the 3h30 Wonder Woman package (video review here) and let me tell you I felt freaking fantastic after. Come to think of it I was sorta on a blind girlfriend date as I went with my now new friend Heather, a full-time travel digital nomad (hate her! Nah, love her. She took the pic below).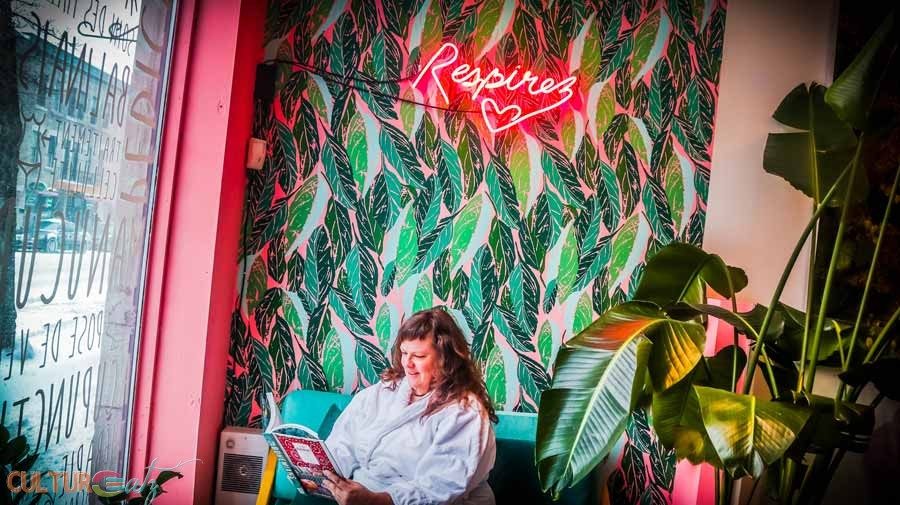 Photo credit: She Goes Global
Last week we took a look at savory aphrodisiacs with a Shrimp Bedded on Beluga lentils Snuggled by Pomegranate Fennel Salsa dish, and the week before it was sweet aphrodisiac foods with a Feeling Hot Chocolate Smoothie that is just so smooth it will get any partner into bed in a hurry. For the final Part 3, we will look at spices, herbs, and miscellaneous ingredients. Let's get every part of the menu involved in raising the internal heat!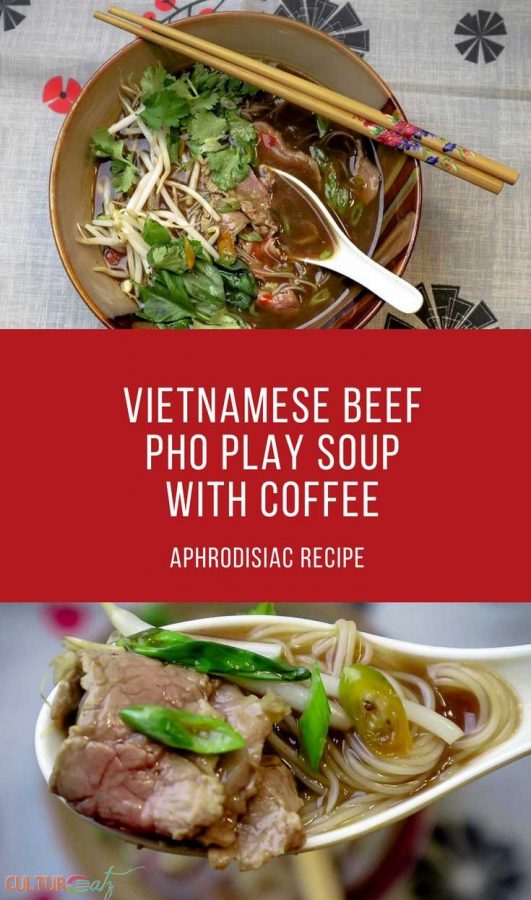 Consuming You Turns Me On
Aphrodisiac ingredients in this Vietnamese Beef Pho Play Soup with Coffee recipe:
Cardamom (in some Chinese five spice) can increase blood flow, particularly for a man's appendage.
Cinnamon (in the Chinese five spice) stimulates the senses and the sex drive, especially for women.
Coffee is a stimulant that cranks up the heart rate and increases blood flow.
Basil stimulates the sex drive and boosts fertility. The scent of basil alone can be a turn on for some.
Ginger warms up the body and increases the heart rate.
Sriracha/chili peppers can raise your heart rate and stimulate endorphins.
Other spices, herbs, and miscellaneous aphrodisiac foods include, but are not limited too, absinthe, bay leaf, garlic, ginseng, hemp, lavender, mint, mustard, olive oil, rosemary, saffron, seaweed, tarragon, truffle, and vanilla.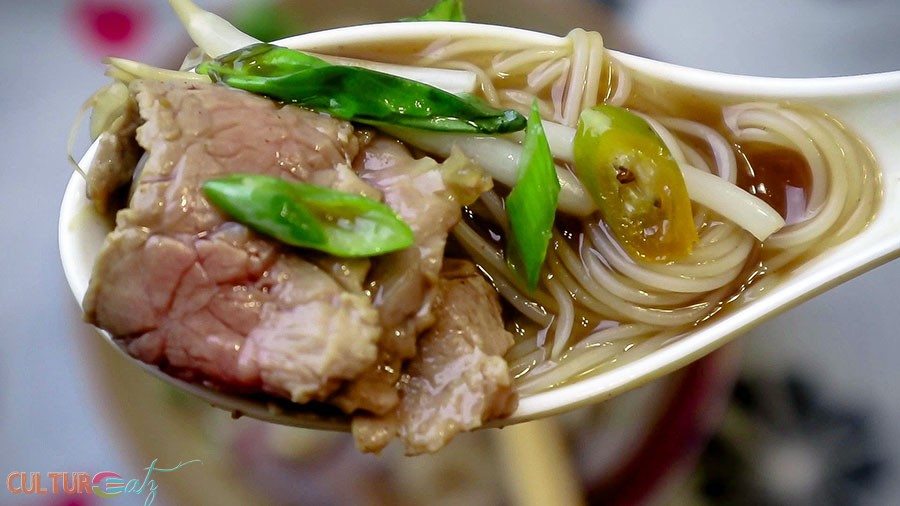 This may not be the most authentic recipe Vietnamese Beef Pho but it is pretty close. If you are taken aback by the coffee, you will not taste it. The many spices and herbs here make this soup oh so aromatic and flavorful. Plus it is pretty fast to make and the meat cooks right in the bowl once you add the piping hot liquid.
Include this main dish as part of a red recipe menu for Saint-Valentine's Day for your loved (lusted) one. Read my whole Getting Sexy in the Kitchen Series and find many more aphrodisiac recipes in this great post.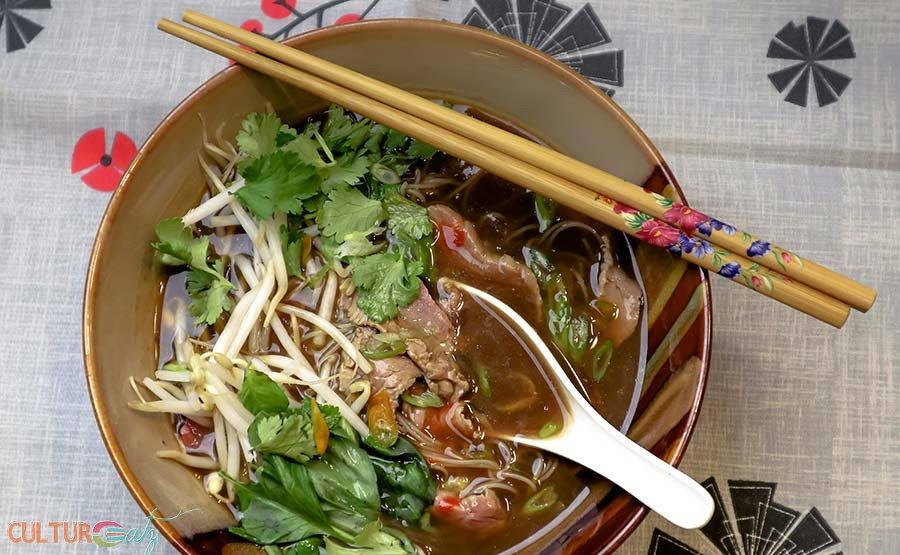 Vietnamese Beef Pho Soup with Coffee
This Vietnamese Beef Pho with Coffee is full of aphrodisiac ingredients to get your engine running AND you will not feel so full that you are too tired for a romping!
Ingredients  
3/4

tsp

Chinese five spice mix

3

cups

chicken stock

1

cup

light coffee

3

green onions

cut in 3

1 1-

inch

chunk of ginger

sliced

1

tbsps

sugar

2

tbsps

fish sauce

1/2

tsp

salt

8

ounces

beef

sirloin

1/2

lb

dried flat rice noodles

1

cups

bean sprouts

Fresh cilantro

1

green onion

sliced

Fresh basil leaves

1

lime

cut into wedges

Sriracha

Sliced fresh chili peppers
Instructions 
In a large pot, toast the Chinese five spice until just fragrant. Add the next 7 ingredients (up to the salt) and bring to a boil. Reduce to a simmer and cook for 30 minutes, skimming the surface if needed. Strain out the solids and discard. Adjust seasoning, if needed.

Freeze the beef for about 15 minutes. Take the beef out the freezer and immediately slice the beef across the grain into very thin slices with a very sharp knife, about a 1/4-inch.

Cook your noodles as per directions on the package.

Divide the noodles into two large bowls. Top with the beef slices. Then ladle the hot broth into the two bowls. It should be warm enough to just cook the beef in a few minutes.

Top the pho soup with accompaniments of your choice, such as bean sprouts, cilantro, basil, lime, sriracha and chili pepper slices. Serve immediately.