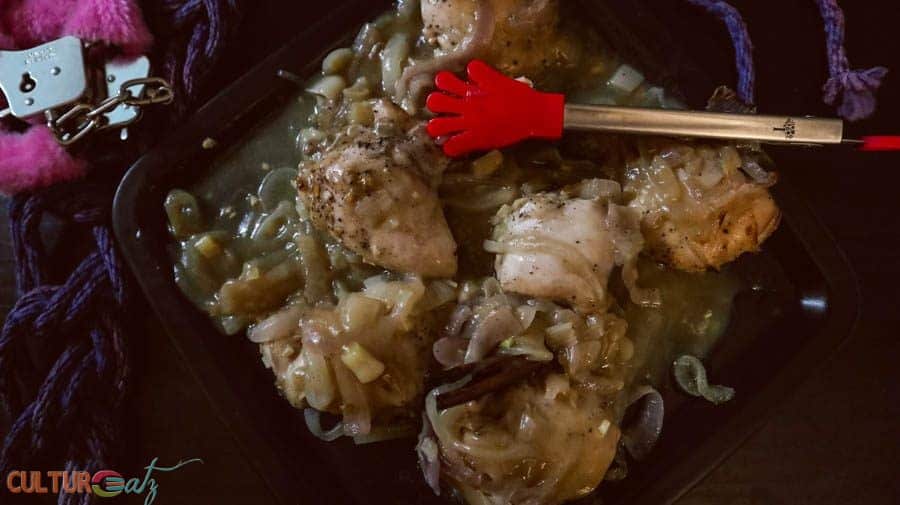 Can you resist these dripping thighs? Or I should say this roasted chicken thighs with sweet and sour onions recipe, loosely inspired by Fifty Shades Books. And the movie Book Club.
It's Food N' Flix time and I am once again hosting with the movie Book Club. A movie about four amazing women discussing the Fifty Shades books trilogy in their book club. It's not too late to join late, the last date to submit is Jan 27th. Come on, I know you want to submit to me! OK, I think the books are getting to me. Or can I tempt you with these dripping thighs?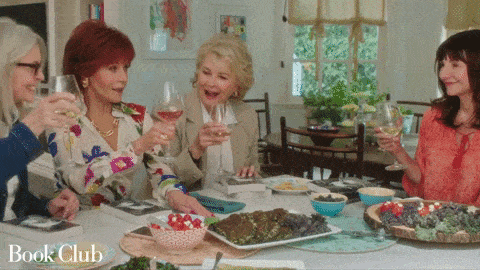 Book Club Movie
Book Club is a 2018 romantic comedy featuring huge stars as the main characters: Diane Keaton, Jane Fonda, Candice Bergen, and Mary Steenburgen. The male supporting cast consists of Andy García, Don Johnson, Craig T. Nelson, Richard Dreyfuss, and Ed Begley Jr.
Not a lot of spring chickens here! But that is exactly what the movie is about: the sexuality of mature men and women. It is not a topic that we see often, or want to discuss. But it is a very real subject. Fun fact: the currently fastest growing rate of STIs today is found in senior homes, not with teens! Yeah, your parents ARE having sex.
Ok, got a little off track there, let's get back to the movie. So these four ladies have been in a book club for decades. Every month one lady chooses the book and one day the first of Fifty Shades of Grey books is suggested too much opposition. But they read it anyway.
Over the next three months we delve into the personal and romantic lives of these ladies, and major life changes, spontaneous decisions, as they consume all three books. Every lady has a different scenario. So does every woman find love and a happy sex life in the end? Click here to watch the movie to find out!
Fifty Shades Books and Cookbooks
Have you read the books? I read the first one and I must admit it was not my cup of tea. I hated it actually, but I won't get that into that here as to why lol. If you read my Top Ten list of the books I read last year, you'll see it is not my kind genre.
But I did watch a couple of the movies, they were more entertaining. Are you a fan of the Fifty Shades of Grey movies or 50 Shades books? What I do love about the Fifty Shades books is the cookbook parodies that came out of it.
Did you know there is a cookbook called Fifty Shades of Bacon? And one called Fifty Shades of Chicken: A Parody in a Cookbook? This one is not directly inspired by the books but I am sure the idea was a bit inspired by the theme, the 50 Ways to Eat Cock: Healthy Chicken Recipes with Balls recipe book. I even own a copy that was gifted to me by my Sys Susan.
I have a FREE PRINTABLE for you
Surprise! I have prepared a Cheat Sheet that includes 41 Cooking and Baking Ingredient Substitutions that are commonly found in a kitchen. Click here to get your FREE Ingredient Substitutions Cheat Sheet right now!

Food as Prop
I admit this was an unusual movie choice for me. I am not into romantic comedies but I did not feel tortured while watching the movie. It was an OK film. Now I do realize that food is just a prop in this movie. Almost every meeting the ladies have is in front of food. So no food-based plot, but food scene set-ups galore.
And wine, they consume so much wine!
Food sightings in the movie: finger foods, crudité, sandwiches, so much wine, cheese, herb garden, oranges, snow cones, chamomile, airplane food, cream cheese stuffed tomatoes, kale, banana, lime, lemon, whiskey, grapes, strawberries, baguette, olives, vodka, coffee, broccoli, spaghetti and meatballs, salad, lamb, milkshake, onion rings, beer, ice cream from tub, meatloaf, and pizza.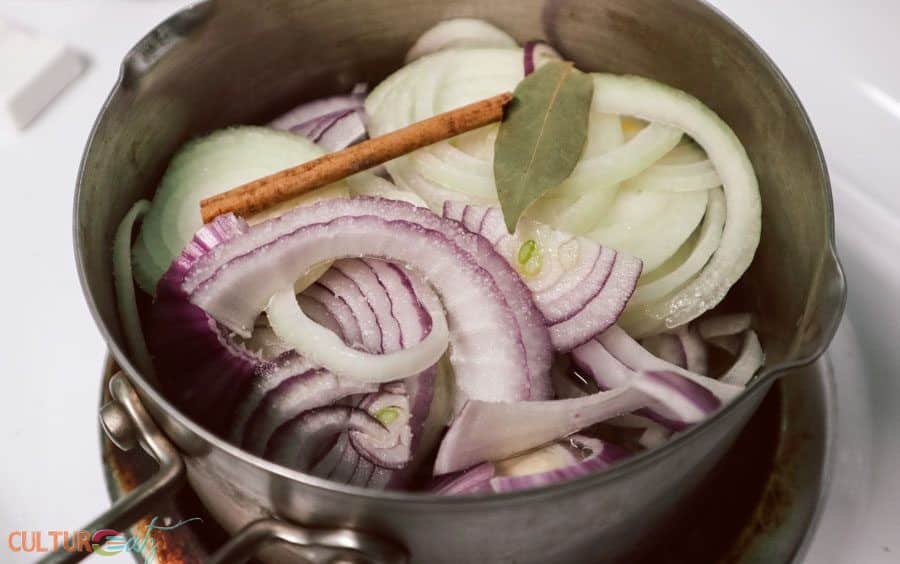 Dripping Thighs, it's just chicken people!
I was first tempted to do the ever trending cheeseboard with wine but a Fifty Shades recipe would be so much more fun and naughty! My recipe is from the Fifty Shades of Chicken cookbook. These roasted chicken thighs with sweet and sour onions, or titled Dripping Thighs in the cookbook, was inspired by the 50 Shades of Grey books.
It's actually easy to find the recipe online, there was a published pdf promo. I liked the onions and the sauce but the chicken was very bland. Next time, I would make it with added herbs to the chicken and more salt to the sauce.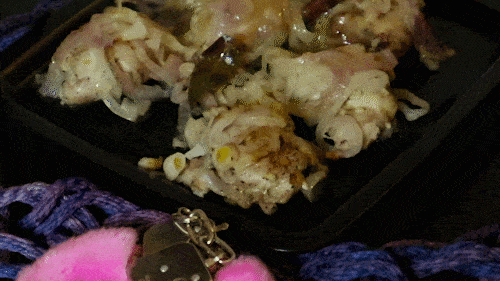 I have to tie in my Getting Sexy in the Kitchen Series in here, I have too! Chicken is not an aphrodisiac but honey and garlic are. Honey stimulates dopamine, inducing feelings of pleasure. Garlic improves blood circulation and also improves sexual performance in some men.
Oh and that myth about turkey or chicken making you sleepy, not true! On its own poultry is not a sedative as it has been claimed for so long due to tryptophan. What does make you drowsy is the tryptophan with carbohydrates. That is two amazing fun facts in one post! You're welcome!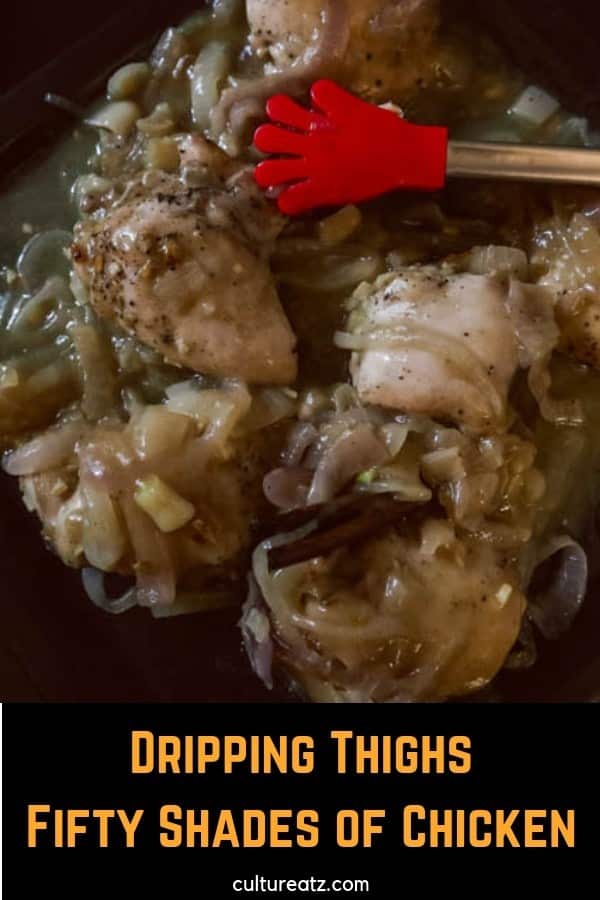 Dripping Thighs - Chicken thighs with sweet and sour onions
Can you resist these dripping thighs? Or I should say this roasted chicken thighs with sweet and sour onions recipe, loosely inspired by Fifty Shades Books.
Ingredients  
8

skinless chicken thighs

patted dry

2

garlic cloves

finely chopped

1

teaspoon

plus a pinch coarse salt

1/2

teaspoon

freshly ground black pepper

1

sweet onion

thinly sliced

1

cup

white wine

1

bay leaf

1

cinnamon stick

2

tablespoons

unsalted butter

1

tablespoon

honey
Instructions 
Preheat oven to 450° F. Sprinkle the chicken with the garlic, salt, and pepper. Toss gently and place onto a baking sheet. Set aside.

Place the onion, white wine, bay leaf, cinnamon stick, and a pinch of salt in a small saucepan. Bring to a boil, lower heat to a simmer and cook until most of the liquid has evaporated, about 15 to 20 minutes.

Stir in the honey and butter with the onions.

Spoon the onions and sauce over the chicken thighs. Bake for about 25 mintues, or until chicken is cooked through and onions caramelized a bit. Serve.
Food 'n Flix is hosted this month by me at Cultureatz! In this monthly group, a host picks a movie of their choice that pertains to food. Everyone watches the movie and then makes a recipe which the film inspired. It can be any recipe you want. Join us!
PIN IT FOR LATER! https://www.pinterest.ca/pin/266275396704800671