The east coast Halifax Donair specialty is something like a gyro, but all beef – no lamb. Rather than the traditional tzatziki sauce, donairs use "donair sauce".
Now I am pretty sure 95% percent of you are saying: a what? Well I was in that group as well, until the summer of 2015 that is, when I took a road trip to the Maritimes. And of course I looked up specialty foods I had to try. One of them was the Halifax Donair sandwich…and I thought to myself: a what? I am so happy to have been enlightened and by the end of this post I hope you will be salivating for one too.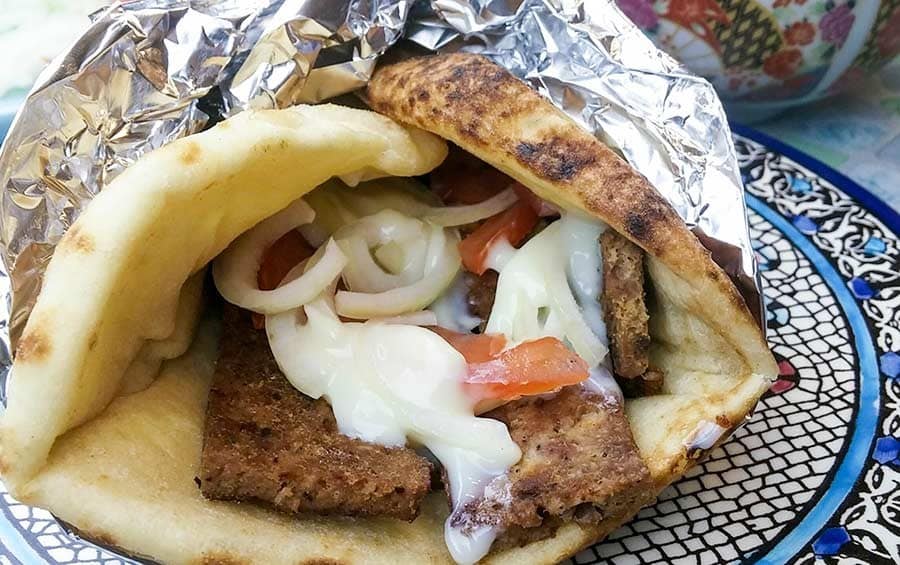 History of the Donair
Most people in North America are familiar with a Greek gyro sandwich, a sliced lamb meat sandwich you can find n some fast food courts. Well, there is also the Turkish Döner kebab, a seasoned meat cooked on a vertical rotisserie. The original Döner dates back to the 19th century from the Ottoman Empire.
So what does that have to with a Donair from Halifax, Nova Scotia? Well, when Peter Gamoulakos immigrated to Canada in 1959 he tried to sell traditional gyros but the idea of lamb scared the locals away. So in 1973 he adapted the recipe and made it with beef, some more local spices. The Donair sandwich was a hit, so much so that in 2015 Halifax named the Donair the official food of the city.
Yes, the donair is as Canadian as its famous counterpart, the Caesar drink. It's like a Bloody Mary but better, with Clamato juice (a mix of clam and tomato juice. You can learn more about the Caesar drink here.
PIN IT FOR  LATER ! https://www.pinterest.ca/pin/266275396702541564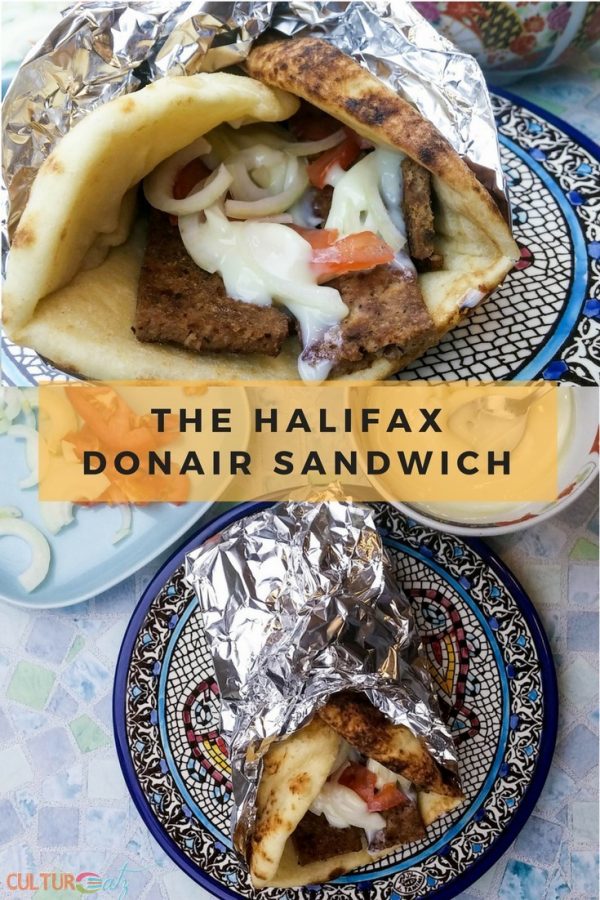 Kind of ironic that the Donair was named the official food of the city in 2015 when that is exactly the year I had my first Donair. Halifax was a day stop during my 9 day road trip to the Maritimes (lots of pics from that trip here). I was a little disappointed to see the small fast food establishments that sold it. My expectations were low. Well I literally ate my words: that was one really good sandwich. The meat was unique and good, I liked the thick pita bread and the sauce.
Yes you can make a Donair at home
But I never thought this sandwich could be done at home. Well yes it can! The meat is basically a meatloaf. But to get the fine dense meat texture you pulverize the whole meatloaf mix in a food processor first. Once it is cooked and cooled overnight, you can slice it up in the traditional rectangle shape. And then you fry each piece up into a crisp meat.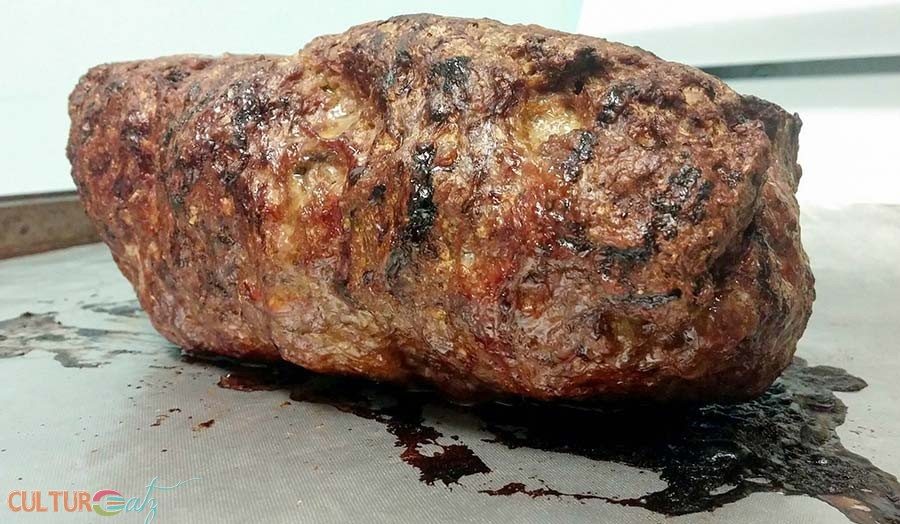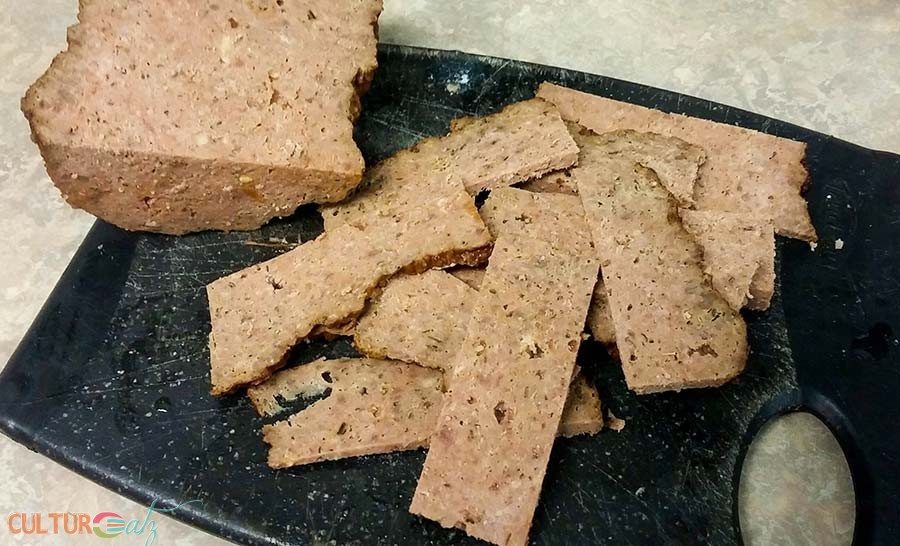 Now you get yourself a pita bread or a flatbread, pile on the meat, some chopped onions and tomatoes. The final touch is a healthy dose of the donair sauce. And let me tell you, I was shocked when I saw what this deliciously sweet sauce was made out of:condensed milk, vinegar and garlic salt. What?
Yeah, that sauce sounds crazy but it is so good. You will need a piece of aluminium foil to warp up that baby of a sandwich in order to enjoy every bite. Otherwise you will find yourself covered with bits and pieces of this yummy and filling sandwich. Who wants one?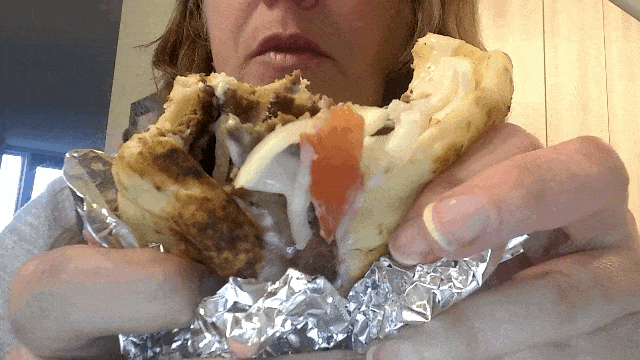 More Canadian Goodies
I found this Donair recipe in one of my now favorite cookbooks: More Than Poutine. It was written by Marie Porter, a Canadian Expat who now lives south of the border. She missed certain Canadian foods she just could not source in her new home country. So she decided to write a book and asked around what other Canadian Expats missed eating. And what perfect timing as Canada celebrates 150 years this year.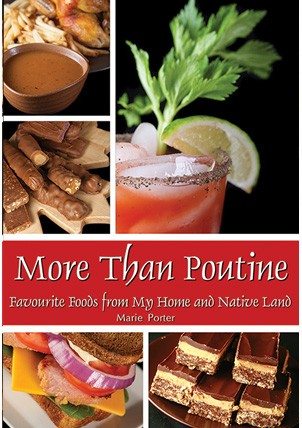 Want to discover Canadian classics? Find them all here in the More Than Poutine: Favourite Foods from My Home and Native Land cookbook by Marie Porter.
Click below to get the More Than Poutine cookbook …
in the US  in Canada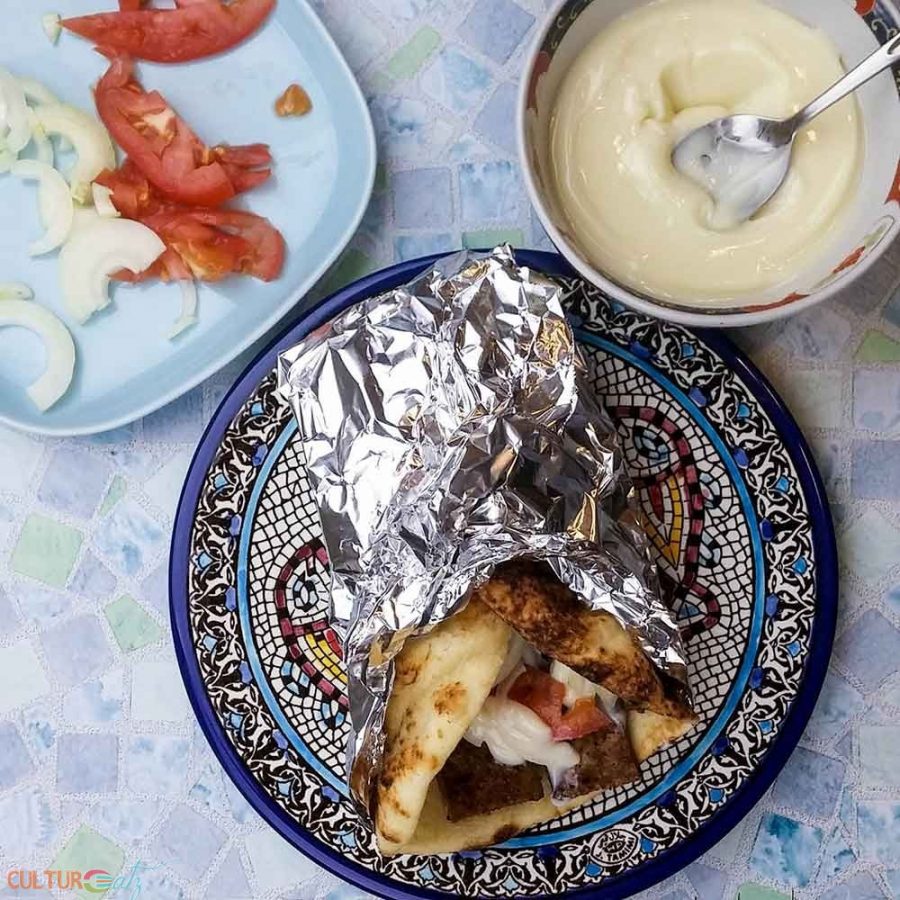 Now the book contains all the classics I am familiar with like tourtière, butter tarts, naniamo bars, Montreal bagels and smoke meat of course, those oat cookies I still want to make that I had in Cape Breton, bannock, cretons, pea soup…..OK I could like go one for a long time.
One can find a whole bunch of cleverly renamed copy cat recipes too like Deep and Delicious cakes, Saint-Hubert BBQ sauce, Jos Louis cakes…and like every Canadian candy bar out there.
What shocked me was how many Canadian food I had never heard about. We are such a large country it makes sense to have local specialties……but I never heard of green onion cake, ginger beef, rappie pie, pease pudding, honey dill sauce, or Beep juice.
I am going to enjoy exploring this book!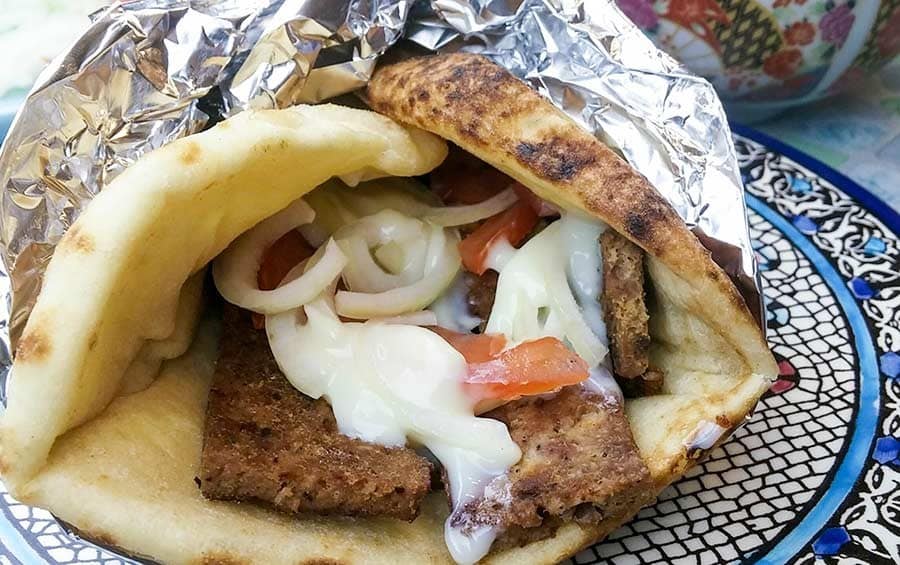 The Halifax Donair
The east coast Halifax Donair specialty is something like a gyro, but all beef - no lamb. Rather than the traditional tzatziki sauce, donairs use "donair sauce". For gluten-free, use gluten-free pitas.
Ingredients  
1

Medium onion

3

lbs

Lean ground beef 1 1/2 kg

1

Tbsp

Corn starch 15 ml

1

Tbsp

Garlic powder 15 ml

2

tsp

Ground black pepper 10 ml

2

tsp

Oregano 10 ml

1 1/2

tsp

Cayenne powder 7 ml

1 1/2

tsp

Salt 7 ml

1

tsp

Paprika 5 ml

1

can Sweetened condensed milk 300 ml

1/3

cup

White vinegar 75 ml

1

tsp

Garlic powder 5 ml

12

Pitas

1

Onion

thinly sliced

1

Tomato

chopped
Instructions 
Preheat oven to 325 F (160 C). Peel and chop onion, pulse in a food processor until pureed.

Dump onion puree into the middle of 2-3 layers of paper towels or cheesecloth; gather the edges and squeeze all of the liquid from the onions. Return onion solids to the food processor, discard liquid.

Add about 1 lb of the ground beef, the corn starch, spices and salt to the food processor, process until it's a creamy paste. Add another lb of beef, process again until smooth. Add remaining beef, process once again until smooth, scraping down the sides of the food processor to ensure that everything is smooth. Form meat mixture into a large log shape, place onto a broiling pan/rack. Bake for 2 hours, flipping loaf over at the halfway point.

Once 2 hours are up, remove from oven, allow to cool to room temperature. Wrap cooled loaf in plastic wrap, chill for at least 8 hours, or overnight.

In a medium mixing bowl, combine sweetened condensed milk, vinegar, and garlic powder. Use a whisk to mix together the sauce ingredients - it'll take some time, but it will eventually come together. Once well combined and hick, transfer to a covered container, chill until use.

To Assemble: Brush pitas with a little water, heat in a hot frying pan until warmed through.

Heat a little vegetable oil in a frying pan. Slice donair meat into 1/4" thick slices, add to pan and reheat until desired texture (If you like the crispy edges, cook a little longer than you would if you don't!). Pile reheated meat on warm pita, drizzle generously with sauce, top with onions and tomatoes. Wrap in wax paper, parchment paper, or foil to hold it together while eating, serve immediately.
The products featured in this post were provided to me free of cost. Any personal opinions reflected in this post are my own and without influence.