So we are all good friends here, right? We all love food and recipes, pretty place settings and new kitchen gadgets. So do you like me enough to accept a dark secret, a skeleton in my closet? OK, here is goes. I can be a real geek! Please don't judge me. I enjoy the occasional sci-fi flick, I have read The Hobbit and all 3 Lord of the Rings, a fabulous childhood memories include watching William Shatner as Captain Kirk on Star Trek with my dad. Captain Jack Harkness is a babe, and Jim Moriarty is deliciously frightening and sadistic.
Funny how us geek girls can find each other. One fellow food blogger, Tasty Trix, that I have been reading for a long time always appeared so normal, so proper. But she made one mistake: she made too many Moriarty comments on a social account. That is when I knew we were part of the same league. She showed her true colors even more when she was overjoyed by an incredible find I made: there is a published cookbook based on Dr Who. Yes, it is true! It is called Dining with the Doctor: The Unauthorized Whovian Cookbook.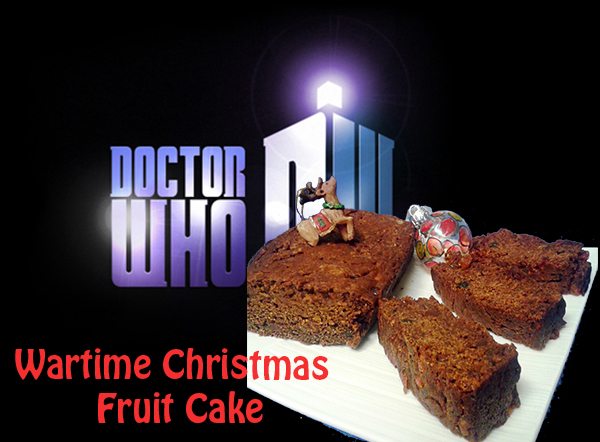 Well we both thought this cookbook was worth a celebration. That is why Tasty Trix and I are hosting our very own Time of the Doctor party today in honor of the upcoming Dr Who Christmas special where the doctor will regenerate into his 12th incarnation. To celebrate we both prepared some recipes from the cookbook. Please visit her blog right after you finish reading mine and partake in this great foodie Whovian celebration with a Charles Dickens' Own Christmas Punch!
I have prepared two recipes for you today. One is dedicated to one of my favorite episodes entitled Blink. I'll tell you more about below but the recipe for this episode was Weeping Angel Chicken Wings. But first I wanted to stay seasonal and make a traditional fruit cake. Of course it is not just any fruit cake, but the Wartime Christmas Fruit Cake which was inspired by the 2011 Christmas special The Doctor, the Widow and the Wardrobe.
Dining with the Doctor: The Unauthorized Whovian Cookbook was written by a fellow awesome geek of the female persuasion, Chris-Rachael Oseland, who spent a year rewatching all of series and creating a recipe for every single episode. Yes you can finally make your own Fish Custard Tacos, Cinnamon Pull Apart Crack in the Wall, or enjoy a cup of the Pond's Wedding Punch. The cookbook is filled with entertaining  recipes and are absolutely not gourmet. But fun it is! And on that not just wanted to mention we received no compensation or free book copies as an incentive. Trix and I are doing this just for kicks.
The Doctor, the Widow and the Wardrobe (Series 6 episode 14) was the 7th Christmas special since the series' revival. The year was 1941 and the setting was the London Blitz. Long story short, a recent widow and her 2 children are taken on a 'trip' by the Doctor through a time portal to a snow-covered forest and soon an adventure follows.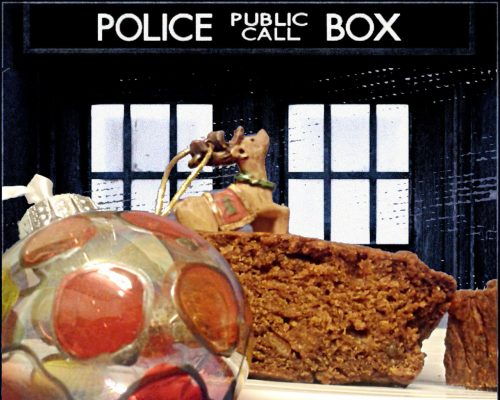 The end of the episode keeps the recurring scenario each Christmas special has: the Doctor tries to slip away from a family's Christmas celebration but ends up being forced to stay and reluctantly has a good time. I like to think deep down he really enjoys these parties as it gives him a wonderful glimpse into the kindness of humans.
During WWII food was rationed. Flour, butter and milk were considered luxuries. But leave it to us humans to find creative ways to make best with what we have. The Wartime Christmas Fruit Cake is such an example. You will find the full recipe in the cookbook but to give you a rough idea this cake is made with proper English strong tea, flour, baking powder, baking soda, margarine, a little bit of sugar and candied fruit. No eggs!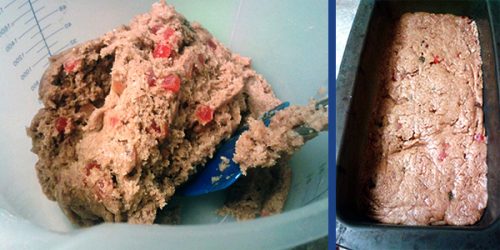 It is not a fancy cake and the dough was kind of really heavy. But it was actually much better than I had expected. Making this cake reminded me of how lucky we are today.
Blink (Series 3 episode 10) would have to be one of my favorite episodes ever. Why? Because it had one of the trickiest and creepiest 'bad guys' concept ever! They are recurring characters thoughout the series. Imagine being surrounded by statues of Weeping Angels, there hands always covering their eyes. So sad and beautiful.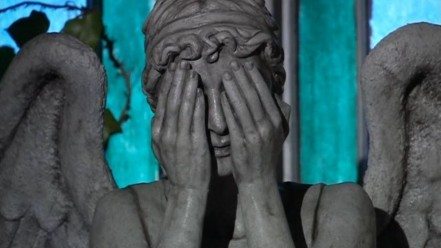 But don't blink because when they are not observed the Weeping Angels move very fast and they have the power to send you back in time with a touch, which creates time energy for them to feed on. You are safe as long as you always look at them because they immediately freeze and turn to stone.
Weeping Angel Chicken Wings are a perfect recipe match for this episode. Nothing beats a homemade batch of lightly battered and barbecue sauce drenched chicken wings as you sit back and watch your favorite show. You can find the complete recipe in the cookbook. They are very good. As you can see below even the Weeping Angels cannot resist them!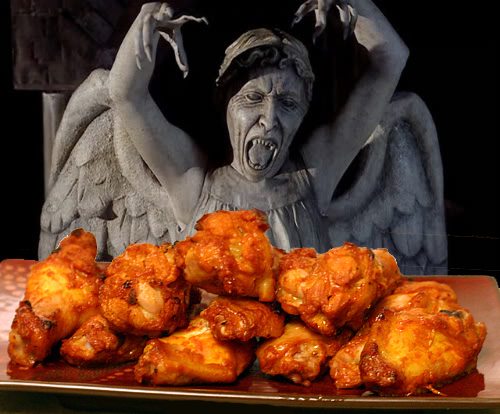 I hope this post has inspired you to discover this great TV series. Believe it or not I only watched it in the last year but I gobbled it up in a few months. I used to make fun of Dr Who fans. I am a Dr Who fan now. I was glad that I was able to enjoy the recent 50th anniversary Dr Who special as a fan. I am also a big David Tenant fan, the actor who played the 10th Doctor, so it was such a joy to see him again.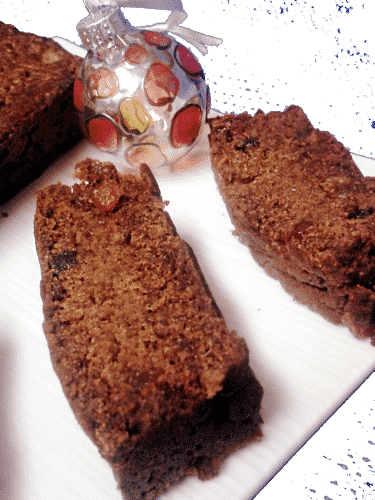 So you can be certain that this December 25th I will be glued to the TV for a bit and will be enthralled by this year's Christmas special The Time of the Doctor. Apparently this episode is the first Christmas special to feature multiple monsters, including the Cybermen, Silence, Daleks, and Weeping Angels. More importantly we will see the regeneration of the 12th Doctor which will be played by Peter Capaldi. He will have big shoes to fill. I am so excited!!!
Thank you again Tasty Trix for this really fun Dr Who party, make sure to visit her blog right after you comment here below. I promise it will be a real treat!