Don't you think guests would fall in love with this Christmas Bundt Cake? A bundt cake makes any cake look more festive; and the floral and ribbon touches evoke the Jane Austen setting for this month's food film.
It's Food 'n Flix time again! In this monthly group a host picks a movie of their choice that pertains to food. Everyone watches the movie and then makes a recipe which the film inspired. It can be any recipe you want. This month's pick is hosted by Kimberly at Coffee and Casseroles, who she terrified us into watching the movie The Jane Austen Book Club, for which I prepared a Christmas Bundt Cake!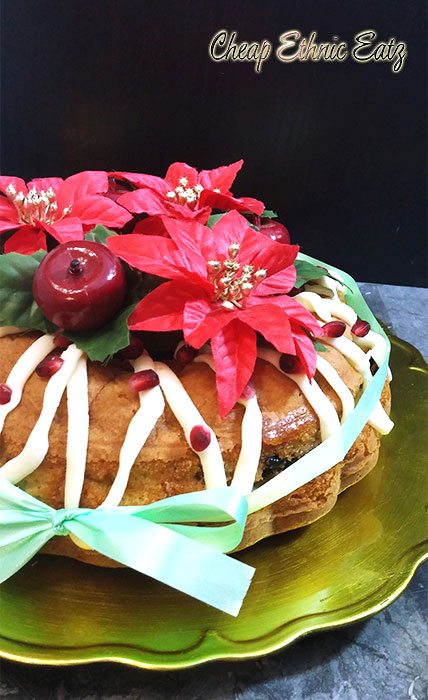 *** UPDATE: Did you know I am rebranding my blog? New name and moving to a new domain very soon. Curious to know what my new blog will be called? Read all about the big new name reveal and what will happen next. I am so excited and I cannot wait to see what you all think! ***
The Jane Austen Book Club movie focuses on a group of 6 characters, each with a story to tell, that decide to meet once a month as a book club specifically starring the six novels written by Jane Austen. Each member of the club finds a parallel between their life experiences and the themes of the books they are reading. So I thought the movie was just OK. Its very light and very Hollywood for my taste, kind of a chick flick if it was not for one male book club member. My favorite part of the movie is how each monthly meeting ends up in unusual and unexpected settings! The most disturbing thing of the movie, and this is really just for me, was the male club member who happens to play Will in the TV series Hannibal, and seeing him cute and normal was bizarre lol.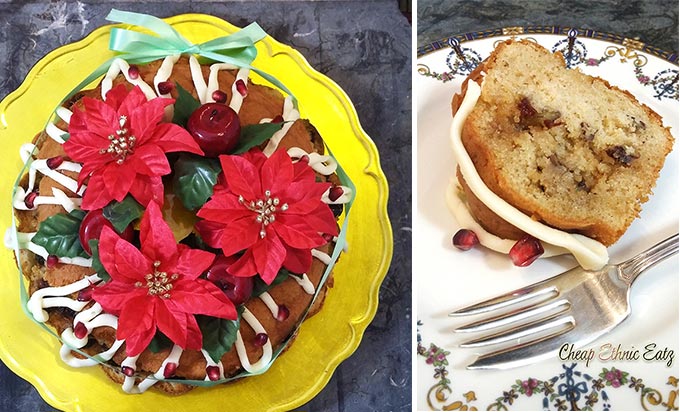 It was not easy picking a recipe to make for this post. Food is very present in this movie but it takes a major back seat. Every book club meeting is centered around food but the movie never focuses on he food. One character mentioned making a flan, lots of coffee was consumed, and besides that there was a lot of food companies product placement. So I went on a long research about food during the Regency era instead, the time where most of Jane Austen's stories took place.
It was another world of food during the Regency era: presentation ruled and a large number of dishes would be served at once on the table. Many recipes are just not popular nowadays, or I was just not equipped to prepare them. But I thought a Bundt cake with an elaborate presentation would fit the bill. Cakes were very floral, lacy and romantic. Here is my Christmas Bundt Cake, a version of a cake Jane may have served to guests during the holidays.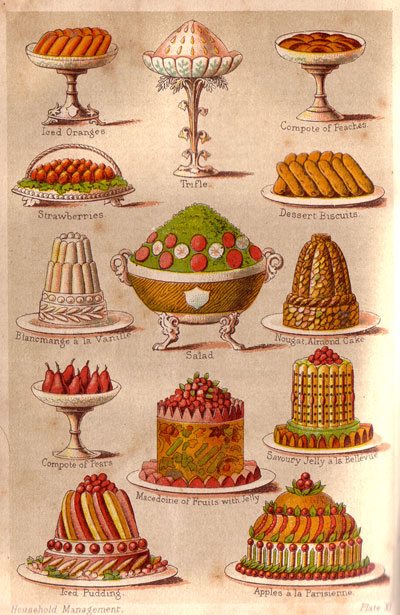 Something Jane would never have been able to do: this is super cool as I baked my Christmas Bundt Cake in a convection toaster oven I recently received for review from Hamilton Beach. Yes I could fit a bundt cake mold in a toaster oven! I'll tell you more about the toaster oven later in the post but let me say now the Christmas Bundt Cake baked beautifully and was ready exactly on time as the recipe mentioned. I was really impressed.
My Christmas Bundt Cake is adapted from a Honey Bun Cake recipe. I know what you are thinking: this recipe is made from a mix, shame! Well you have no idea what my life has been like lately so I made due with the time I have. And I must say I have had some successful cakes made from cake mixes when you know how to tweak them right. The results can be just as spectacular, as was the case with this delicious cake.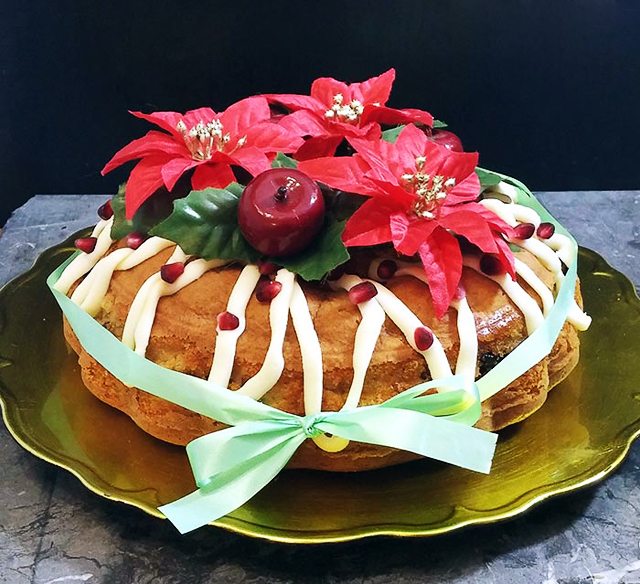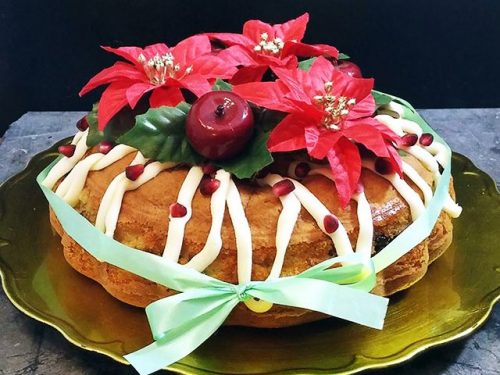 Christmas Bundt Cake, Regency Style
Ingredients  
1/2

cup

packed brown sugar

1/2

cup

sugar

1/2

cup

pecans

chopped

1/2

cup

dried cherries

chopped

1

package

18.25 ounces yellow cake mix

1

tsp

ground cinnamon

1

tsp

ground ginger

2/3

cup

vegetable oil

4

eggs

1

cup

sour cream
Instructions 
Preheat oven to 350 degrees F (at the bake setting for convection toaster oven)

Grease bottom and sides of a Bundt pan with shortening; lightly flour.

In a small bowl, mix brown sugar, white sugar, pecans and dried cherries until well blended; set aside.

In a large bowl, beat cake mix, cinnamon, ginger, oil, eggs and sour cream with an electric mixer on medium speed for 2 minutes.

Spread half the batter in the pan, and evenly spread sugar mixture over the batter. Spread remaining batter over sugar layer.

6. Bake about 55 minutes or until toothpick inserted into the center comes out clean.

7. Allow cake to cool 10 minutes and turn onto a plate. Decorate.
I live alone and for me a toaster oven is an essential appliance. Being able to prepare certain small dishes without using the stove's oven is very important to me. It is a waste of energy. I particularly love baking fish in my toaster oven. Now the one I had worked OK but I bought it 2nd hand about 12 years ago. The door did not really shut completely close anymore and it was small. So I was thrilled to be offered the 6 Slice Convection Toaster/Broiler Oven by Hamilton Beach for a review.

I just love it! I love the metallic red color. I love how big it is inside. I can really bake in this thing. I can prepare a store bought pizza in this thing. I can explore convection cooking in this thing. I did a small chicken with the convection setting and it was great. Either you cook at the same temp for less time or lower the heat and bake for the same original time. If you have not owned a toaster oven in a whole, now may be the time to reconsider getting one as they are so much versatile and accommodating than the old kind. Here are some key features of this model:
Saves time & energy – reheats 28% faster and uses 71% less energy*
Convection cooks more evenly – fan circulates heated air around food to cook more evenly than a traditional oven
Fits 6 slices of bread or 1 – 12″ pizza
Bake, convection, broil, and toast settings
Timer with auto shutoff
Slide-out crumb tray
Bake pan & broil rack included