Since I announced my plans to rebrand my blog a few weeks back, I feel like many of you have been on pins and needles, waiting with bated breath for me to tell you my new blog name. Well, you have all been good boys and girls this year so
I am giving you all a Christmas present

. I will reveal my new blog name in this post!

I am shaking with excitement as I write this post about my new blog name. It feels like this is the NO TURNING BACK point! Re-branding is a big job and you spend a lot of time pondering and brainstorming. It is a super exciting and nerve-racking process. I decided to do it without everything being finalized. Why do you ask? Because if you wait for every item to be ready, that day will never come. So I am jumping into the process publicly and I hope we will all learn from my experience.

Why change names?
Cheap Ethnic Eatz will have seen the light of day for 8 1/2 years. When Cheap Ethnic Eatz was a dinner group the name worked fine. It was self-explanatory: we went to affordable exotic restaurants. Without the dinner group, the name always felt a little off. Cheap: kinda negative. Ethnic: kinda off-putting for some potential new readers. The only world I still liked was Eatz.
So my blog M.O. is not changing. It will still be about discovering the different cuisines, ingredients, and flavors found in dishes from around the world. I will further develop a new section dedicated to Montreal as well for those who may come to visit one day. But in the end what really prompted the re-branding decision was the current name. I wanted a sleek, modern and sophisticated name.
Stop making us wait, what is the new blog name?
What will be my new blog name? Have I made you wait long enough hi hi? It will be…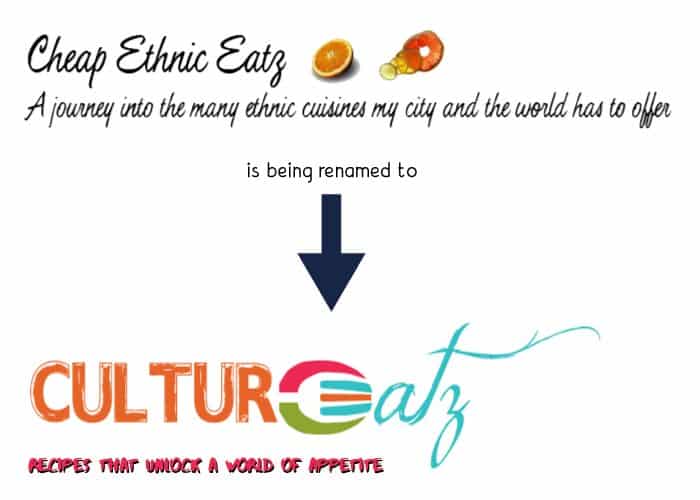 CulturEatz
Culture and Eatz coming together as one word.
I am so in smitten with it.
What do you think?
The new Logo
The logo will be a work in progress but I am thrilled with this first version. I originally envisioned a new blog name with the word "fork" in it, like to the point that I was window-shopping for original forks on Ebay for inspiration. When I dropped the idea of a domain with the word "fork" I set that concept aside. But I really liked the idea of a fork.
When I settled on CulturEatz I started playing around with logo ideas and thought of keeping it all text except for the shared 'E'. I google 'eats logos' and wouldn't you know it, I saw a few forks used to represent the 'E' so I played with my own design. And notice how the outside of the E mimics the C in culture? I am really happy with this first proof.
Do you like the new logo?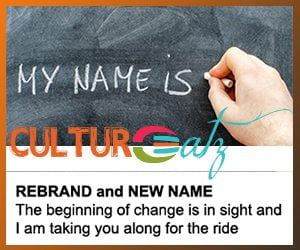 What should you, the reader, expect next?
Cheap Ethnic Eatz will move to CulturEatz in early January 2016.
What a wonderful way to start the new year. My first post of 2016 will be on CulturEatz! When you will visit CheapEthnicEatz for the first time in January you will be taken CulturEatz.com as if by magic. Save the new link now! If all goes well, every post and URL will be permanently redirected to CultureEatz. All forms of subscriptions (newsletters, RSS feed, new post email notification, Bloglovin, etc) should still advise you of new posts on the new domain. If subscriptions are no following through please advise me at cultureatz [at] gmail [dot] com
The only thing I will change right away will be all my social media accounts. Call me paranoid but I read some losers steal social profile names of bloggers who announce their name changes. I will just do this step right away.
Check out the 7 Blogging Mistakes You Should Avoid
This is just the beginning, we have a lot of designing to do.
Over the next coming months, I will make a lot of visual changes to the new blog. Change of template, play with fonts and presentations. And you get to see it all happen. I would love your feedback along the way. No rush, I want to get it just right and it will take time. But that is part of the fun.
I feel so elated to share this new name with you. Of course, I feel sad to move away from Cheap Ethnic Eatz but the future is filled with new possibilities!
I could not do this without you, my readers. I thank you from the bottom of my heart for checking out my latest posts and all your amazing encouragement. Happy Holidays!