Spend less time in the kitchen and more time with your guest by hosting a Spanish tapas night, with quick recipes like this Chorizo in Red Wine recipe.
Tapas are a small portioned appetizers typically served in Spanish bars. There is a huge variety of tapas and many local specialties. When I was in Madrid (way too long ago) I did like the locals and enjoyed a full diner by traveling from bar to bar and trying various tapas with a little glass of wine. A really fun night! And in many cities around the world, Spanish restaurants flourish with this concept. The tapas meal is perfect to socialize and encourage conversation when with friends and family. Having a tapas night at home can be lots of fun too. One great tapas recipe to try is the one in today's post, Chorizo in Red Wine.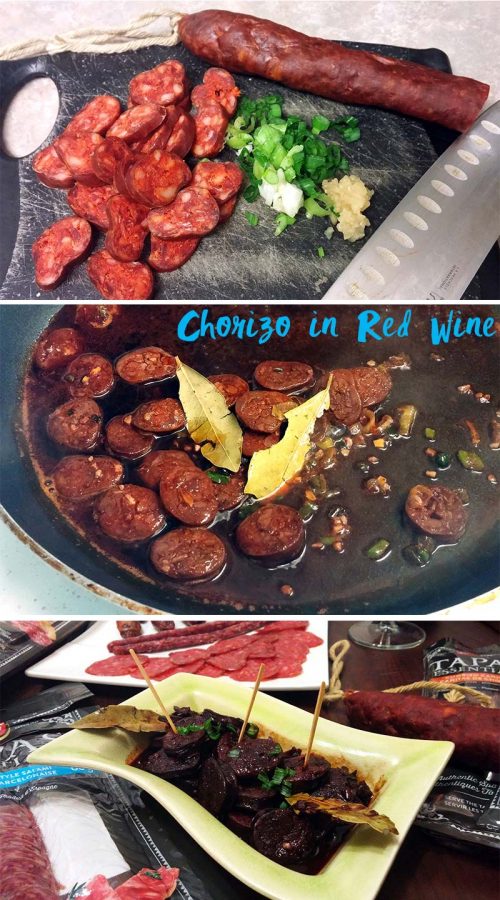 I won't go too deep into the history of tapas because I think most people are familiar with them. Now as to the origin of the word tapas, that is worth an investigation, I came up with 2 versions I favor. In both version everyone agrees that the word "tapas" is derived from the Spanish verb tapar, which means to cover. One story says the concept originates from bar owners covering the top off a wine glass with cold meat slices so dust and dirt would not get into the wine. People started to eat the meat too!
But I kind of prefer this other story: travelling in older days in Europe was a slow and exhausting prospect due to the bad roads, some old Roman roads and others trails dating from the Middle Ages. And most people did not know how to read or write. So your are tired, have no energy, and cannot read the menu of the Spanish inn you booked for the night. Smart innkeepers started serving a sample of the dishes available on a pot cover (tapa) so guest just tasted and pointed at what they liked.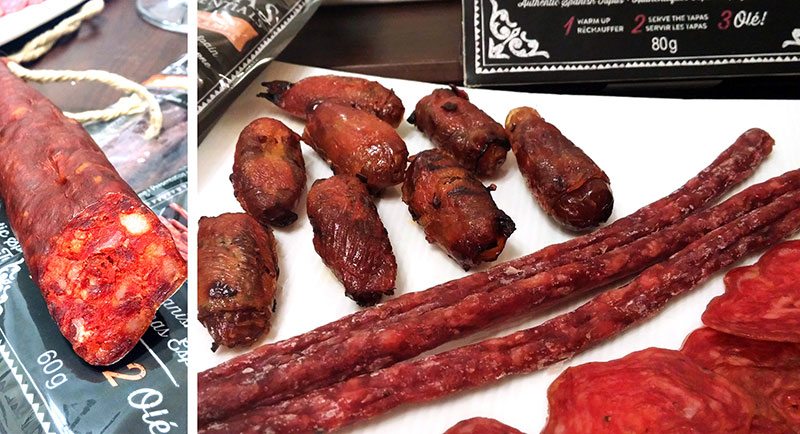 Although most tapas recipes are not hard to prepare, the idea of preparing 6 to 8 different dishes can be overwhelming. Espuña tapas essentials are here to come to the rescue. You can still prepare a few tapas yourself, but Espuña now offers Canadians 18 heat-and-serve and ready-to-serve traditional Spanish tapas which will cut down on your prep time dramatically. I really enjoyed the bacon wrapped dates that you simply pop in the microwave before serving.
They also have a great selection of traditional Spanish-style cured meats (check out all the products on the Espuña Canada facebook page). They are a Spanish company which has just entered the Canadian market. I was rolling in cured meats there for a bit: from slices of Barcelona Style Salami, a couple of whole salamis – like the Olot salami – and a big selection of single serve size cañitas (sticks). You can taste the quality in every Espuña product, my favorite hands down was the Chorizo salami. Loved the heavy paprika taste. It was perfect for this Chorizo in Red Wine recipe.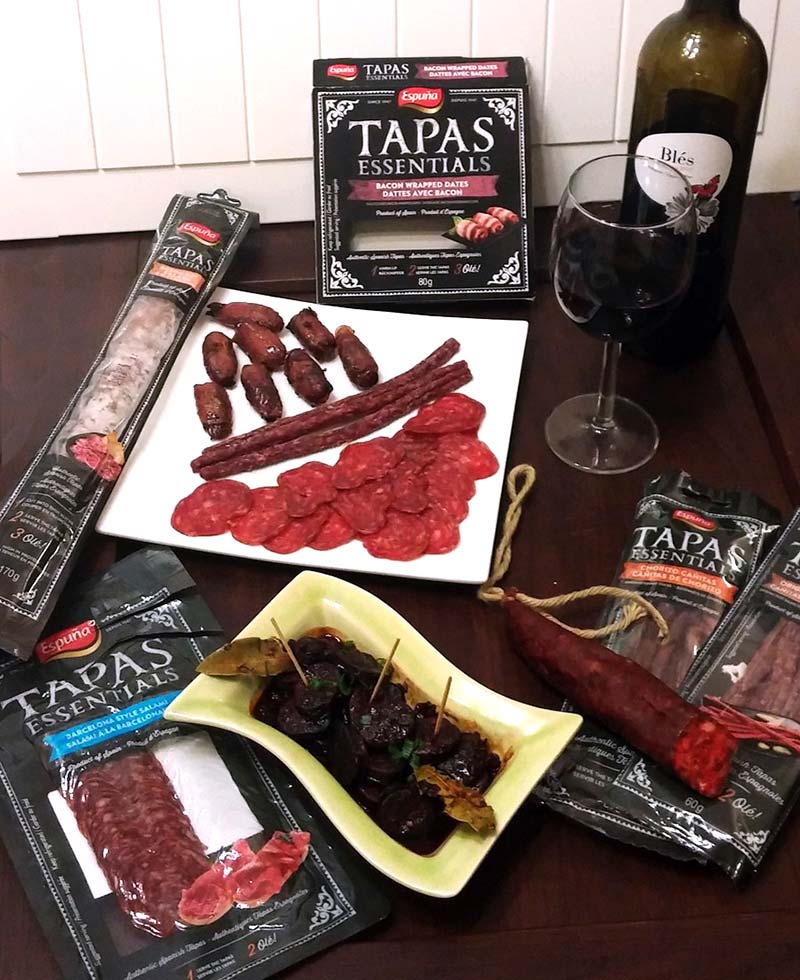 Normally this recipe is prepared with fresh Chorizo sausage but I was ready for the challenge to use a cured meat version. I just cut the quantity in half (weight) and cut down on the frying time. Oh what a great tapas! The red wine sauce was so unctuous as well. I had a bit left over and I drizzled it on a slice of quiche, heaven! And make sure to pair your tapas meal with a lovely bottle of Spanish red wine as well, like I did 😉
Have you ever had a tapas meal?
What is your favorite tapas recipe?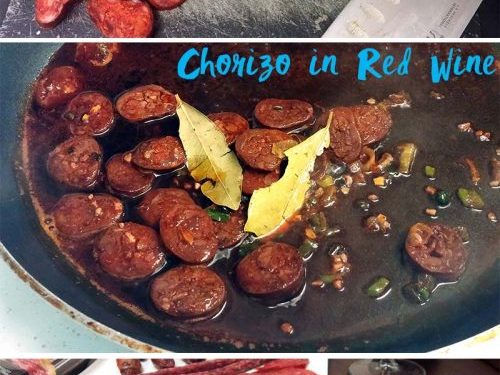 Chorizo in Red Wine
Ingredients  
1

tbsp

olive oil

2

shallots

finely sliced

1

garlic clove

finely chopped

200

g

fresh chorizo or 100 gr salami chorizo

1

tsp

smoked paprika

2

bay leaves

3/4

cup

red wine
Instructions 
Cut chorizo into slices about 1/4 inch thick and set aside.

Heat the olive oil in a pan on medium. Add shallots and cook for 2 minutes, then add the garlic and cook for another minute.

Add the chorizo to the fryingpan and cook for about 3 minutes, or until they start to crisp up.

Throw in the paprika, bay leaves and red wine. Cook until most of the wine has evaporated off and the liquid has the consistency of a rich glaze. Serve with toothpicks.
The products featured in this post were provided to me free of cost for review. Any personal opinions reflected in this post are my own and without influence.