Do yourself a favor and give in to one of the latest trends: Chocolate & Tea Pairing. You will be blown away by the wonderful flavor combinations you may create.
I have been back from my vacation for a week now already and I am having the hardest time ever getting back to real life and routine, including blogging. But worry not I am getting back into the swing of it and I will soon bring you a slew of new posts; from great new recipes, the continuation of my broth series, and of course a post about my South and Central American cruise. In the mean time I would like to share with you my newest experiment of mixing teas and chocolate.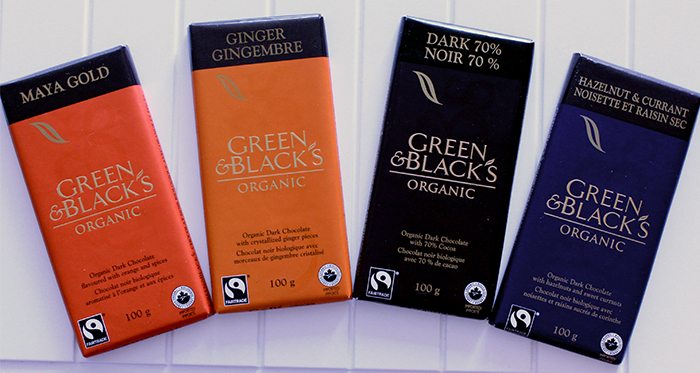 With Mother's Day approaching, Green and Black's Organic is inviting you to celebrate Mom with a hot new trend – pairing organic tea with organic chocolate to create complementary and mouthwatering flavours. I recently have developed a whole new appreciation and respect for high quality teas. Mixing it with chocolate seemed like a natural and brilliant extension of my trials. Thank you to Green and Black's Organic for sending me these 4 chocolate to play around with.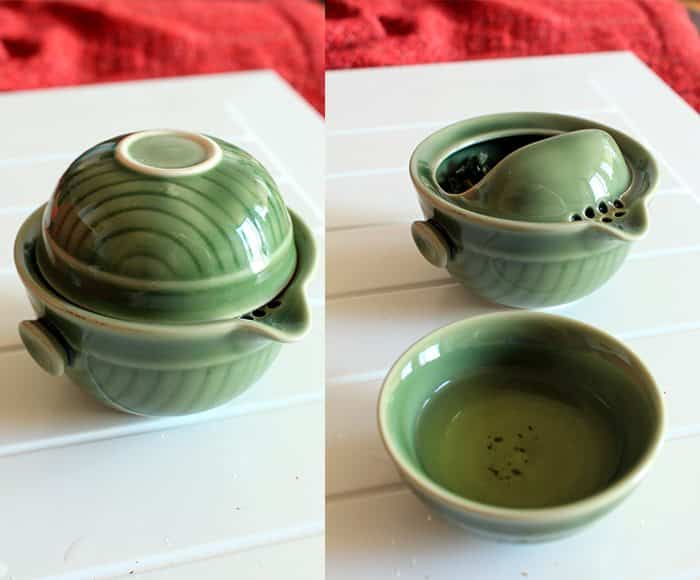 I did my tasting in the traditional Chinese Gong Fu way (check out my explanation post). And I was thrilled to do it with my new gaiwan. A gaiwan is a Chinese lidded bowl used for the infusion of tea leaves and the consumption of tea. This is a modern version where the lid doubles as a drinking vessel and there are holes in the lip of the pot for straining. Very practical and just adored it.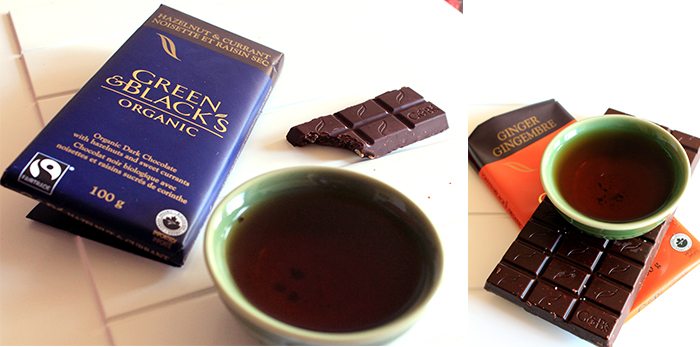 Green & Black's Organic Ginger and Green & Black's Hazelnut & Currant paired with a
Lapsang Souchong Star, organic, from David's Tea
A wood smoked black tea, reminiscent of single-malt whisky and fine cigars.
Preparation: water 3oz/85ml 194℉/90℃, 5 Grams Tea, 5 steeps : 15s,25s,40s,60s,90s
My favorite of all the pairings. I was blown away by the matched flavors. I used the Hazelnut for the first 2 steeps and the Ginger for the latter ones. Highly recommend this combo mix. I was simply beautiful.

Although you may follow my suggestions below, everyone's palette is unique, and the same chocolate and tea tasting experience can be completely different for each person. Best thing to do is experiment. But there are steps you can take to ensure your tasting experience is as special and enjoyable as possible.
To protect your chocolate and tea, store in a cool, dry place away from other food items with strong flavours or smells to ensure the do not absorb any ambient flavours.
Always start with fresh-drawn water brought to a rolling boil, then allow it to cool to the desired temperature before beginning to steep your tea leaves.
Pre-heat your tea cups with additional boiling water to ensure tea is served nice and hot.
Chocolate should be served at room temperature on a separate glass or china platter.
Begin by observing the look and smell of your tea and chocolate. To help detect the aroma of chocolate, pinch a small amount between your fingers.
When tasting the chocolate, let the chocolate melt slightly on your tongue before biting into it.
Try alternating which is first: a nibble of chocolate then tea, or a sip of tea then chocolate to release different tasting notes.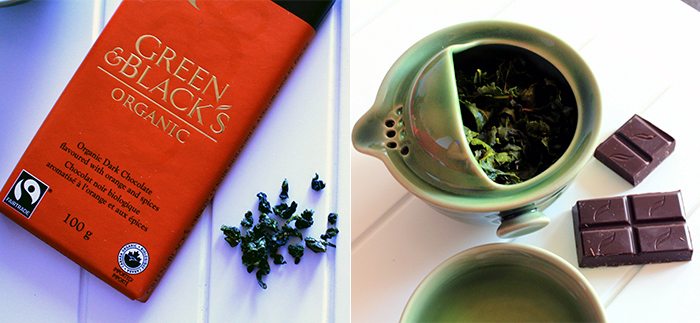 Green & Black's Maya Gold Orange & Spices paired with a
Nonpareil Anxi Yun Xiang TieGuanYin Oolong from Teavivre.com
Preparation: water 3oz/85ml 212℉/100℃, 7.5 Grams Tea, 6 steeps : 10s,15s,20s,30s,50s,70s
A smooth and full taste, with a rich roasting aroma and a slight sense of orchid flower.
Experimenting means you will have successes and failures. This match was a miss. The chocolate on its own is delicious but but the spices overpowered the more delicate oolong. If if it had just been orange it would have worked, Oolong works with citrus. Any tea experts care to chime in with a better tea pairing?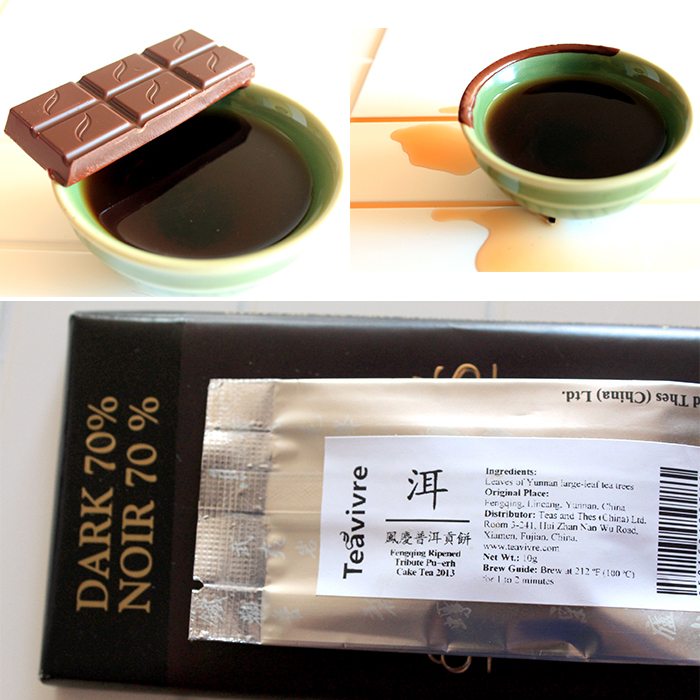 Green & Black's Organic Dark 70% paired with a
Fengqing Ripened Tribute Pu-erh Cake Tea 2013 from Teavivre.com
This ripe Pu-erh has an mellow earthy sweet taste with a flowery flavor.
Preparation: water 3oz/85ml 212℉/100℃, 10 Grams Tea, 8 steeps : 10s,20s,30s,30s,40s,50s,80s,120s
A classic and guaranteed match, there is no going wrong here. I did however prefer the flavors with steeps 4 and up once the tea was more powerful. A happy accident here with the photoshoot: I sipped the cup where the chocolate melted following the photoshoot. Loved getting a bit of the melted chocolate right in with a sip, even if it breaks the official tasting rules.
Which tea and chocolate combination would you like to try, or which other pairing would you suggest exploring?