The sweet confection of baked coconut and sweetened condensed milk from Oman is called a Chaklama, a close relative to the very well know Coconut Macaroon.
It's time for the MENA (Middle Eastern & North African) Cooking Group. This monthly group has for goal to help us discover the culture and cuisine of the countries found in these parts of the world. The host of the month will choose two savory and a sweet dish from the country and the members pick one dish to make. We are visiting the lesser know country of Oman this month and we will sample Chaklama, or Omani Coconut Macaroons. Ramadan Mubarak to all my Muslim friends and readers.
The Sultanate of Oman is in the Middle East, on the eastern end of the Arabian Peninsula. It borders the United Arab Emirates in the northwest, Saudi Arabia in the west, and Yemen in the southwest. The oldest known human settlement in Oman dates to the Stone Age and it has always been influenced by Arabic and Persian dynasties. Until Sultan Qaboos bin Said exiled the previous Sultan in 1970, Oman was an under-developed nation, and almost completely closed to visitors.
Since that time, education, public works and tourism have taken off throughout the country. Omanis are proud of both their country's rapid progress and their heritage. If you go visit the capital of Muscat (only 4 hours by car from Dubai), the oasis town Bahla which is home to a UNESCO World Heritage Site, the fort in Nizwa, the Hajar Mountain range and the massive rolling dunes of Wahiba Sands.
Although Omani cuisine varies within different regions of Oman, most dishes across the country have a staple of curry, cooked meat, fish, rice, and vegetables. Soups are also common and are usually made from chicken, lamb, and vegetables like smoked eggplant. Most Omani dishes tend to contain a rich mixture of spices, herbs, and marinades. Traditional dishes include harees, kebabs, machboos and Sakhana. Desserts are made up of tapioca pudding, kanafa, anjir pak and anything with coconut.
Chaklama is such a coconut based dessert. I think it is the first time we are suggested a recipe I couldn't find solid information about on the internet. I saw maybe 4 references, all vague and without description. But basically it is just like a coconut macaroon (not to be confused with Macarons). Macaroons are said to come from Italy around the 9th century and they have split into variations across the world. So who made them first: Omanis or Italians? I guess we will never know.
It had been a while since I used coconut in a recipe, not since the Coconut Cream Pie. My Chaklama recipe is greatly adapted from the Nestle website. I did not mean to make such drastic changes but I was in a pickle. I was at the family cottage and I was sure I had all the minor components. Well no vanilla and no baking powder. So I skipped the vanilla and my 'glue' alternative was an egg and corn starch.
Hey sometimes you have to work with what you've got! I don't think my changes were to dramatic and they baked a bit faster so these are extra golden. They tasted just like any macaroon I have ever tasted…well a bit better since I made them ha ha. Our MENA Cooking Club host this month is Rafeeda from The Big Sweet Tooth.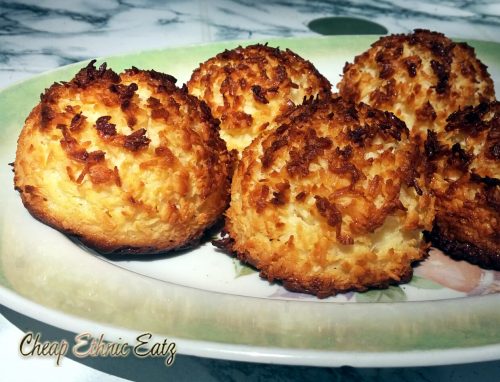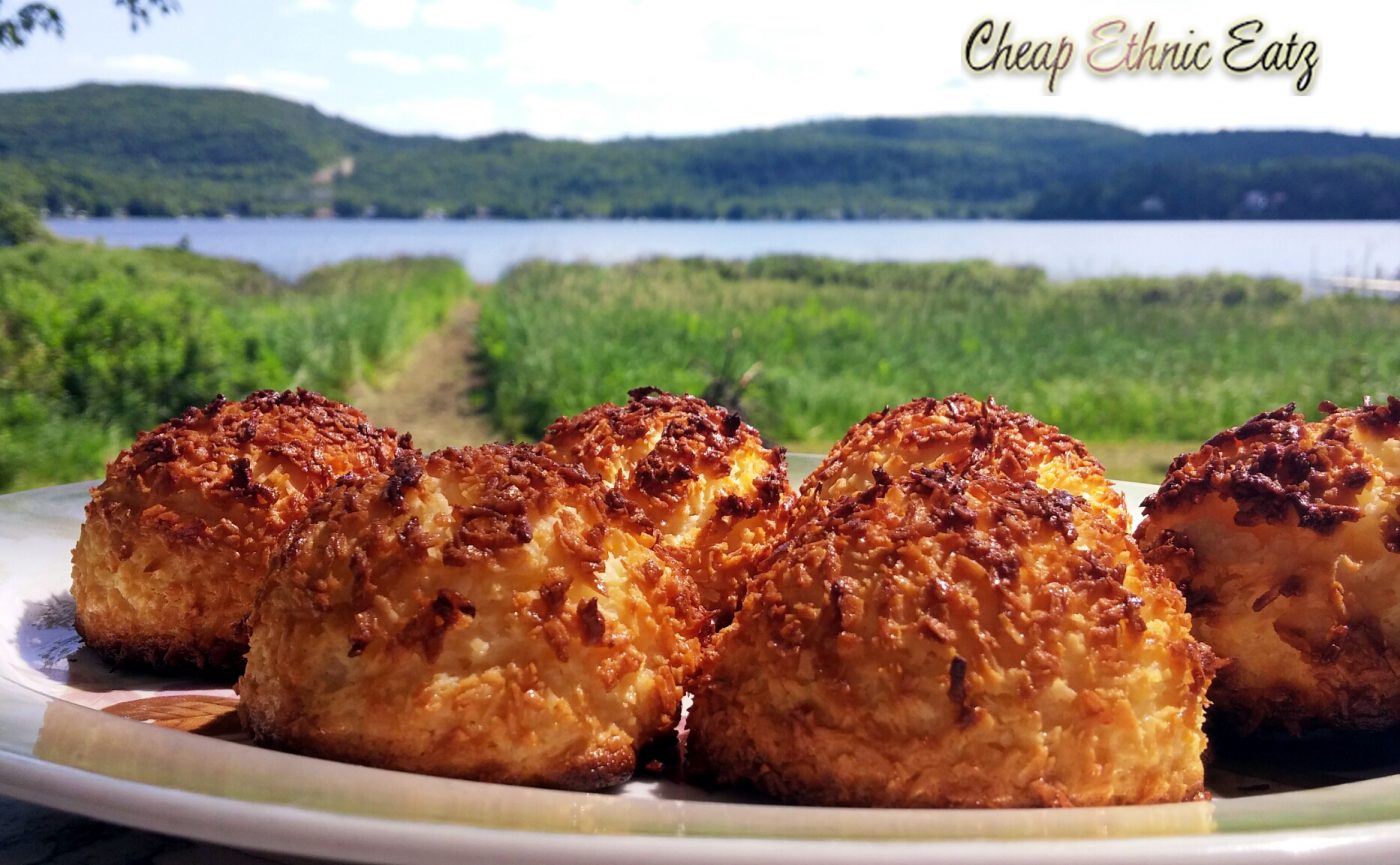 Chaklama, Omani Coconut Macaroons
Ingredients  
4

cups

unsweetened desiccated coconut

1

egg

1

can

397 g sweetened condensed milk

1

tablespoon

corn starch

1

tablespoon

butter

melted
Instructions 
Mix all the ingredients in a large bowl until you get a soft dough.

Scoop out 12 portions with an ice cream scoop and place on a lined cookie sheet.

Bake in a 355°F (180°C) preheated oven for 10-20 minutes or until golden brown.

Cool and serve.
Check out more Middle Eastern sweet recipes here: