I have done a lot of curries in my life. Some were good and some were misses. I kept trying new ones now and again. And then I fell on a recipe I changed so much it barely resembles what it was in the first place. So I can calling it my own. This is the Best Thai Curry Tofu EVER recipe. I first did it for Raquel on her birthday dinner, remember the one where I did a cute cartoon Rat Cake? We were both in awe of this curry. Seriously, it is that good and carnivores will not feel depraved.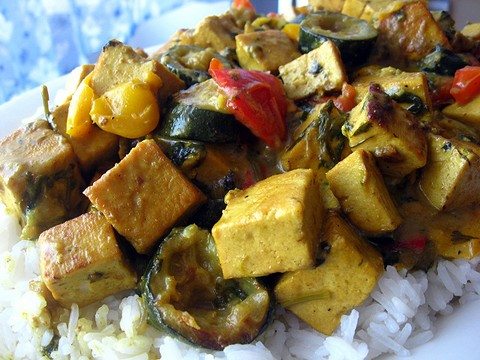 So when I was invited to very special foodie potluck blog launch party (say that 3 times fast) I knew this was the dish I wanted to contribute to the magnificent spread there would be. This summer I made 2 new friends, Lindsay and Jackson. They are the owner of a very special store called FAIT ICI, an eco-conscious general store. I got to interview them in the store 2 days before opening. The place was a construction zone and the anxiety was palpable yet they took a good 90 min to chat with me. They really have made a point of getting in touch with the people and with the foodie community.
This camaraderie paid off when they contacted some of us foodies about a great project they had in mind: the ici et here blog project. The concept is simple and brilliant: ici et here is a group blog with a fixed lifespan of 52 weeks where 52 posts will be published by 52 different people in both French and English. This blog endeavors to document the interplay of food and life in Montreal. The launch party coincided with the first published post and all the people involved were invited. Yes, yours truly will be one of the 52 authors. I'll keep you posted when mine is up!
Best Thai Curry Tofu Ever
Ingredients
1 tablespoon oil
12 ounces extra-firm tofu, drained and cubed
1/2 teaspoon salt
2 tablespoon butter or margarine
1 small onion, chopped
2 cloves garlic, minced
2-3 bell peppers (red, yellow, orange best), cut into nice chunks
2 zucchinis, sliced thick
10 ounce can coconut milk
1 tablespoon curry powder
1 tablespoon, fresh or frozen lemongrass (1 teaspoon dried)
1/2 teaspoon salt
1/4 teaspoon ground black pepper
1/4 cup chopped fresh coriander
Directions
1. Heat oil in a large skillet over medium-high heat. Add tofu cubes, salt and fry until golden on all sides, stirring occasionally. Set aside in a bowl.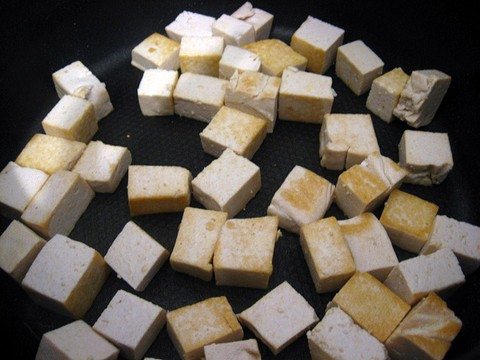 2. Melt butter or margarine in the same skillet over medium heat. Add the onion and garlic; cook and stir until translucent. Add bell peppers and zucchini; cook and stir 5 minutes.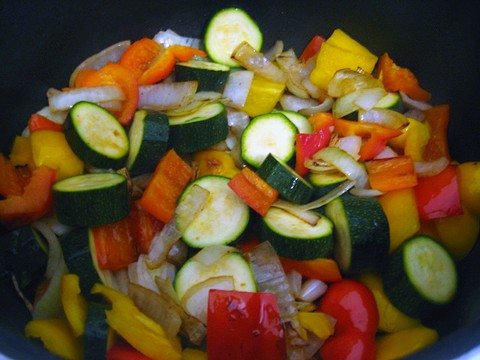 3. Stir in coconut milk, curry powder, lemongrass, salt, pepper and coriander.
4. Return the tofu to the skillet.
5. Simmer over low-medium heat, stirring occasionally, until the liquid has thickened up a lot.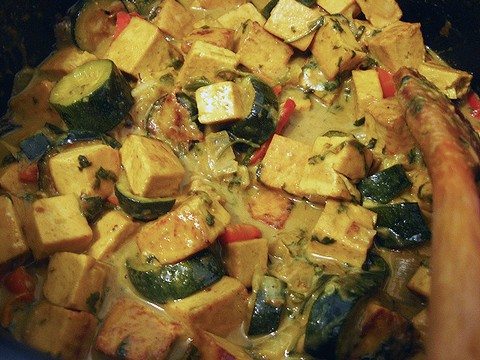 Serve on udon noodles, basmati or jasmine rice.