The Behind the Curtain Dessert Challenge is all about baking and making sweets. Every month we are given two required ingredients to work with. This month it was Pumpkin and Cream Cheese. With Halloween just around the corner pumpkins are very seasonal. It is squash season! This month I present you with an unusual recipe, taking oatmeal and a roasted pumpking to create a dessert: Baked Pumpkin Chocolate Oatmeal.
And this happens to be my 800th post! I cannot wrap my mind around that.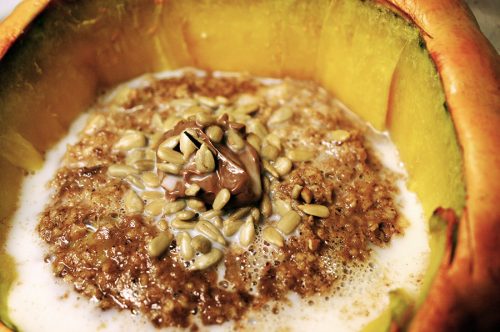 I swear it was not planned but this is the third time I am filling a round fruit for this monthly challenge. Last month I made an apple pie within an apple and the month before I made a crème brulée in a peach. And yes you read that right, technically a squash of any kind is a fruit.
This recipe is a slight adaptation from the recipe I found on this blog. My major tweek was adding cream cheese to the recipe. I wanted to give the new chocolate flavored cream cheese a try, definitely a good move. Love this stuff now. I thought the touch of chocolate would also help to pass this as a dessert. We would tend to see this as breakfast fare…and it certainly could be…but it is sweet and is a dessert.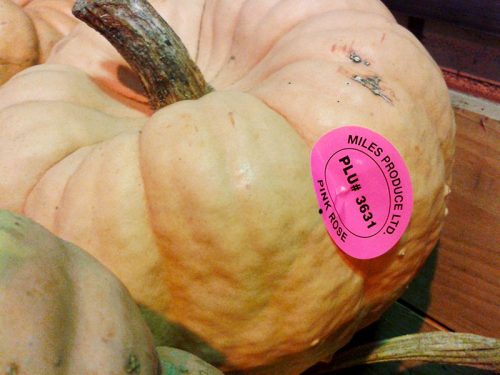 Have you noticed how pale my pumpkin is, more a salmon pink shade than a dark orange? That is because I bought a Pink Pumpkin which was developped to aid in the fight against breast cancer as a percentage of all pink pumpkin proceeds go to organizations involved in breast cancer research. This variety is called Porcelain Doll and it is perfect for baked goods, soups or casseroles.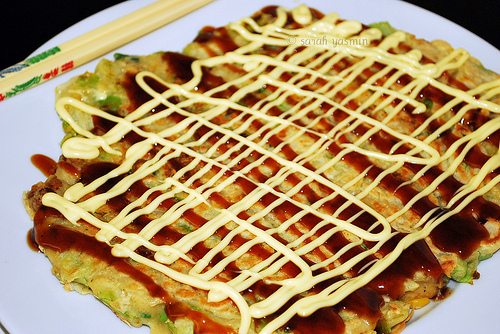 Baked Pumpkin Chocolate Oatmeal
Ingredients  
1 3-

pd pumpkin

1

tablespoon

melted butter or canola oil

1

teaspoon

baking powder

1/2

cup

apple sauce

1

teaspoon

ground cinnamon

2

tablespoons

brown sugar

1

cup

old fashioned oats

1/2

cup

chocolate cream cheese

1

egg

3/4

cup

milk

1/2

apple

diced small

extra brown sugar for sprinkling

2

tablespoon

nuts or seeds

extra milk for splashing

optional
Instructions 
Preheat oven 375 degrees. Start by carefully cutting the top off your pumpkin and cleaning the insides out.

Combine all remaining ingredients (except the sugar for sprinkling, nuts and milk for splashing) in a large bowl. Stir well and pour batter into the pumpkin. Sprinkle lightly with brown sugar. Place the pumpkin on a cookie sheet and bake for 20 mins with the top off and than cover with the top and bake another 25-40 mins until pumpkin is soft enough to scoop and oatmeal is done. After it was done, you can top with nuts or seeds and add a splash of milk. Makes 4 servings.
A little advice: don't get a tiny pumpkin but stay with a small one. You may also have to adjust the recipe for the filling depending on how big the cavity will be.