This is just a quicky weird post for you today.
I am blessed with many friendships from food bloggers around the word but I am even more blessed to know so many from real life right in my city. A few have become very good friends, even if we do not see each other to regularly. Today I will share my version of a dessert my dear friend Claudia posted on her blog Foodessa.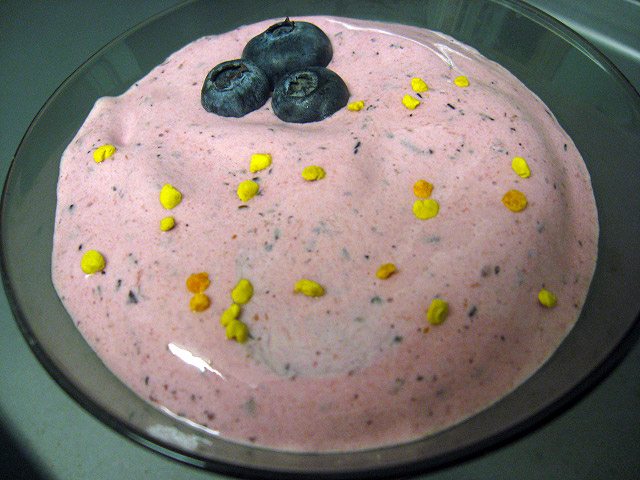 Please go to her site and check out her complete recipe and how to make this treat…of course I adapted it to my taste. Hers is more heavy on the fruit while mine is heavy on light fluffiness. Both make great sorbets IF you have leftovers.
Just so you know my adaptations I used 1/3 of her fruit quantity…the rest I kept the same. I tried it with blueberries. Is was so succulent and perfectly glossy. I got 4 servings out of it and trust me you won't feel guilty eating this mousse all summer long. Go check out her recipe now and WHIP IT real good…after reading the rest of this post of course.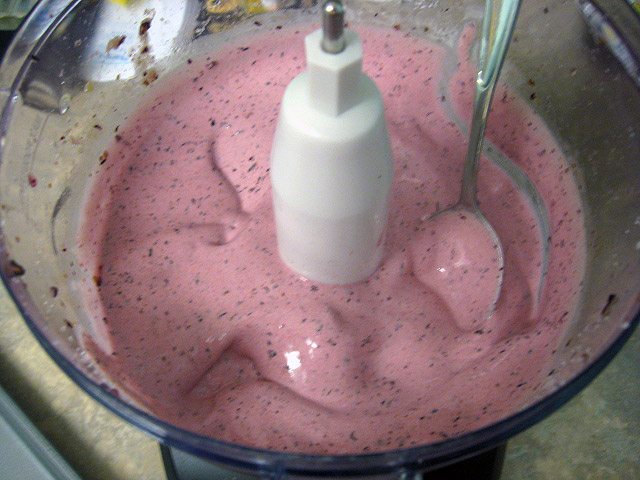 _________________________________________________________
I have accumulated a few random pictures that I want to show you. They are more like quick blurbs with a pic or two. Here we go:
Blurb no. 1
Breakfast at the Burgundy Lion Pub includes many British classic I have never heard of, like the Bubble n' Squeak ??? I had to go for it. So apparently this is 'the leftovers' breaky of steak, eggs, and a mash-up of potatoes and cabbage and I chose crumpets to go along with it. Love the concept and all was delicious except for the hard roasted potatoes.
Blurb no. 2
Remember when I had a huge water damage problem in my apartment in May 2010 and then AGAIN in November 2011 which at least finally lead to the demolition and installation of a new kitchen (2 weeks without a kitchen)….to the taste and like of the landlord of course. Well I never did that post about the process but you deserve a before and after pic. I am very happy to say the least with the new kitchen. As you can see it is a tiny lab kitchen yet very functional and now feels a bit bigger.
In with the new, the walls are now a pastel sunny sky blue

Blurb no. 3
Camellia Sinensis in the Quartier Latin. Wonderful large selecting with top teas from around the world and many little treats to accompany your tea perfectly, such as this Matcha Cheesecake. Really sublime and a calm place. Just go!
Blurb no. 4
Indulge me in 1 cat story from my 2 cats. Most of you loved seeing Mickey sniff out the Terrine. Well 2 days later I saw for the first time, in the 4 years I own him, his hunter instinct…when he saw a pigeon on the balcony. Pigeons don't come often so this was a unique moment. I was afraid he may jump the 18 floors down if he went for it when the pigeon flew away.