OK how many of you like chocolate? How about chocolate fondue with nice ripe fruits? This is such a simple and wonderful alternative after a meal instead of a heavy dessert.
It can be a pain though to go hunting for those tea light candles, set up the fondue kit, melt your chocolate without burning it, pouring it into the fondue dish, etc. That is when I change my mind because suddenly it feels like too much trouble. Well someone came up with a really neat idea and I was asked to review this great new chocolate fondue product: the Velata fondue warmer.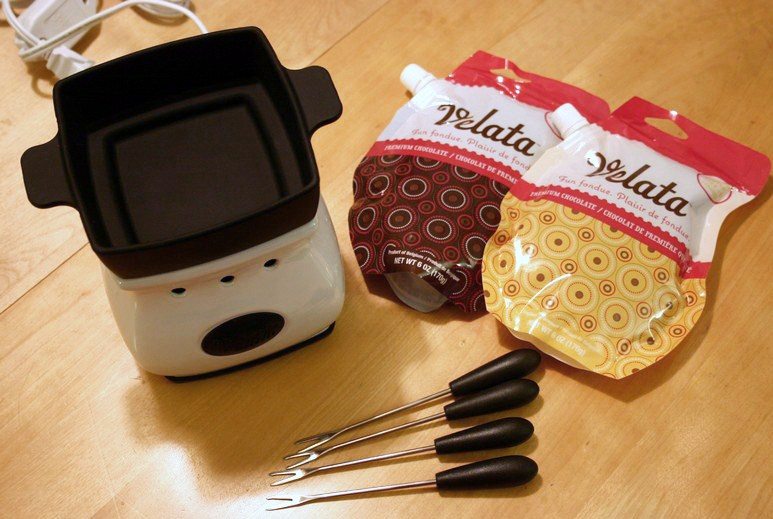 What makes this fondue warmer different? It is electric! Yep, you plug it into the wall outlet and turn on with the dimmer switch a 25 watt light bulb. The heat generated by the light bulb is ideal to keep your chocolate melted and the heat put out is consistent so you can't overheat and cook the chocolate. When you are done turn off the light bulb and unplug.
I also received with the warmer two Belgium chocolate pouches. These are designed to go in the microwave and then be poured out by the spout into the silicone. Just put the cap back on for any unused portion. The chocolates come in 4 different flavors: milk chocolate, white chocolate, dark chocolate and caramel milk chocolate.
This is a totally innovative idea, but actually my favorite part is the silicone dish. Silicone is a great material that gently diffuses heat evenly. Silicone goes in the microwave and the dishwasher for easy preparation and clean-up. Although sturdy, the dish is flexible too. After enjoying our fondue I simply placed the dish in the fridge and let the chocolate harden. Then I bent the dish a bit and I could pop out the chocolate in a solid block to store for reuse (or just eat it like a chocolate bar).
We went with a more eclectic choice of fruits and goodies to dip: with cactus pears, peaches, bananas and marshmallows. I so would do the cactus pears again! And what do you think of the cute mousse(!?!?) my friend Raquel made with the marshmallow lol? I like the concept of the pouches, but honestly I was not a fan of the chocolate. They were overly sweet and did not taste like fine chocolate. I did not use the whole pouch so the next day I cut up the pouch to take a look: the chocolate was unusually brittle.
When using the chocolate pouches alone in the dish you will find the consistency quite thick. If you want to thin it out add a bit of milk or cream like you would with a homemade chocolate fondue recipe. I could pass on the chocolate pouches but do love the fondue warmer a lot and am so happy to add it to my kitchen appliance arsenal.