Happy Easter and Happy Chocolate Day
I am not one to join the bandwagon of crazy popular food recipes sometimes. And that would explain why this is my first ever attempt at cupcakes. Got nothing against them, cute cakes in a muffin cups. Just did not bother making any. Until this week  as I had to bring a small dessert for 2 at a friend's place for dinner. It seemed like the perfect thing to bring.
I also had no more milk and not much butter left so I had searched for a recipe that omitted these ingredients. Well surprisingly I found one quick enough and it is actually a vegan cupcake recipe. No eggs, no milk, no butter. And yes they are awesome and moist. The secret! The chemical interaction between the baking soda and vinegar which bubbles up and creates air pockets. Brilliant!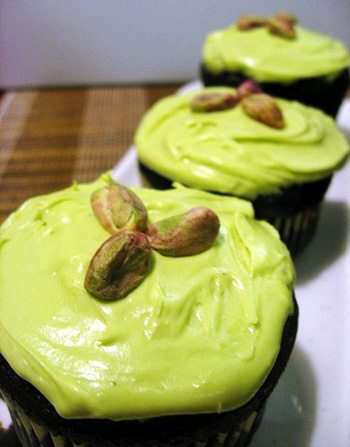 Chocolate Matcha Cupcakes adapted from Diana Rattray
Ingredients:
1 1/2 cups all-purpose flour
1 cup granulated sugar
1 teaspoon baking soda
3/4 teaspoon salt
1/3 cup unsweetened cocoa powder
2 teaspoons matcha powder
1/2 cup canola oil
1 cup water
2 teaspoons vanilla extract
2 teaspoons white vinegar
your favorite white icing recipe
2 teaspoons matcha powder
green food coloring
Preparation:
1. Grease a muffin pan or line with cupcake papers. Heat oven to 350°F.
2. Combine all dry ingredients in a mixing bowl. Combine all wet ingredients in a small bowl.
3. Mix in the wet ingredients to the dry ones and beat on medium speed of an electric mixer until smooth and well blended.
4. Fill the prepared cupcake cups about half full. Bake for 25 to 30 minutes, or until a cake tester or wooden pick comes out clean when inserted into the center of a cupcake.
5. Mix your icing with the matcha powder and green food coloring. Ice, decorate and serve. Makes 12 cupcakes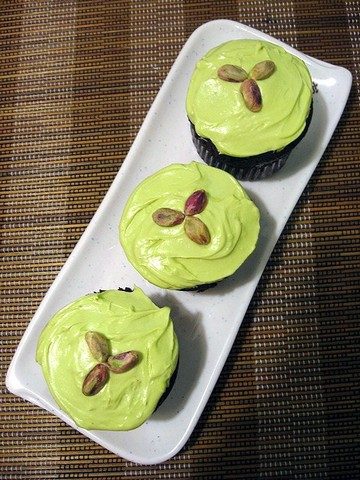 By the way the matcha flavor is quite subtle but it works with the overall taste. And no need to be fancy with the icing. I had leftover store bought icing from the Cake Pops challenge so just used that.