A great online gourmet store got in touch with me recently and offered me a product to review. How cannot I not say yes to such an offer. And the best part too about this online gourmet food shop is that they are right in my own backyard of the world. O Gourmet is based right here in Montreal, Quebec.
They really offer up a nice variety of hard to find local and high quality import products. The menu even offers up a Wild, Organic and Shop by Region section which is great for someone looking for a specific ethnic ingredient. O Gourmet graciously offered me a bottle of Balsamic Vinegar with Black Truffles to try out, imported by  a German company called A. Viani Importe. Most of A. Viani Importe products come from small local European producers, such as this Italian vinegar.
I did a little straight forward taste test and found this vinegar to be quite sweet and full bodied. I could not say I specifically notice a truffle taste but you can tell there is a hardy woody extra flavor in there.  It is great with  caramelized fruits, on roasted potatoes or spring vegetables and salads. And it took me quite a bit of time to come up with a fitting recipe to try it out on. Finally I made a savory tarte tatin with tomatoes and Thai eggplants (another one of those Asian grocery finds). The result was just exquisite. This is truly a recipe worthy of a fine epicurean meal.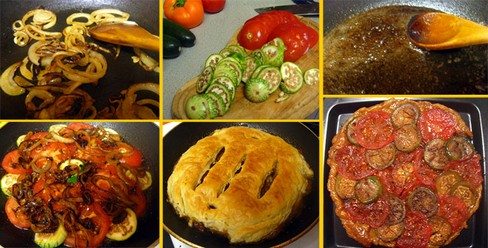 Truffled Tomato Tarte Tatin
2 large tomatoes, sliced
1 small eggplant or a bunch of Thai eggplants
1 onion, thinly sliced
5 tbsp butter
2tbsp Balsamic Vinegar with Black Truffles
salt & pepper to taste
1 tsp herbes de Provence
1 sheet sheet of puff pastry
optional: goat cheese, 1/4 tsp truffle oil
Directions:
In an oven proof large skillet caramelize the onions with 2 tbsp of melted butter and a pinch of salt over a medium-high.
Add 2 tbsp of water to lift any bits from the bottom of the pan for about 30 seconds, transfer to a bowl.
In the same skillet melt the remaining over a medium-low heat until it turns golden.
Add the balsamic vinegar and leave for a few seconds on burner until the harsh vinegar smell disappears.
Remove from heat. Place prettily the sliced tomatoes and eggplants, salt and pepper, then top with the onions.
Roll out the puff pastry a little bit larger then the size of the skillet. Cover with the puff pastry, tuck the edges under and cut several long vents in the pastry to allow the steam to escape.
Bake for around 30 minutes in a  preheated oven at 425 F until golden.
Let stand a few minute and then run a knife around the edges of the pastry before you flip the tart onto a serving platter. Serve immediately.
I sprinkled a few roasted pumpkin seeds I had and I also fluffed up some room temperature goat cheese with a for and a little bit of truffle oil. The goat cheese and truffle oil alone is absolutely incredible, with the tart is was just phenomenal worthy of any 5 star restaurant.