Warm summer temperatures usually means smaller and lighter meals. Salads and sandwiches are often found at the dinner table. So this month's Creative Cooking Crew really hit the spot with June's challenge: make a triple decker sandwich with at least 3 ingredients starting with the same letter of the alphabet. This was music to my ears so I composed a symphony in B's: a Brie, Blueberry and Bacon Triple Decker Sandwich.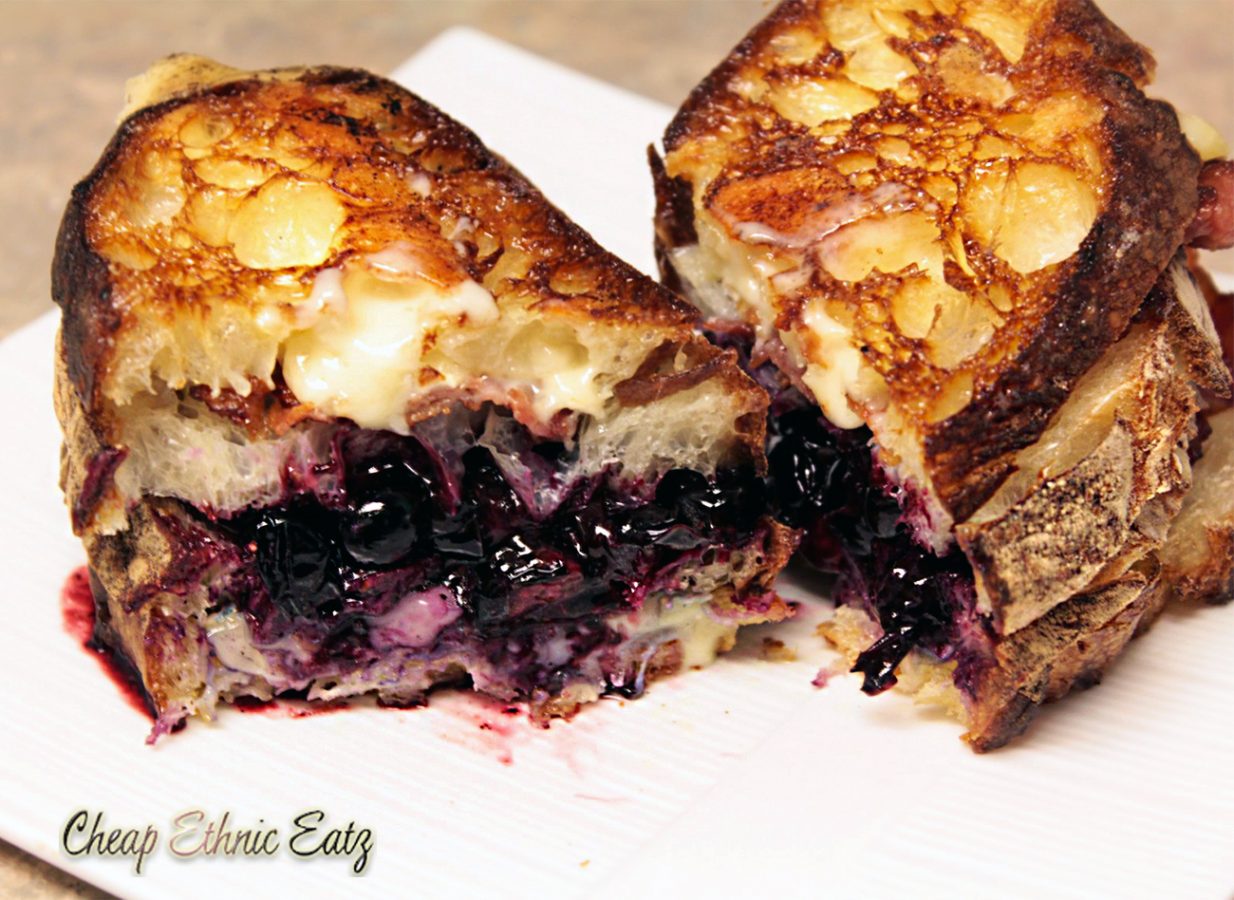 Wait a minute! Where did the 'light' sandwich go? Oh well too bad. I had a vision of a grill cheese right off the bat and brie was the first cheese that came to mind. And wanting to add a summer element I went with a berry. I have made this sauce before which is cooked down with a bit of vinegar, making it a perfect sweet-savory condiment. And bacon, well bacon just makes everything better!

A quick note on a debate that came up during the month: how many slices of bread is there in a triple decker? The answer is 4 with 3 layers of filling. This bread is called a Paillasse de Lodève. The look is ultra rustic and dense but the meat of the bread is actually quite moist, light and airy. Lodève is a commune in the Languedoc-Roussillon region in southern France.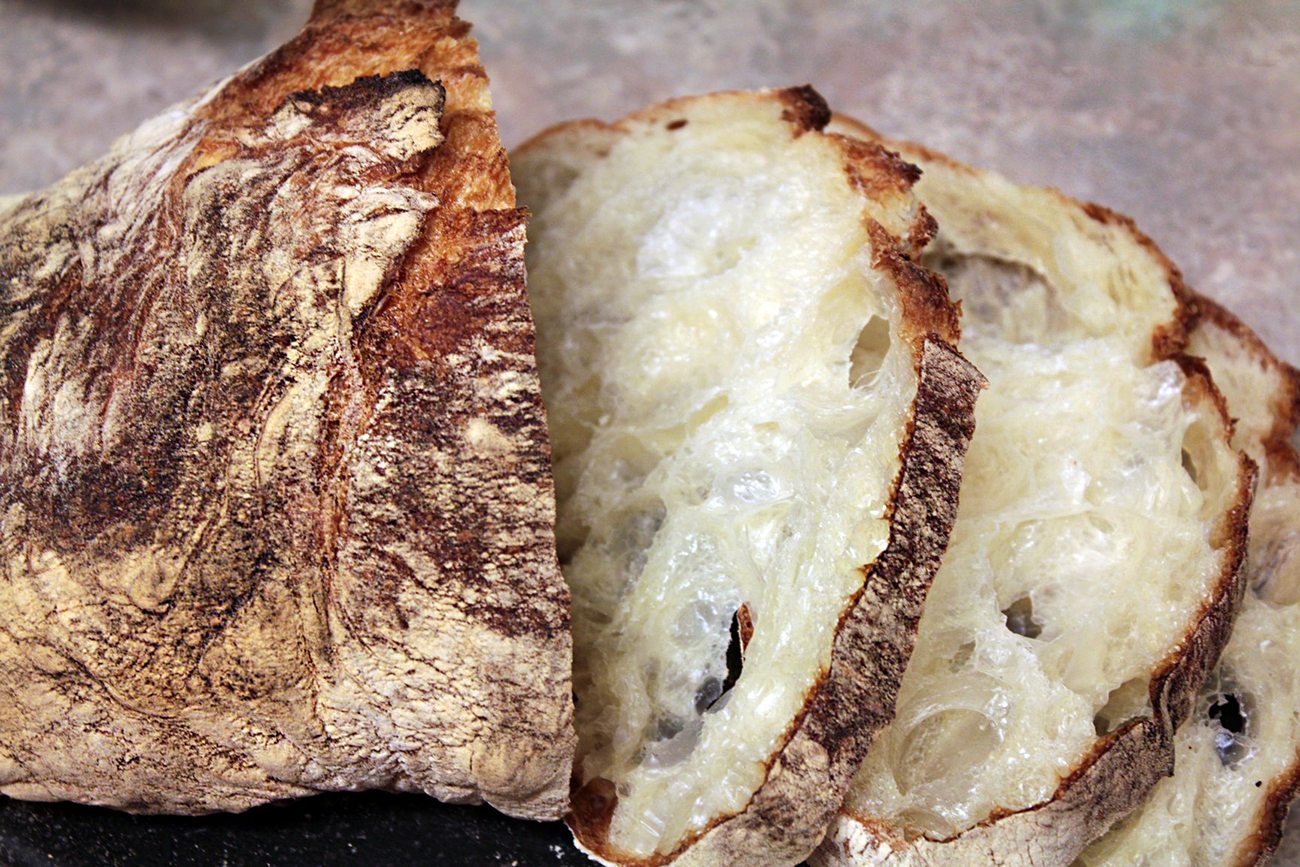 The result: a sweet and salty, gooey, melt in your mouth sandwich. Open wide!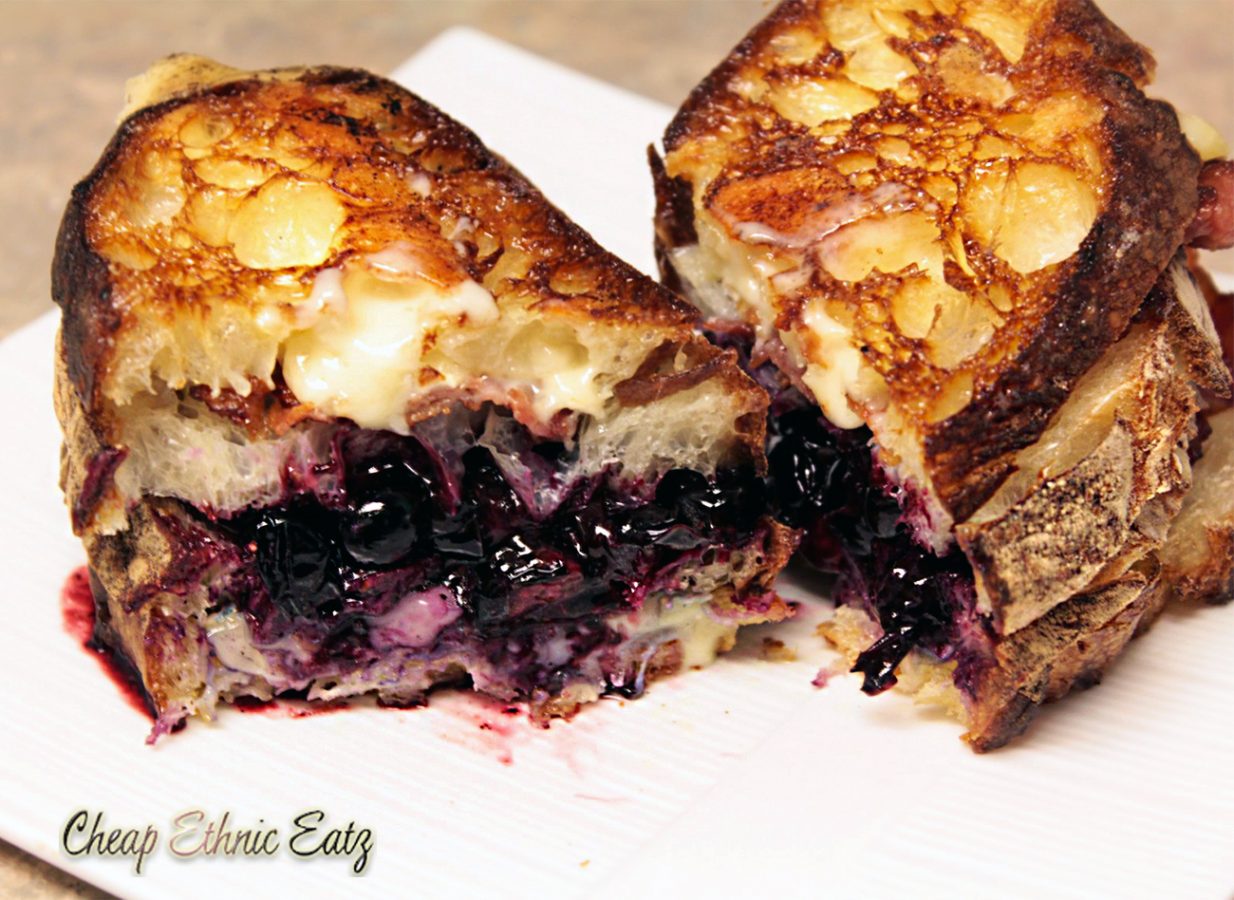 Brie Blueberry & Bacon Triple Decker Sandwich
Ingredients  
4

thin slices of country bread

4

brie slices

4

bacon strips

cooked

1/2

cup

blueberries

1

tbsp

balsamic vinegar

1

tbsp

water

salt and pepper to taste

butter
Instructions 
Heat a small frying pan on med-low. Add blueberries, vinegar and water. Lightly cook down to a sauce. Season with salt and pepper. Set aside.

Heat a large frying pan on medium. Butter 1 side of 2 of the slices of bread. Place brie on non-buttered side. Fry the bead until cheese is melted and bread is golden. Remove from heat.

Place 1 brie slice on a plate and top with 2 bacon strips. Top with a bread slice. Spoon blueberry sauce evenly. Top with a bread slice and top with 2 bacon strips. Finally top with 2nd brie slice. Cut in half.
Thank you Lazaro Cooks and Foodalogue for this month's fun challenge. Check out what the other members have created on our Pinterest board by clicking on the banner below.