A great selection of three cookbooks with themes are used to build a wonderful 3-course meal.
The internet is an infinite source for recipes, no one can deny that, but sometimes sitting in your favorite chair and leafing through a cookbook can be really relaxing and gratifying. Cookbooks also have a great knack for gathering a whole bunch of recipes on a specific theme. Today I will give you a brief introduction to such three cookbooks I received recently: Spiralizer, Slow-cooker and Vegetarian Thai.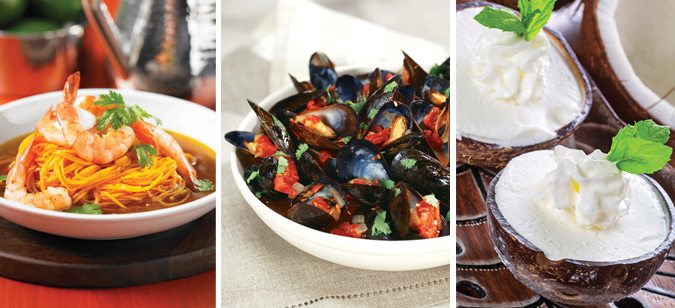 I have savored my time leafing through these cookbooks and testing out some of the recipes lately. I am including the main description of the books, a recipe and a "my-2-cents" paragraph for each. Bon Appetit!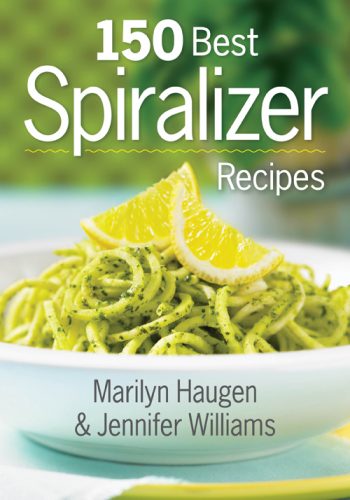 A spiralizer is the perfect way to get more vegetables into your diet! Spiralizers are taking home kitchens by storm, and it's not surprising, given that they provide a new and refreshing, not to mention fun way to introduce more vegetables into dishes and reduce the carbohydrates.
There are so many possibilities! One of the simplest is replacing typical wheat pasta with zucchini noodles for an incredibly quick, healthy and satisfying meal! There are options for vegetarians, gluten-free diets and low-carbohydrate diets, but there's also a wide variety of dishes for meat, poultry and fish lovers.
The 150 recipes include some of these delicious offerings: Thai Salad with Peanut Lime Dressing, Spinach and Apple Salad with Pecans, Cranberries and Feta, Pancetta and Lentils with Zucchini Pasta, Curry Beef with Sweet Potato Noodles, Chicken Tetrazzini, Summer Squash Galette and Mexican Chayote Squash Spaghetti Pie.
My 2 cents: The 150 Best Spiralizer Recipes cookbook threw me in for a loop but it was my fault. This book focuses on recipe made with a kitchen gadget called a Spiralizer, which as you can guess cuts foods into spiral strings and that I do not own. But I think a lot of recipes can still be made with a very small precise cut or a mandoline. Just may not look as pretty. The recipes are great for healthy and quick meals, awesome for not cooking of hot summer days. You will find below one recipe from the cookbook:
All recipes and photos are courtesy of robertrose.ca. Reprinted with publisher permission. Available where books are sold.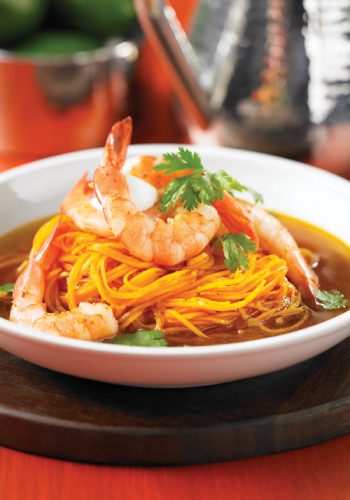 Zesty Shrimp and Squash Vermicelli Soup
This one-pot dish pairs a little heat from chile peppers with the slightly sweet taste of butternut squash. Top that with shrimp and you have a flavorful, comforting dish. MAKES 4 SERVINGS.
2 dried ancho chile peppers, stems and seeds removed
2 butternut squash necks (at least 4 inches/10 cm long)
2 tbsp extra virgin olive oil 30 mL
1 onion, chopped 1
2 cloves garlic, minced 2
1 tsp ground sage 5 mL
1 tsp ground cumin 5 mL
4 cups ready-to-use reduced-sodium chicken broth 1 L
1 lb medium shrimp (31 to 35 count), peeled and deveined 500 g
1⁄4 cup chopped fresh cilantro 60 mL
1⁄2 cup sour cream or yogurt (optional) 125 mL
1. Soak chiles in hot water for 5 to 10 minutes or until softened. Drain and chop.
2. Meanwhile, peel butternut squash necks and trim to 4 inches (10 cm) long, with flat ends. Using a spiralizer, cut squash into thin strands. Set aside.
3. In a Dutch oven, heat oil over medium heat. Add onion and cook, stirring, for 3 to 4 minutes or until softened. Add garlic, sage and cumin; cook, stirring, for 1 minute or until onions are light golden and garlic is fragrant.
4. Stir in chiles and broth; bring to a simmer. Add squash, reduce heat and simmer for 5 to 7 minutes or until just starting to soften. Add shrimp and cook, stirring, for 2 to 3 minutes or until shrimp are pink, firm and opaque and squash is cooked to desired tenderness. Serve immediately, garnished with cilantro and sour cream (if using).
Courtesy of 150 Best Spiralizer Recipes by Marilyn Haugen & Jennifer Williams © 2015 www.robertrose.ca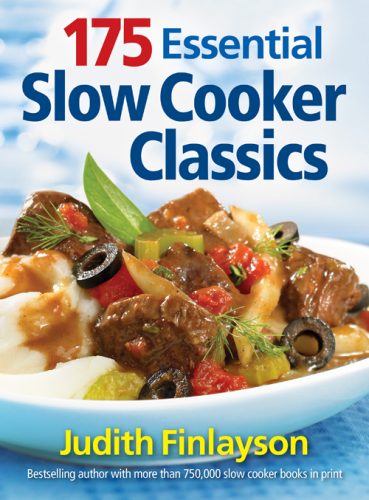 Using Judith's recipes, thousands of you have discovered not only how delicious and convenient food prepared in the slow cooker can be, but also how this handy appliance can be used to create an extraordinary range of dishes you might never have associated with a slow cooker.
With more than 60 recipes created especially for this volume, plus many of Judith's favourites from her previous slow cooker books, you're sure to find recipes that will satisfy and delight everyone – from everyday favourites to dishes that fit the bill for elegant entertaining.
Recipes include: Sumptuous Spinach and Artichoke Dip, Sun-Dried Tomato and Dill Cheesecake, Santa Fe Sweet Potato Soup, Lamb with Artichokes, Classic Chicken Stew, Turkey Mole, Sweet Potato Lasagna, Poached Eggs on Spicy Lentils, Plum Pudding and Marble Cheesecake.
My 2 cents: The 175 Essential Slow Cooker Recipes cookbook is a very good one for original and modern slow cooker recipes. When I first got my slow cooker I made recipes my mom made – good but tasted like 1970s. I am happy to have a new up-to-date selection of meals to prepare. And there are lots of desserts to make. You will find below one recipe from the cookbook:
Mussels in Lemongrass Tomato Broth
This is a variation of a recipe that appeared in New World Noodles by Bill Jones and Stephen Wong. I particularly enjoy the unusual and slightly Indonesian flavors of the delicious broth. This works equally well as the centerpiece of a light meal or as a dramatic first course. SERVES 4 AS A MAIN COURSE OR 6 AS A STARTER.
Make ahead: This dish can be partially prepared before it is cooked. Complete Step 1. Cover and refrigerate broth for up to 2 days. When you're ready to cook, continue with the recipe. Works in slow cookers from 3 1⁄2 to 6 quarts.
1 tbsp vegetable oil 15 mL
1 onion, finely chopped 1
2 cloves garlic, minced 2
1 tsp ginger root, minced 5 mL
1 tsp whole coriander seeds 5 mL
1 cinnamon stick piece (2 inches/5 cm) 1
1 stalk lemongrass, coarsely chopped 1
1⁄2 tsp salt 2 mL
1⁄2 tsp whole black peppercorns 2 mL
1 can (28 oz/796 mL) tomatoes, including juice, chopped 1
2 cups vegetable stock, or 1 cup (250 mL) bottled clam juice mixed with 1 cup (250 mL) water 500 mL
3 lbs mussels, cleaned (see Tip, below) 1.5 kg
Finely chopped cilantro
Hot pepper sauce, optional
1. In a skillet, heat oil over medium heat for 30 seconds. Add onion and cook, stirring, until softened, about 3 minutes. Add garlic, ginger root, coriander seeds, cinnamon stick, lemongrass, salt and peppercorns and cook, stirring, for 1 minute. Add tomatoes with juice and vegetable stock and bring to a boil. Transfer to slow cooker stoneware.
2. Cover and cook on Low for 8 to 10 hours or on High for 4 to 5 hours, until broth is flavorful. Strain broth through a fine-mesh strainer into a large saucepan, pressing out liquid with a wooden spoon. Discard solids.
3. Bring broth to a boil. Add mussels, cover and cook until mussels open. Discard any that do not open. Ladle mussels and broth into bowls, garnish with cilantro and serve. Pass hot pepper sauce, if desired.
Courtesy of 175 Essential Slow Cooker Recipes by Judith Finlayson © 2015 www.robertrose.ca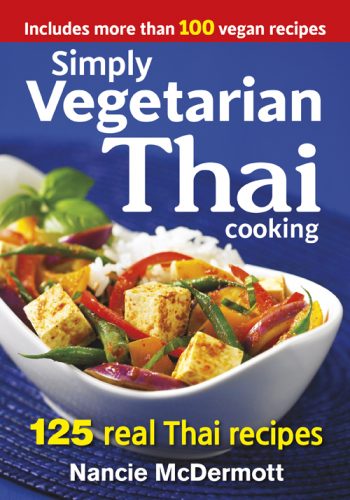 A cookbook that defines true Thai culinary spirit with delicious and magical dishes. Everyone loves Thai food, but truly meatless dishes are often difficult to find. Nancie has developed authentic yet innovative variations on traditional Thai recipes, providing health-conscious cooks with a repertoire of vegetarian dishes that capture the vibrant tastes and scents of Thailand.
From appetizing salads and savory soups to flavorful and spicy mains to the wonderfully refreshing Thai Iced Tea, this definitive cookbook offers 125 delectable recipes for every meal and occasion. Nancie has provided adaptations for vegan readers. A helpful glossary introduces ingredients and equipment used in Thai cooking, and offers tips for finding Thai supplies and easy substitutions.
Recipes include: Green Papaya Salad, Tom Yum Soup with Mushrooms and Tofu, Winter Vegetables Infused with Coconut Milk and Cashews, Yellow Curry with Pineapple and Peas, Red Hot Vegetable Stir-Fry, Sticky Rice, Mee Grop and Paht Thai.
My 2 cents: The Simply Vegetarian Thai Cooking cookbook may help me a lot in finding interesting exotic recipes that are filling even if they are meatless. Not an easy task for me. I do love Thai food but sometimes I fear the heat a restaurant dish may have. By preparing it yourself you are in control of the spices. Love the basic recipes section, like how to make your own Sriracha sauce from scratch! You will find below one recipe from the cookbook: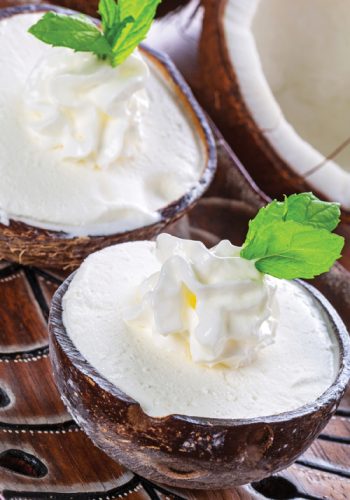 Coconut Ice Cream
Here is the classic Thai ice cream that sweetens the hottest evening in Thailand's upcountry small towns. It could not be simpler and it could not be better. You can jazz it up with flavors and additions in the modern manner, but in my opinion it is perfect as is. Thais love it sprinkled with chopped peanuts and served in tiny bowls or in Thai Ice Cream Sandwiches (page 166). MAKES ABOUT 1 PINT.
2 cans (each 14 oz/400 mL) unsweetened coconut milk 2
1 cup granulated sugar 250 mL
1⁄2 tsp salt 2 mL
1. In a heavy saucepan, combine coconut milk, sugar and salt. Place over medium-high heat and bring to a boil, stirring often to dissolve sugar and salt. Remove from heat and pour into a bowl.
2. Cover bowl and refrigerate until very cold, about 2 hours. Freeze in an ice cream maker according to the manufacturer's directions. Serve at once or transfer to an airtight container and freeze for up to 3 weeks.
Courtesy of Simply Vegetarian Thai Cooking by Nancie McDermott, 2015 © www.robertrose.ca