I have been craving a good french toast for some time now. I rarely make a big special breakfast on Sundays at home and I do not do brunch out much anymore, usually it was an excuse for a social get together with friends. It just happens that lately with Stef we have been going to breakfast places a bit more lately. I love french toast and I love pancakes. Have you ever noticed not many places will offer a combo dish with both. I find that infuriating lol. Anyways I have been ordering more french toast and I am always disappointed. They are never that good compared to mine.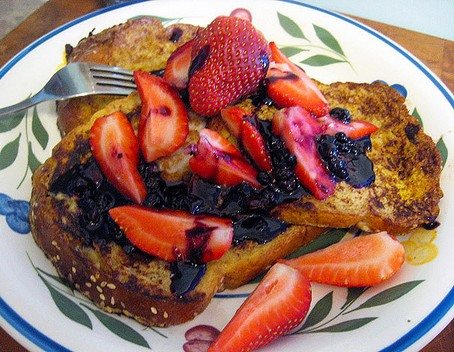 Enough is enough, I decided to make my own this morning. I made sure all my required ingredients were in house last time I went shopping. This is not my traditional version but a fancied up one I invented on the spot. I hope you will make then and enjoy them as much as I did. Ingredients list is very approxiame, I never measure for this. Also it is a very quick thing to do, 10-15  min about.
Evelyne's French Toast
1 serving
2 eggs
1/4 cup of milk or cream
1 tbsp sugar
1/4 tsp cinnamon
1/2 tsp vanilla
dash of cayenne (yes)
2-4 slices of bread, to use up liquid (I used 3 thin slices of Challah, a jewish egg bread)
BUTTER
Heat a frying pan quite hot and melt in some butter. Whisk together all the ingredients except bread in a flat bowl. Dip bread on both sides in the egg, resting 1 min on each side. Fry one slice at a time in the pan until golden brown. Put cooked french toats on a plate and cover with aluminum foil to keep warm.
Toppings
5 strawberries
a small handful of frozen blueberries
1/4 water
2 tbsp or honey or corn syrup
1 point of a star anise crushed
Once all your french toast are done, use the same pan to make a blueberry syrup. Add everything but the strawberries to the pan set on a med-high heat. Let this boil and cook down to a thin syrupy consistency. In the mean time quarter your strawberries and arrange decoratively in a pile on top of the french toast. When syrup is ready just poor it over the plate and enjoy! Delicious especially with a glass of homemade frappe as you see in the back here.