Today is my group's reveal day for the Secret Recipe Club. What is the SRC? Basically you are assigned a fellow participant's blog by the organizer and then you pick a recipe of your choice from that blog and make your version of it. But it is a secret, you cannot reveal whom you picked and what you made until the established posting date and time. This month's secret: Fennel, Grapefruit and Shrimp Stir-fry.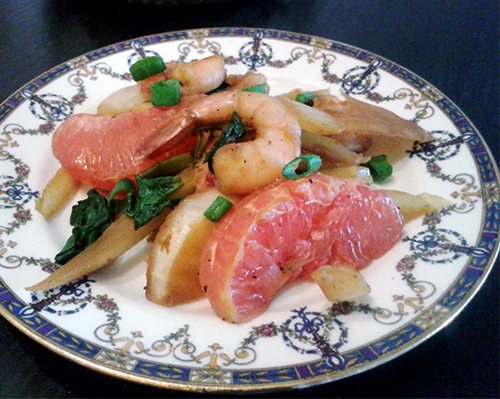 This month I was assigned Culinary Adventures with Camilla. I usually get unknown blogs as match ups on the Secret Recipe Club but this time it was a blog I already knew and was thrilled to have gotten. The blog is written by Camilla and let me tell you she is just a hoot. She describes herself as a "a tree-hugging, veggie-crunching, jewellery-designing mean mommy who loves to cook but hates to clean". Can I ever relate with her on that last bit. And I have been know to make jewellery but it has been a while since I hugged a tree, as much as I love them ha ha.
Funny enough I also found out this weekend that Camilla is hosting February's Food n Flix, a great group I also belong to where we watch a movie related to food and cook about it. She picked one of my top 3 fave food films, Babette's Feast, so check it out and come join us.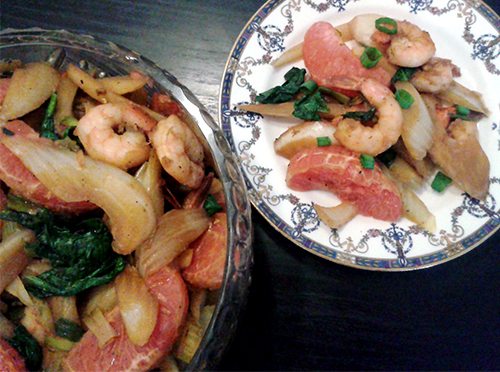 But back to SRC. Ah the monthly conundrum: what will I pick? Here are some of the contenders that almost made it: Wild Boar Rillettes because that is so unexpected, Nigerian Peanut Chicken Stew because I have a similar African recipe and would love to compare, or the basic gelato recipe which you can flavor up any way you want.
Finally I settled on her Shrimp-Grapefruit Orchid Stir-fry dish wish she offered up for a brunch post and I just so happened to be planning a menu for a late brunch at my place. It sounded like a refreshing dish compared to the other heavier ones on my menu. I did it minus the orchid and I substituted the dandelion greens for baby spinach. The stir-fry was delicious and very much enjoyed by all the guests.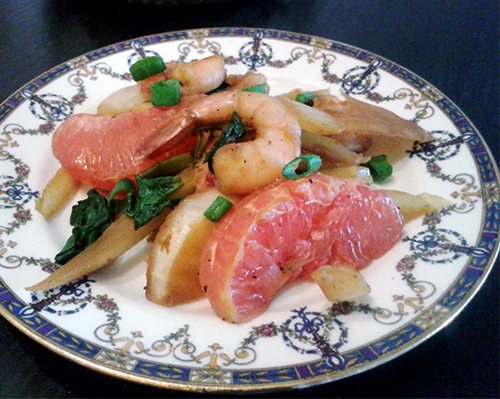 Fennel, Grapefruit and Shrimp Stir-fry
Ingredients  
2

shallots

minced

2

fennel bulbs

trimmed and thinly sliced

splash of olive oil

1

pound

shrimp/prawns

cleaned and deveined

1

bunch baby spinach

sliced

2

grapefruits

peeled and segmented

4

scallions

cleaned and thinly sliced

2

T

soy sauce
Instructions 
Heat olive oil in a large, flat-bottom pan. Cook the shallots and fennel until softened and beginning to caramelize.

Toss in the shrimp and cook until they begin to turn opaque.

Add the spinach leaves and cook until just wilted.

Remove from heat and season with soy sauce.

Stir in the grapefruit and scallions.
');