This Spicy Beef Noodle Soup, with homemade hand pulled noodles, will leave your tummy happy and your taste buds dancing with a fragrant broth packed with garlic, star anise, ginger and numbingly warm Sichuan peppercorns.
One of the dishes on my China travel bucket list was a Lanzhou Beef Lamian soup. I saw so many videos about lamian, aka hand pulled noodles, I was dying to taste them. It is said that for a person to be considered a master at lamian, they should practice the craft for about 10 years. When I finally got my bowl I was blown away by the soft and silky feel of the noodles and the lovely broth. I could see a lot of love and technique went into making the lamian. I had to try my hand at it and I chose a lovely  spicy beef noodle soup to accompany these flat hand pulled noodles.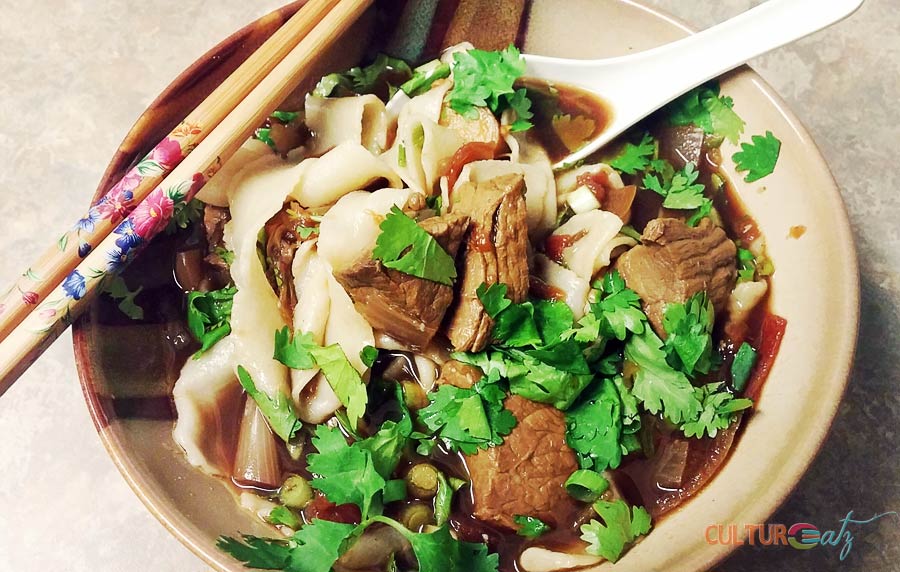 To be honest, this is the second time I make this spicy beef noodle soup and my second try at the lamian noodles, a flat version as it is easier to learn this way. I was a little impatient and I tried to make some before my trip. So, yeah, my first attempt was a total disaster. I did manage to salvage my dough by making flat hand pulled noddles. If you want a good laugh, here is a video of my first attempt!
This is my second try and I was a lot more successful with this noodle recipe. Perfection, they are very far from, but I made a lot of progress from my first try. I even captured the beginning of a hint of that silky smooth texture.
Lamian, Sichuan peppercorns and Shaoxing wine
Lamian is made through a unique method that involves twisting, stretching and folding the dough into strands. Smacking the dough on a hard surface is also part of the process. The first recorded mention of the noodles dates back to 1504 in the Songshi Yangsheng Bu. There is a lot of debate on which flour to use, most say a high protein content flour works best. But the secret to the stretch is the salt in the dough and a long resting period. Lamian are mostly used for beef or mutton soups, called tāngmiàn. Lanzhou soups are a halal dish as they are served in Chinese Muslim restaurants.
Sichuan peppercorns give this dish a really unique punch. Actually they are not really peppercorns but are the husk of them.  They do not give off a heat like chili peppers, but rather a lemony note that will numb your mouth. If you don't have them substitute with a spicy condiment of your choice. It will take away from the authenticity but the soup is still delicious. I brought some back from my trip to China…and many Chinese recipes to try.
If you do not have Shaoxing rice wine, you can substitute with sherry, a dry vermouth or mirin sauce.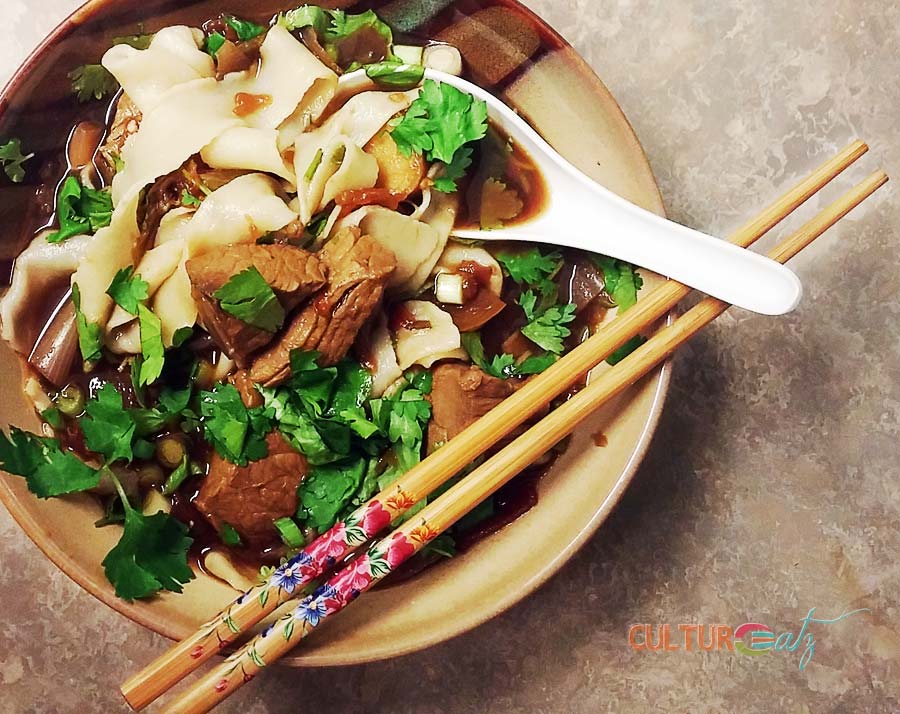 The heartiest soup I ever ate
Now this is not the traditional soup served with hand pulled noodles. Usually it is a clear broth with slices of meat in it. But when I came across this spicy beef noodle soup on The Woks of Life I could not resist. I added a few tiny modifications and I halved the recipe. Usually a meal soup does not satisfy my hunger, this one totally does!
It is so packed with flavors and so fragrant. There is an entire head of garlic in there, some lovely Chinese cooking wine, star anise, bean paste, ginger and Sichuan peppers with make your moth go deliciously numb and tangy.
I just posted a video of my second flat hand pulled noodle attempt. You will see how much of a pro I now am compared to my first video. But still a long way to go. Make sure to subscribe to my YouTube channel so you do not miss a single new video to come. The recipe is just below.
Yields 6 soup bowls
Spicy Beef Noodle Soup with Chinese Hand Pulled noodles
This Spicy Beef Noodle Soup, with homemade hand pulled noodles, will leave your tummy happy and your taste buds dancing with a fragrant broth packed with garlic, star anise, ginger and numbingly warm Sichuan peppercorns.
Ingredients
400 grams (14 ounces) all-purpose flour
1/2 teaspoon salt
280 milliliter (9.5 ounces) room temperature water
8 cups cold water
3 slices ginger
3 scallions, washed and cut in half
1/8 cup Shaoxing rice wine (or mirin)
1.5 lbs stew beef, cut into 1½ inch cubes
1 tablespoon sesame oil
1/2 to 1 tablespoon Sichuan peppers , whole
1 head of garlic, peeled
1/2 large onion, cut into chunks
2.5 star anise
2 bay leaves
1/8 cup Chinese black bean paste (mix with siracha for more spice to taste)
1 large tomato, cut into small chunks
1/4 cup soy sauce
2 tablespoons of rice vinegar
1/2 tablespoon sugar
1 large piece of dried tangerine peel
flat hand pulled noodles
Chopped scallion and cilantro, to garnish
Instructions
Mix the flour and salt in a bowl. Slowly add and mix in the water until mixed in and no more dry flour. It will be sticky. Knead the doug on a floured surface. Adding flour as needed knead for 10 to 15 minutes, or until you get a smooth and springy ball. Place the dough in a floured bowl, cover with a damp dish towel and then a lid on top of the bowl. Leave to rest on the counter for at least 2 hours while you make the soup. Prepare the soup...
Fill one large pot with the cold water. To it, add the ginger, scallions, Shaoxing wine and beef. Bring to a boil with a cover on the pot. Once it boils lower heat down to a simmer for 10 minutes. Set pot aside.
Over medium low heat, place the oil in a second large pot. Toss in the Sichuan peppers, garlic cloves, onion, star anise and bay leaves. Stir and cook until until the onion and garlic starts to soften. Mix in the bean paste, and siracha if using it. Add the tomatoes and cook for a couple of minutes. Mix in the soy sauce, rice vinegar and sugar. Remove from heat.
Strain the broth from pot 1 with a fine mesh sieve into pot 2 and discard of the impurities. Add the beef, ginger, and scallions to pot 2.
Add the tangerine peel and bring the pot to a boil again over high heat. Cover and simmer on a low heat for 1 hour.
Turn off the heat but keep the pot, lid on, on the burner for another full hour.
When the hour is up get back to the noodles. Flour your working surface and knead the dough a few times. Divide the dough into 4 balls. With a rolling pin, roll out each ball into a round disc about 5 millimeters (0.2 inches) thick. Cover the discs as you go with plastic wrap to prevent the dough from drying. Leave to rest for another 30 minutes.
Slowly warm up the soup again and bring another medium pot of water to a roaring boil.
Working one disk of dough at a time, slice the disc into several strips about 1 inch wide. Take one strip at a time and gently pull out the entire strip a bit. Then from one end pull the strip of dough into a long flat even noodle right into the boiling water. It's normal for the strip to break 2 to 3 times as you pull. Pull another 2 to 3 strips of dough the same way.
Boil the noodles until cooked, about 1 to 2 minutes. Remove the noodles from the pot into a bowl and set aside. Pull and cook the remaining 3 disks of dough in the same manner.
Divide the noodles into 6 bowls and top with the soup and beef. Garnish with scallions, and cilantro
7.8.1.2
455
https://cultureatz.com/spicy-beef-noodle-soup-lamian/
Here are a few more authentic Chinese recipes for you to try:
Did you make one of my recipes? I would love to see it. Take a photo and tag me on Instagram @cultureatz.
EDITOR'S NOTE: This post may contain affiliate links (disclosure policy). Please support CulturEatz by clicking on the links and purchasing through them so I can keep the kitchen well stocked. It does not alter the price you pay.