OK, time to get on your hands and knees in the kitchen so you can reach for the slow cooker that has been collecting dust on the bottom shelf…way in the back! We all (almost) have one and it is such a practical appliance but for some reason we give up on it soon enough.
My theory on that: all the recipes we know taste like the 1950s! We are under the impression nothing modern tasting can come of it. Well I say it is time to test that slow cooker stereotype! My tool in hand to break this myth: the Holiday Slow Cooker cookbook by Jonnie Downing. I received a copy of this great little cookbook filled with classics and fresh ideas for preparing hassle free holiday meals.
All the holidays are in here, for example, New Year's Day, Mardi Gras, Valentine's Day, St Patrick's Day, Easter, Cinco de Mayo, Bastille Day, Thanksgiving, Christmas and many more. Most of the recipes are classic holiday dishes and a lot of them have been modified especially for a slow cooker. There are small number of recipes I found a little exaggerated because it would take way less time to make it the old fashion stove top way, but the majority of the book serves up delicious dishes where you know the meat will just fall off the bone and melt in your mouth. The dessert ideas are pretty cool too.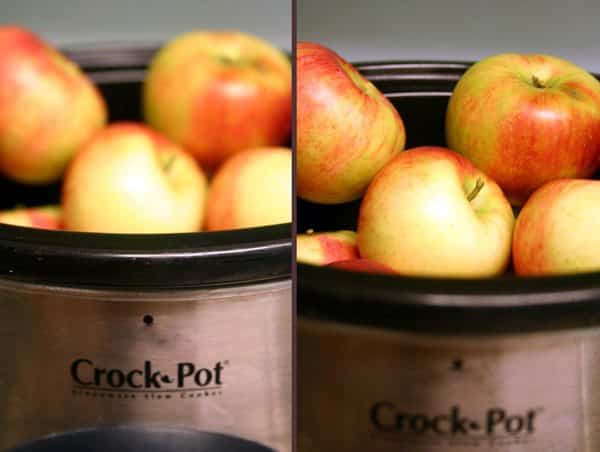 Speaking of a sweet tooth, I decided to test out the Chunky Applesauce recipe taken from the Hanukkah section. It certainly was one of the easier recipes in the cookbook but I still had a ton of apples from when I went apple picking recently. The activity of apple picking is really fun but honestly I am not the biggest fan of apples. I am even a lesser fan of what up to now I have know as applesauce. To me applesauce conjures up memories of being very sick as a child and my mom serving me that pale icky applesauce from a glass jar. That stuff has always left me very blah!
But I had a lot of apples and I love cinnamon. I prepared this recipe in the evening, the chunky mixture looked gorgeous, I turned on my setting to 10 hours and let it cook overnight. In the morning I found a chunky brown applesauce. I was put off at first by the brown color. I stirred it up and finally had a bite. Wow, best applesauce ever! It tasted like the apples caramelized which gave it a wonderful depth of flavor. Although in the book it is listed and a condiment you would serve with a meal, this is totally dessert material too. I cannot stop eating it, its applesauce on crack. Try it, you will be impressed too!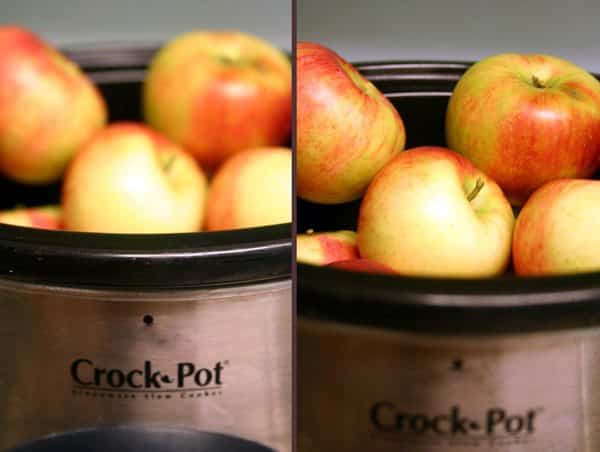 Slow Cooker Chunky Applesauce
A wonderful applesauce from the Holiday Slow Cooker cookbook.
Ingredients  
10

Cortland

or Granny Smith apples

1/2

cup

water

1

teaspoon

cinnamon

1

cup

granular sugar
Instructions 
Peel, core and cut in chunks the apples.

Stir together all the ingredients in the slow cooker.

Cover and cook on low for 10 hours.
The picture is a little fuzzy but it is just too cute. Meet Miyu, my new cat. He is 1, he has mitten paws, he is an energetic teenager, he is a terror, he is not making friends to well with Sati my resident cat, he loves water (??), and he is just too sweet and adorable. Here you see Miyu playing with an apple peel on the floor.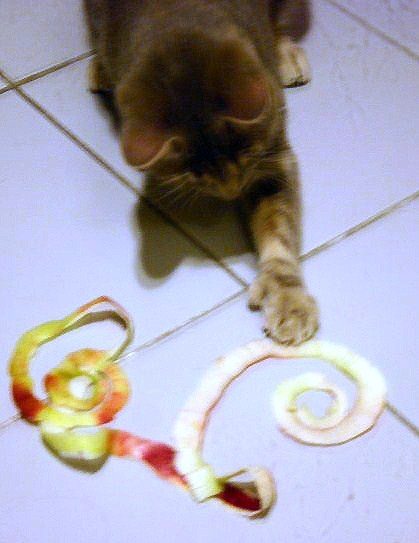 There is a reason why that peel is on the floor. When I was young my grandmother use to say if you peeled in one piece the entire peel of an apple, you hold the string of peel on one end, turn it around you 3 times and toss it behind you one the floor. The peel is suppose to give you the initials of the person you will marry. No luck again this time making out letters and I had 3 apples that peeled of in one piece…but I so enjoy my single social life. Where you told this superstition as a kid too?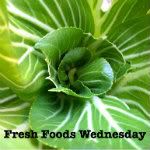 I am proud to say this post will be part of this week's Wednesday Fresh Foods Link Up #18 over at Gastronomical Sovereignty, a link-up to encourage fresh food production, consumption, activism, and awareness.