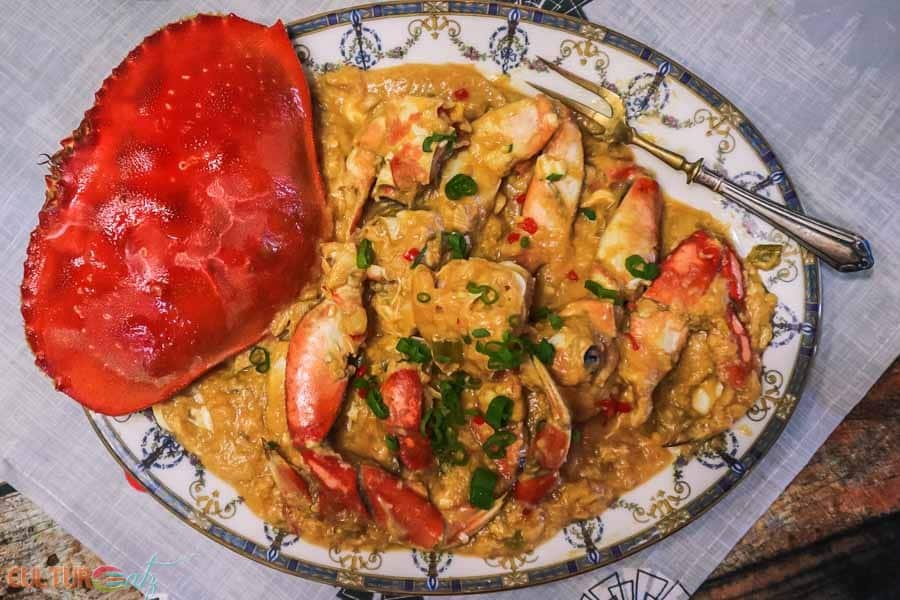 Did you know that Singapore chilli crab, one of the best hawker food you can get in Singapore, is considered one of the most delicious dishes in the world?
Singapore chilli crab was created as an improvised Singaporean food in a hawker stall. Created in the mid-1950, a hawker tested a chilli crab sauce made of chilli and tomato sauce. Who would have thought that this would become the quintessential Singapore street food, and a cornerstone dish of Singaporean cuisine?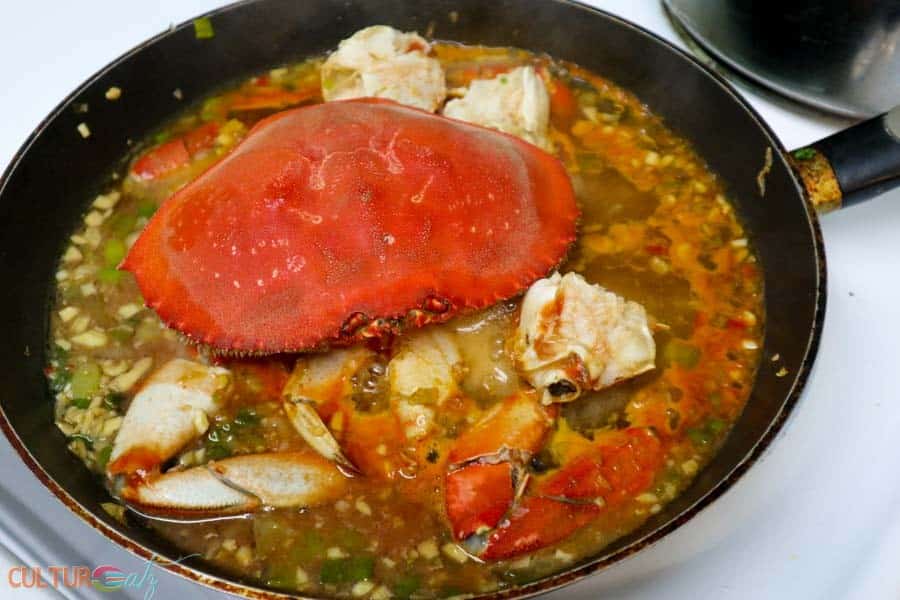 When we prepared a few months ago a Singaporean dish for the Eat the World Challenge, I was planning on making this Singaporean chilli crab recipe, but for health reasons, I was not able to. I had the find a simple recipe back then, a refreshing Singaporean Rose Milk drink, known as Bandung, which is PERFECT to enjoy on hot summer days.
But I knew I had to make this recipe for Singapore chilli crab asap. It looks so amazing and many locals consider this crab dish to be the best food in Singapore.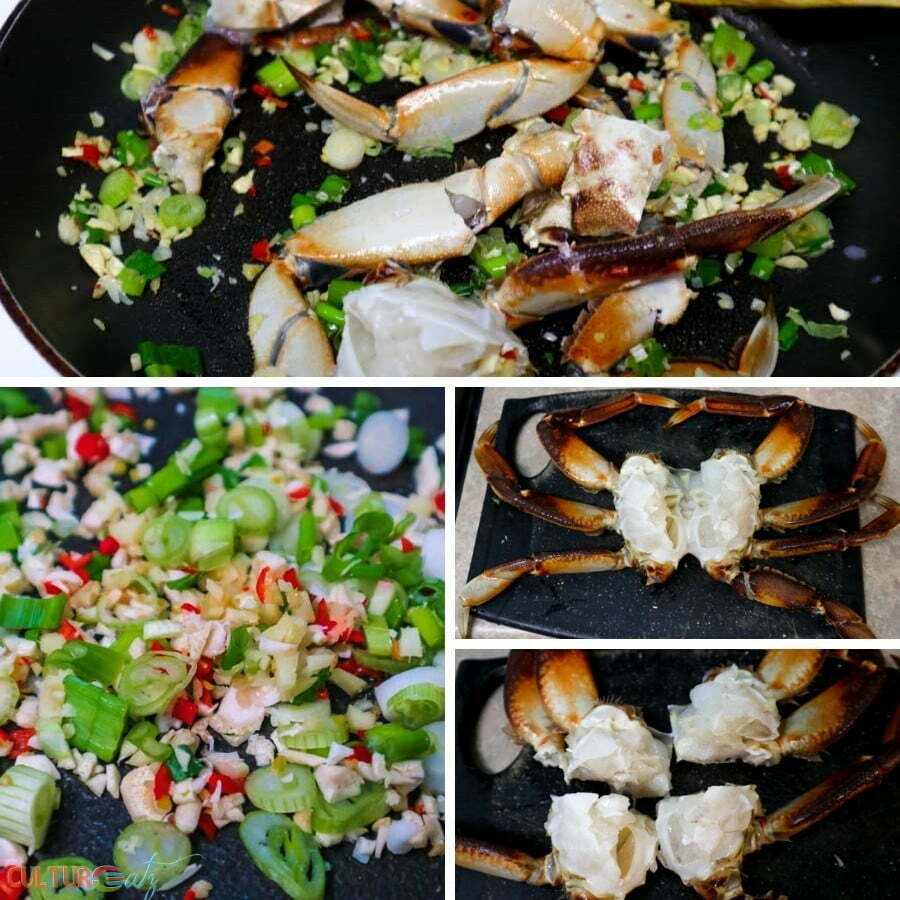 Singapore chilli crab recipe
Do you know what really makes this dish stand out? Well, the secret is in the sauce. You will find lots of chilli peppers and garlic, of course, ketchup surprisingly, a few beaten eggs, and the magic touch of fermented soybean paste.
A simple mix that has become the best chilli crab Singapore hawker seller on the streets of Singapore.
I have a FREE PRINTABLE for you
Surprise! I have prepared a Cheat Sheet that includes 41 Cooking and Baking Ingredient Substitutions that are commonly found in a kitchen. Click here to get your FREE Ingredient Substitutions Cheat Sheet right now!

Prepping the crab
But there is another aspect to this Singapore famous food in the prep that may…throw you off. The chilli crab Singapore recipe involves cleaning and quartering your crab while raw.
Below is a video demonstrating how to clean a crab. But this video shows a crab that has been boiled already. Just put the crab in the freezer for about 20 min prior to 'put it to sleep' a bit and follow the video for the first 1m45s.
Yes, the first time is a little scary. Remember that even if it is dead, nerves may make the legs twitch. I used a washing cloth from the bathroom and the scarier parts to protect myself.
But it was well worth the effort. After you have dealt with the crab, the recipe is easy-peasy. The clearest and most authentic one I could find was on this Southeast Asian food blog.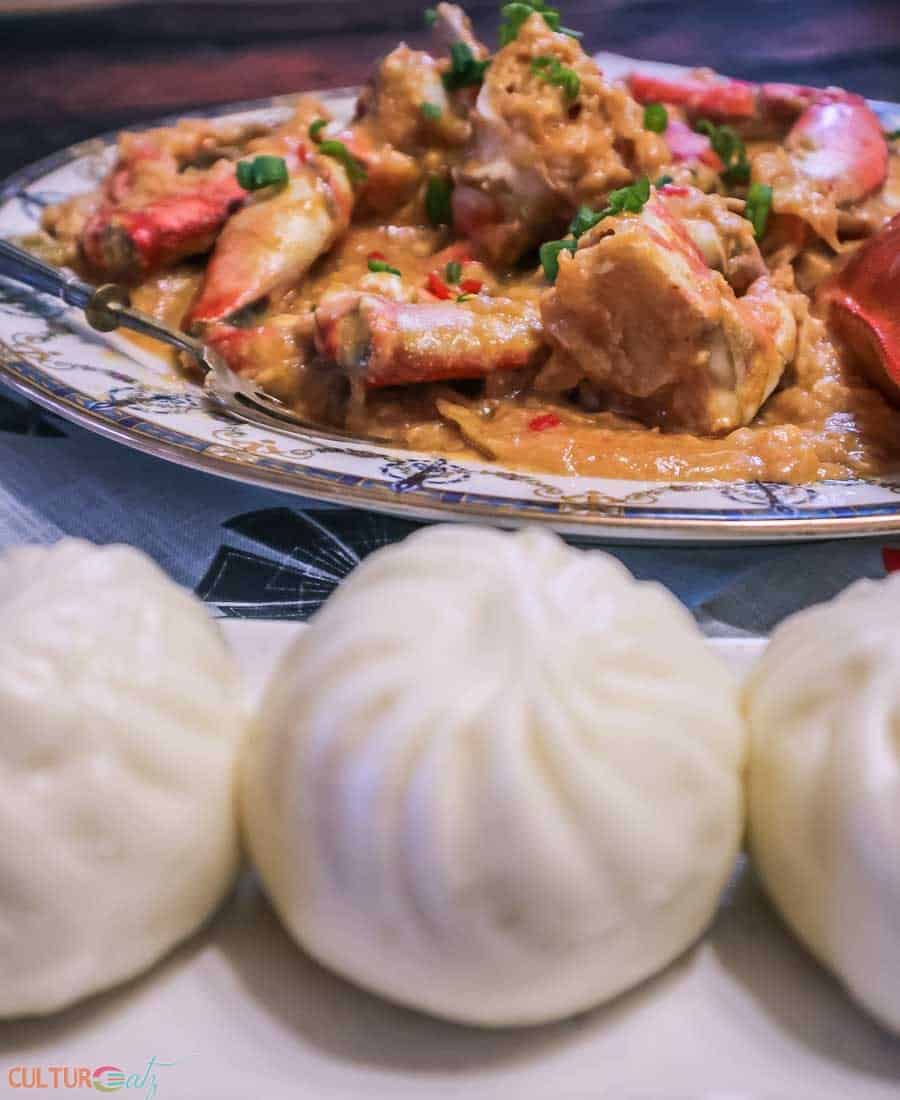 You can control the heat of the dish by putting as many chilli peppers as you like. I found it quite hot with 2 Thai peppers but it was absolutely delicious and I loved the heat it brought on, mixed in with the delicious sauce and succulent crab meat.
This dish is traditionally served with fried steamed Chinese buns.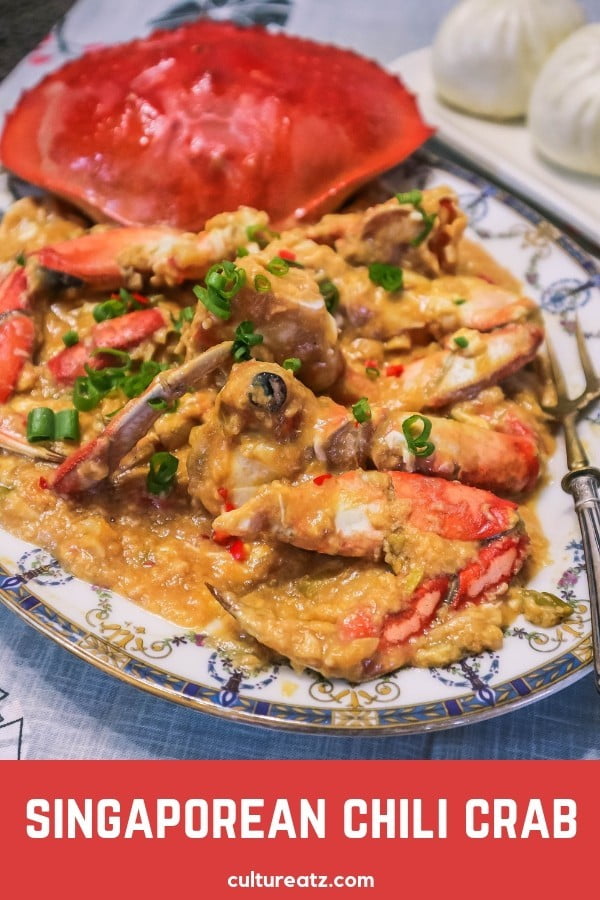 Singaporean Chili Crab
Blend chilies, ginger and garlic and shallots. Heat oil in a pan over low heat. Then, sauté blended ingredients until it is fragrant. Add in the pieces of crab except for th
Ingredients  
1

kg

2-pound crab

6

chilli peppers

I used 2 Thai chilli peppers

1

1/3 inch slice of ginger

2

shallots

6

garlic cloves

2

tbsp

oil

1

tbsp

fermented soybean paste

1 1/3

cups

water

2

tbsp

sugar

6

tbsp

ketchup

1

tsp

salt

1

tbsp

cornflour

2

tbsp

water

2

eggs
Instructions 
Clean the crab

after placing it live in the freezer for 20 to 30 minutes to numb it. It is very important to scrub the shell with a brush to remove impurities. Cut crab into quarters: first vertically, then horizontally. Witht he back of your knive, crack the shell of the legs slightly and set aside.

Mix the chillies, ginger, shallots, and garlic together. Heat the oil in a large deep skillet over low heat. Add the chillies mix and sauté until fragrant.

Add the quartered pieces of the crabto the skillet. Mix in the fermented bean paste and cook for 3 minutes. Add the water and increase the heat to bring to a boil. As it heats up, add the sugar, ketchup and salt. Once it boils, place the carapace or the crab on top of the skillet and cover with the lid. Lower the heat and simmer for 10 minutes.

Combine the cornstarch and water together. Stir it in quickly and cook to thicken the sauce. Beat the eggs in a bowl, and stir in the sauce non stop to cook till scrambled, about 3 minutes.

Serve a crab quarter per person, top with sauce, as well as scallions and chilies for garnish. This dish is traditionally served with fried steamed Chinese buns.