Shekla Tibs is a spicy aromatic meat dish which is very quick to make. This stew-like stir-fry is a lesser-known Ethiopian traditional food worthy of discovery.
The Eat the World Challenge is headed to Ethiopia this month and I cannot wait to see all the amazing Ethiopian traditional food prepared by fellow members. If you would like to join us on our monthly country discovery via a recipe, check all the info at the bottom of the post.
As for me, I made a dish I recently heard about called Shekla tibs, a spicy and flavor-packed stir-fry that will have you coming back for seconds. It is also a great recipe to learn the basics of how to cook Ethiopian food.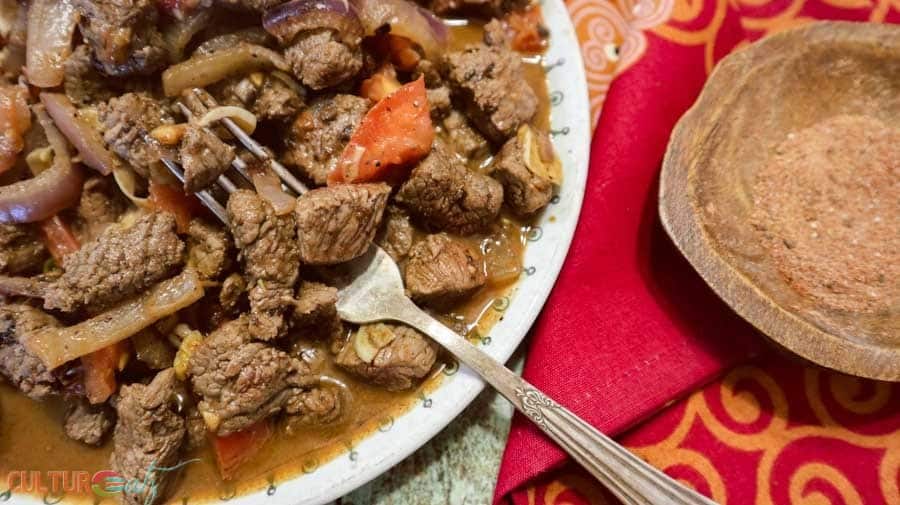 Ethiopian cultural food is a group experience
I love Ethiopian cuisine and it is a great meal to share with a group of friends and family. There used to be quite a few Ethiopian restaurants in Montreal but only a handful are left to try the best Ethiopian food.
A large plater, called a gebeta, will be brought to the table and portions of your chosen dishes will be placed in mounds on a thin spongy bread called injera. You will also get extra rolls of injera bread. This is your utensil and it is how to eat Ethiopian food. Everyone takes a piece of their bread and scoops up some of the veggies or stews to eat. It really is the way to define what is Ethiopian food.
Ethiopian food cooking often consists of vegetable, lentil or meat stews, usually quite spicy. Ethiopian food names are fun too, like wat, tibs, and kinche.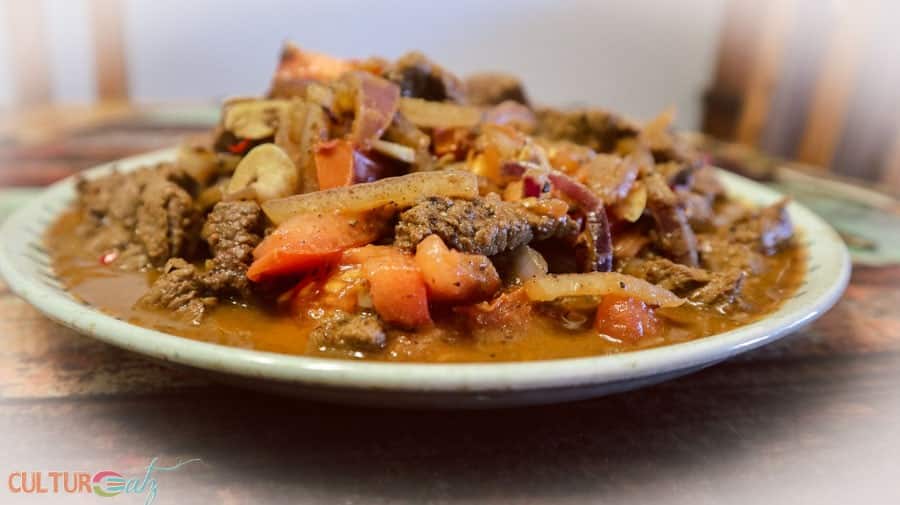 Since I am alone at home I did not want to undertake a full Ethiopian food menu but rather one dish that I felt stood out. Inspiration came from a recent collaborative post I wrote called Food and Travel: Travelers Share Their Best Meal While Traveling.
I asked travel bloggers to send me a pic and a text for the favorite food experience they ever had while traveling. The response was so big I had to do a part 1 and part 2. One contribution was this Shekla Tibs, not something I recalled seeing on an Ethiopian menu. So, of course, I had to make it!
I have a FREE PRINTABLE for you
Surprise! I have prepared a Cheat Sheet that includes 41 Cooking and Baking Ingredient Substitutions that are commonly found in a kitchen. Click here to get your FREE Ingredient Substitutions Cheat Sheet right now!

Shekla Tibs Ethiopian Traditional Food
There are actually many ways to make tibs. For example, the Kitfo tibs dish is made with raw meat and resembles what we know as tartar. If the same dish is ever so slightly cooked, then you would call it kitfo leb leb.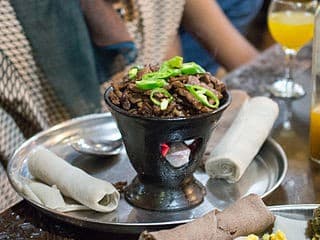 Today I decided to try the cooked version called Ethiopian Shekla tibs. Cubes of meat and vegetable are traditionally cooked inside a clay pot that funnels up a bit like a sundae dish. At the base of the dish, you will find an opening.  That is where embers of wood or coal are placed to cook the meat.
Fear not, if you do not have a clay pot, we'll fake the Shekla part with a wok or a large saucepan. Just make sure that your heat is very high. Set your heat on your burner to med-high but a bit more toward the high. This is how to cook tibs.
And since we are cooking on very high heat, it will take just a few minutes for the dish to come together. That is why it is very important to have everything prepared and on hand before you start cooking. It makes life a lot easier and you will not overcook your meat.
Shekla Tibs, one of the top Ethiopian food recipes
This Shekla Tibs dish is addictive! The spices all come together in a super aromatic way. Your kitchen will be aromatic for a while too. Be sure to stir well and coat a bit of sauce on every piece of meat before you serve.
And it is spicy but it all depends on how many chiles you chose to include in your dish. Personally, I went with one Thai pepper. Also, the spice is more peppery than hot and burning.
I really hope you give this recipe a try!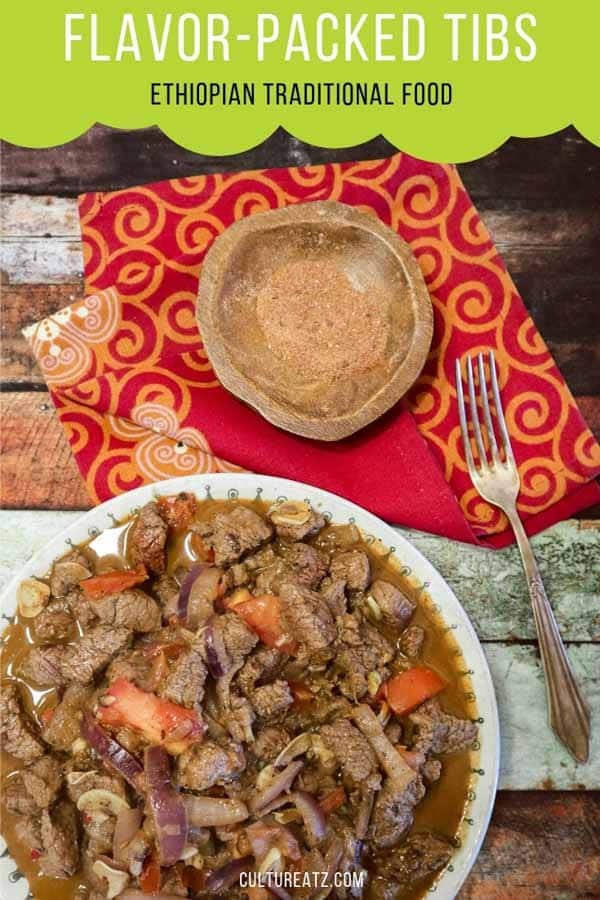 tibs
 Shekla Tibs is a spicy aromatic meat dish which is very quick to make. This stew-like stir-fry is a lesser know Ethiopian traditional food worthy of discovery.
Ingredients  
1

large red onion

about 2 cups, sliced thin

1/4

cup

ghee

2

pounds

beef

cut into bite-sized pieces

2

tablespoons

Berbere spice mix

1

teaspoon

ground fenugreek

1/2

teaspoon

cardamom

optional

1/2

teaspoon

ground ginger

1/4

teaspoon

cumin

1/4

teaspoon

ground clove

1

teaspoon

black pepper

3 to 4

garlic cloves

sliced thinly

2

cups

whole peeled tomatoes

broken into bits

1 to 5

green chiles

jalapenos or serranos

1/2

cup

red wine
Instructions 
Prep all your ingredients. Heat a saute pan at med-high.

Fry the onions on there own so that the edges char a little bit.

Add the ghee and the beef, and stir-fry on a high heat very quickly so that the outside of the meat is brown but the inside remains rare.

As soon as the meat is browned, toss in the spices, sliced garlic and chiles. Fry for 30 seconds.

Mix in the tomatoes and the wine and cook for 1-2 minutes. Serve immediately.
Berbere Spice Mix
One ingredient you will not have in your pantry for the recipe, but that is easy to make, is the Berbere spice mix. You will need it in almost every recipe for Ethiopian food preparation. Now the real deal has a few pretty uncommon spices but here is a quick mix you can do at home that will approximate the taste.
You can even use a bit to flavor your ghee beforehand. It is one of the main elements to master when learning how to make Ethiopian food.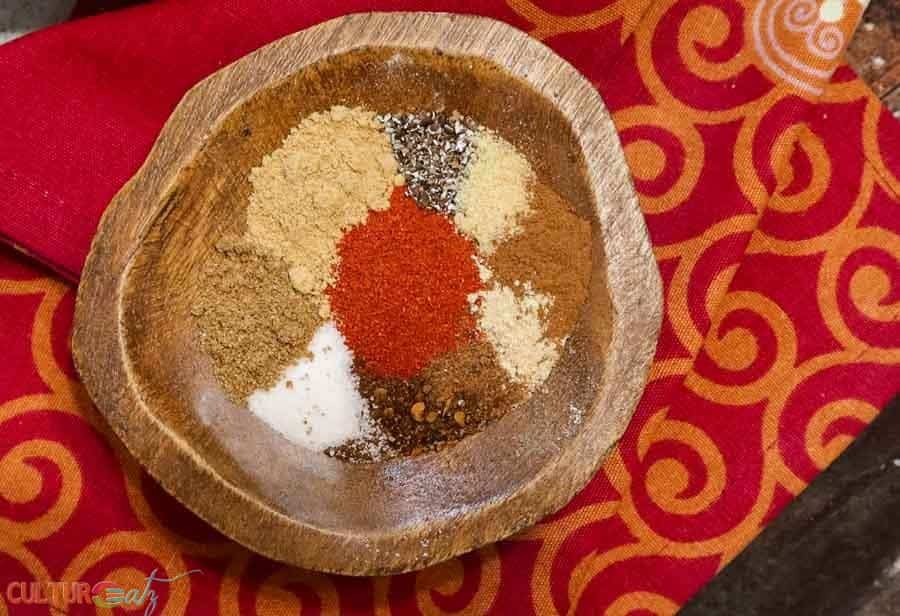 [mpprecipe-recipe:519]
Check out all the wonderful Ethiopian dishes prepared by fellow Eat the World members and share with #eattheworld. Click here to find out how to join and have fun exploring a country a month in the kitchen with us!
Juli: Misir Wot – Ethiopian Red Lentil Stew
Sue: Ethiopian Beef Tibs
Amy: Buticha – Ethiopian Hummus
Syama: Himbasha – Ethiopian Spiced Bread
Evelyne: Flavor-Packed Ethiopian Shekla Tibs
Lynda: Tikel Gomen (Ethiopian Cabbage & Potatoes)
Wendy: Doro Wat and Atkilt
Camilla: Ye'abesha Gomen (Ethiopian Collard Greens)
Margaret: An Ethiopian Meal with Misir Wat, Signi Wat, Gomen Wat, and Speedy Injera Flatbread
PIN IT FOR LATER! https://www.pinterest.ca/pin/266275396704732953