It's Secret Recipe Club reveal day! What is the SRC? Basically you are assigned a fellow participant's blog by the organizer and then you pick a recipe of your choice from that blog and make your version of it. But it is a secret, you cannot reveal whom you picked and what you made until the established posting date and time…. which is today! I can't wait to see who picked me.
This time around I got assigned the Random Acts of Food blog from the mysterious princessjay858, alas I could not find her name anywhere. I loved right away the quote she had at the top of her blog: "One cannot think well, love well, sleep well, if one has not dined well." – Virginia Woolf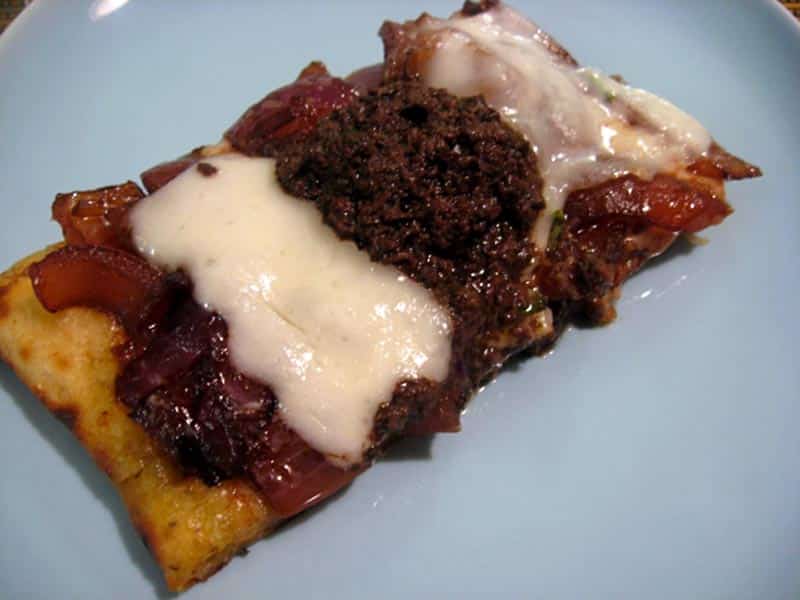 I had a great time perusing the recipes and a very tough time settling on one. I did not go that way, but let me tell you this girl loves her pork chops lol! If you need fresh ideas on this classic meat cut then check out her blog. I finally settled on a simple yet delicious Mozzarella and Proscuitto Pizza with Balsamic Onions, with a few minor changes: I could not find this week a reasonably priced proscuitto so I substituted with a tapenade, making thisa suitable vegetarian dish.
I am a huge fan of lots of onions on a pizza and that is why this recipe caught my eye. The caramelized tangy onions and the garlic flavored oil make the sauce base of this pizza instead of the traditional tomato sauce. The contrasting flavors of the olive spread and goat mozzarella made for very tasty combination.
Ξ Mozzarella and Tapenade Pizza with Balsamic Onions Ξ
Ingredients:
Balsamic Onion Sauce:
2 tbsp plus 1/2 cup olive oil
1 12-ounce red onion, thinly sliced
2 tbsp balsamic vinegar
2 tsp Worcestershire sauce
4 large garlic cloves, chopped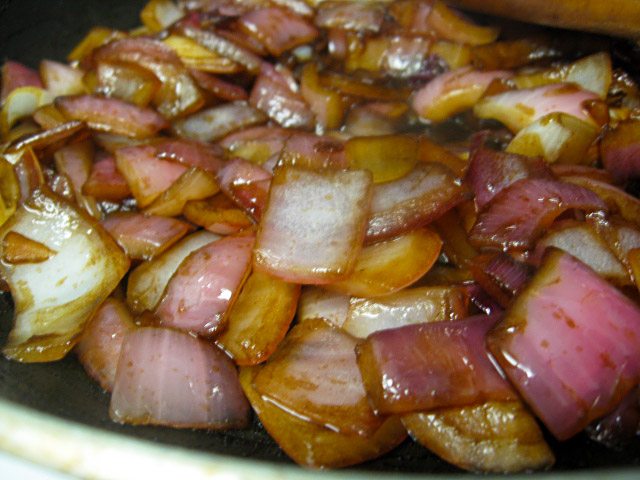 Pizza:
pizza dough (your choice, I used a store bought flat bread)
mozzarella cheese, 1/2 cup grated and 8 slices ( I got a goat milk mozzarella)
3 tbsp grated Parmesan
1/2 cup tapenade (olive spread)
2 tsp chopped fresh thyme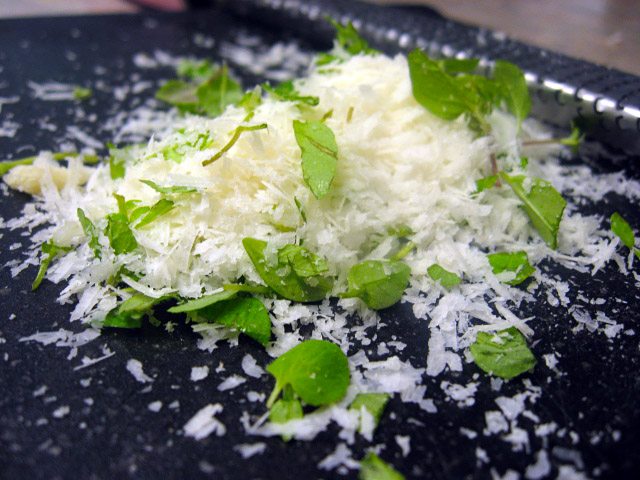 Directions:
Heat 2 tbsp oil in medium skillet over medium-high heat. Add onion and saute until golden, about 12 minutes. Add vinegar and Worcestershire. Reduce heat to medium-low; simmer until liquid cooks away and onion is very tender, about 4 minutes; season onion with salt and pepper.
Heat remaining 1/2 cup oil in heavy small skillet over medium-low heat. Add garlic and saute just until garlic begins to brown, about 4 minutes. Using slotted spoon, transfer garlic to custard cup. Pour oil into separate small bowl.
Position rack in bottom third of oven. Prepare your pizza dough as required and bake it.
Brush 1 tbsp reserved garlic oil over dough, leaving 1/2-inch plain border. Sprinkle with grated mozzarella, then reserved garlic bits. Strew balsamic onion, then sprinkle thyme and Parmesan.
Keeping in mind you will have 8 servings, spoon 1 tbsp of  tapenade and place 1 mozzarella slice per serving.
Bake at 375F the pizza again for 10 minutes, rotating the pizza once half way at 5 min. Bake until cheese is melted.
Cut into 8 pieces. Serve with balsamic vinegar and garlic oil separately.
I will end my post as this lovely Boston girl normally does. Tutti Mangia!
See more recipes from the bloggers of The Secret Recipe Club by visiting the links below!