What a whirlwind week I had. So many competition recipes to post, so much in my personal life. I lived two weeks in one. Now rest is coming at least.  Oh did I mention the great news? Remember my Pesto and Mushroom Pizza entry for the Hostelbookers contest? Well I was one of the 10 winners! My recipe will be published in the upcoming Backpackers Recipe Guide, I am so excited!
Today is a much more relaxed  and fun post, it is Secret Recipe Club time again. And this month was a real treat for me. What is the SRC? Basically you are assigned a fellow participant's blog by the organizer and then you pick a recipe of your choice from that blog and make your version of it. But it is a secret, you cannot reveal whom you picked and what you made until the established posting date and time…. which is today! I can't wait to see who picked me.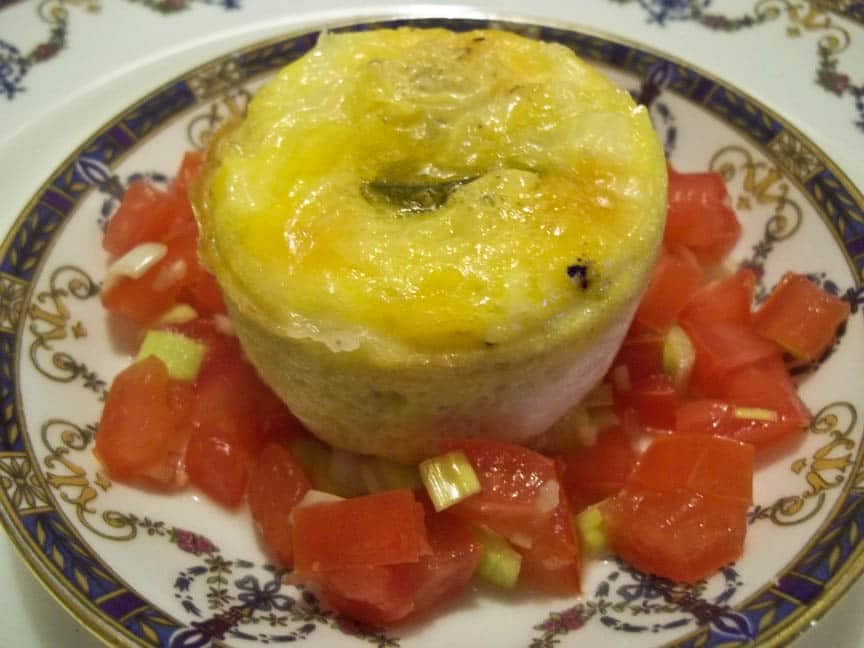 This month I hit the jack pot in my opinion. I got The Slow Roasted Italian which is written by Donna. In a nut shell, for her hosting parties, cooking for friends and family,  and listening to music makes the world go round. Her husband, Chad, is responsible for the design and photography.  How cool to be a team working on a blog like that.
Donna is a spicy Italian born in New York who then grew up in the sunshine state and then was transplanted to the Southwest. This combo makes for an interesting array of recipes. Lots of Italian, lots of Tex Mex and a bit of everything else. I would say picking a recipe was hard but actually it was not. Last Wednesday I had 2 girlfriends from high school over for brunch and we simultaneously chatted via speaker phone with our 4th  friend who lives in Dubai. We were suppose to web cam but technology was against us. Anyways I knew I had to find a couple of amazing brunch recipe and I was so happy to see Donna had a brunch section in her recipe listing.
I actually prepared 2 recipes:  Baked French Toast Casserole and the Tex-Mex Mini-Frittatas (low calorie), in my version I put the calories back in lol. Both recipes were a huge hit with the gals! Look at our gorgeous table setting with the cheeses, breads and fruits they brought. Oh yeah we even had Mimosa! It was so much fun and the recipes are guest tested. The Baked French Bread Casserole is too die for. Make then for your next brunch!
Ξ Tex-Mex Mini-Frittatas Ξ
NOT low calorie version
Olive Oil Spray
8 egg whites
2 ounces jalapeno Monterey Jack
1 jalapeno, sliced
salt and pepper, to taste
Preheat oven to 350°.  Lightly mist 6 cups of a non-stick muffin pan with the olive oil spray. In a large bow beat eggs and divide into evenly into each muffin cup, sprinkle with pinch of salt and pepper.  Bake for 8-10 minutes, or until almost set.
Cut cheese into small thin pieces and spoon evenly over the tops of the frittatas. Place one slice of jalapeno on top of the cheese.  Bake for 8 to 10 minutes longer, or until the egg is no longer runny and the cheese is melted.  Transfer the muffin tin to a cooling rack and allow the frittatas to rest for 2 minutes before serving.
Ξ French Toast Casserole Ξ
butter (for preparing baking dish)1 loaf French bread
8 large eggs
2 cups half-and-half
1 cup milk
2 tablespoons sugar
1 teaspoon vanilla extract
1/2 teaspoon ground cinnamon
1/4 teaspoon ground nutmeg
Dash salt
Praline Topping, recipe follows
Prepare 9×13 baking dish by generously buttering the entire dish.  Set baking dish aside.  Slice French bread, on the bias approximately 1-inch thick. Arrange slices in your prepared baking dish in 2 rows, overlapping the slices. Set dish aside.
In a large bowl, whisk eggs.  Add half-and-half, milk, sugar, vanilla, cinnamon, nutmeg, salt and whisk until blended but not too bubbly.
Pour mixture over the bread slices, making sure they are covered evenly with the milk-egg mixture. Spoon some of the mixture in between the slices. I like to make sure all my slices are good and coated.  Even dunking them in the mixture sometimes. Cover with foil and refrigerate overnight.
The next day, preheat oven to 350 degrees F. Scoop out praline topping and make 8 dollops of topping. Then spread Praline Topping evenly over the bread (like you are icing a cake) and bake for 40 minutes, until puffed and lightly golden.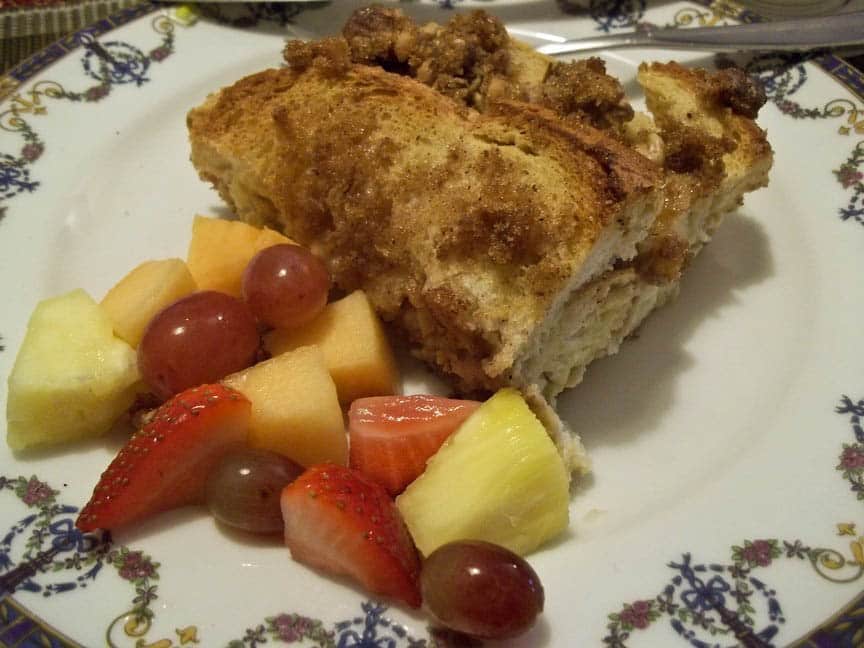 Ξ Praline Topping Ξ
1 cup packed light brown sugar
1 cup chopped pecans (I used walnuts)
2 tablespoons light corn syrup
1/2 teaspoon ground cinnamon
1/2 teaspoon ground nutmeg
Combine all ingredients in a medium bowl and mix well with a wooden spoon.

'); // ]]>