Pennsylvania Dutch Sand Tarts are traditional Christmas sugar cookies know for their thin and crisp texture, and a light dusting of cinnamon. Yet they remain delicious and should be enjoyed year round!
OK let me here it! I know you are confused. "But Evelyne we are in May, Christmas is 7 months away. Why are you talking about these cookies?" Well they are my inspiration for this month's Food 'n Flix movie, The Princess Bride. And they would be perfect for Camper's Christmas on June 25th. 😀 Sand and sugar were stuck in my brain after I saw the movie. How many recipe do you know that come from the concept of sand? This eventually blossomed into sand tarts, all topped with a buttercup in honor of the Princess Bride herself!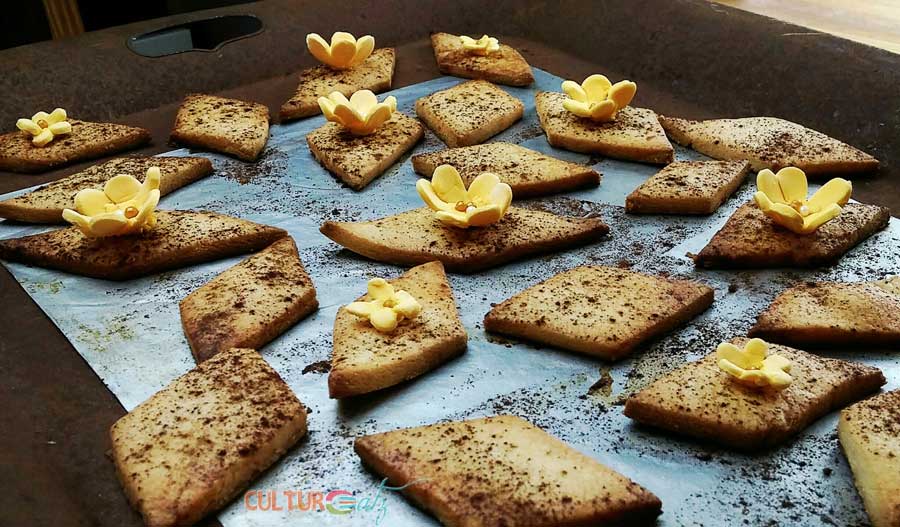 The Princess Bride is celebrating its 30th anniversary. This romantic fantasy adventure comedy movie dates back to 1987. Does anyone else feel a little older right about now? Not big complicated plot here. Girl named Buttercup falls in love with farm boy. Farm boy goes away and supposedly dies. Girl must marry mean prince. The girl gets kidnapped for ransom. Girl gets saved by a mean pirate who turns out to be her beloved farm boy. The girl gets kidnapped again by mean prince and is forced to marry the prince…but gets saved in time by farm boy pirate and they live happily ever after. You know, basic story 😉
I actually only saw the film for the first time maybe 10 years ago. I was really reticent at first because princesses and knights and fantasy films….not my thing. But I admit I was wrong. This is an awesome movie! All because of it's humor. I would call it more a parody of princesses and knights and fantasy, a really good and hilarious parody.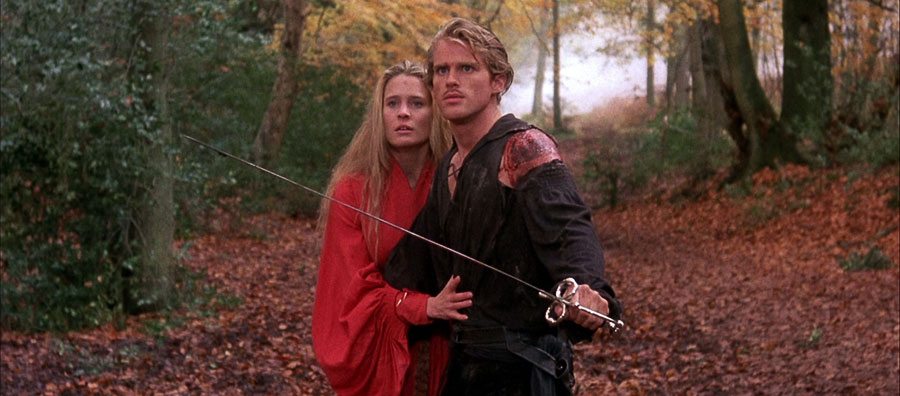 I do not mean to pry, but you don't by any chance happen to have six fingers on your right hand?
The movie is complete nonsense, totally fun and super cheesy. The only negative comment I have is that at some points I wanted to bitch slap some feminism into the freaking Princess Bride! But I guess that would defeat the purpose of a "helpless princess"!
An so many cameos and famous people in here! Fred Savage, Peter Falk, André the Giant, Billy Crystal, Carol Kane, and the best is Mandy Patinkin. OMG he is so young and so freaking hilarious. And Buttercup the princess bride, do you recognize her? It's Claire in House of Cards! OMG!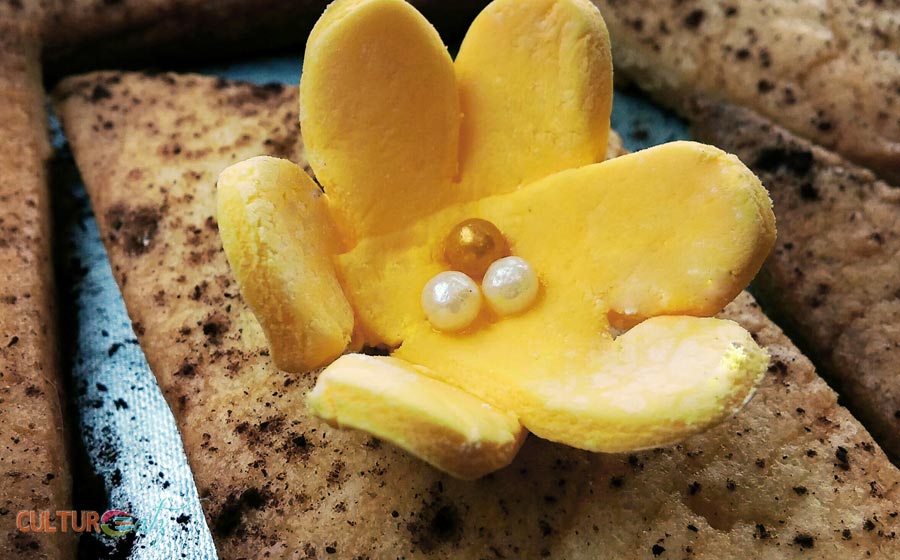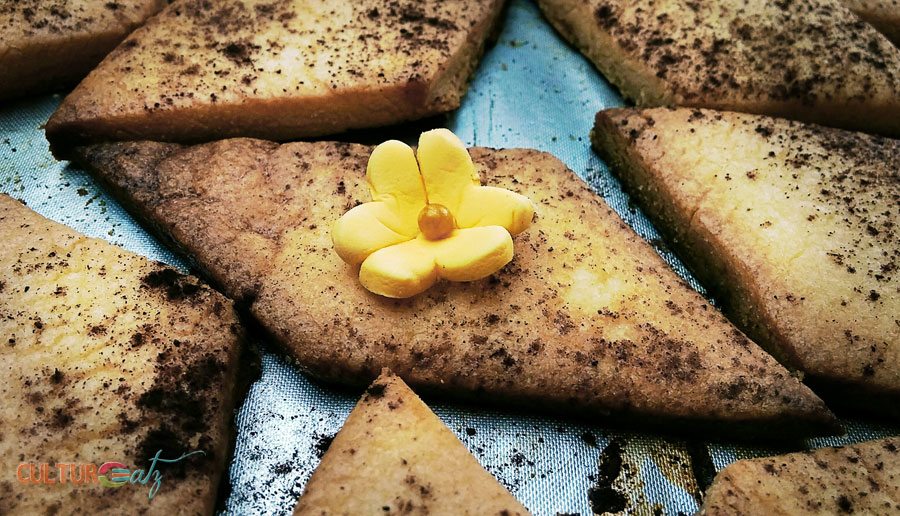 Food 'n Flix is hosted this month by Deb at Kahakai Kitchen! In this monthly group a host picks a movie of their choice that pertains to food. Everyone watches the movie and then makes a recipe which the film inspired. It can be any recipe you want. Join us!
Food sightings, a very short list this time: Cheetos, coffee, orange juice, sandwich, buttercups, eel, apple, cheese, bread, wine, tree mushrooms, quick sand sugar, stew, mutton BLT, chocolate covered miracle pill, wheat, and pineapple.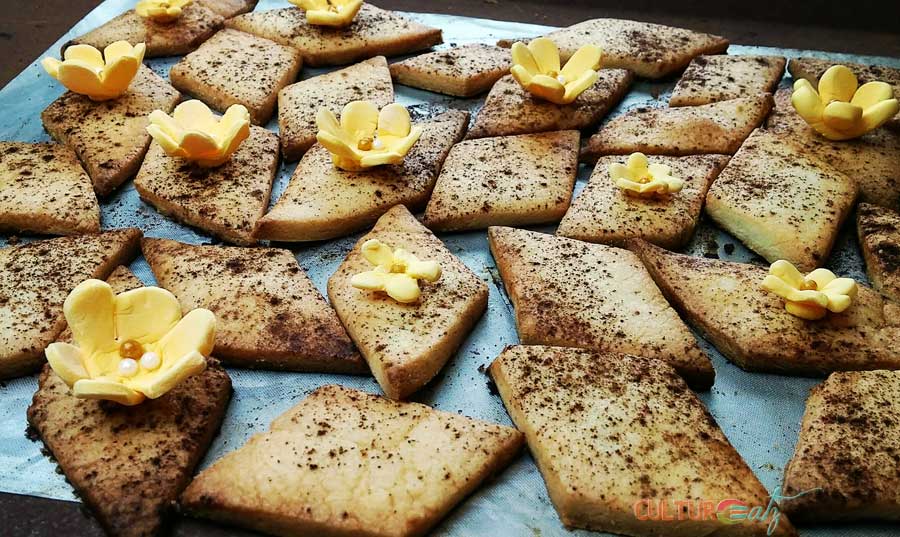 Sand Tarts for Quicksand
Deb warned us it was not a huge food movie but challenged our imagination. When I saw a movie there one was scene that got stuck in my head for inspiration…a weird one. Buttercup gets swallowed up in quicksand and gets rescued by Westley. I am 100% certain they filmed it with sugar. The way the 'sand' stuck to the actor's face when they got out of it…it was sugar. My online searches were pretty much limited to sugar body scrubs, until I came upon the sand tart sugar cookie!
I have never heard of sand tarts before and I was happy to find this old fashioned recipe which makes you dry out the dough for eight hours before cooking for an extra dry texture. Usually this cookie is topped with an almond in the center but I thought a pretty buttercup flower would be much more fitting with the film.
I made the buttercup flowers out of marshmallow fondant which I have used in the past to make a giant wedding dress cookie … a great idea for upcoming weddings! As far as how I made the buttercups, let's call them simple, childlike and adorable 🙂 Here is a quick video: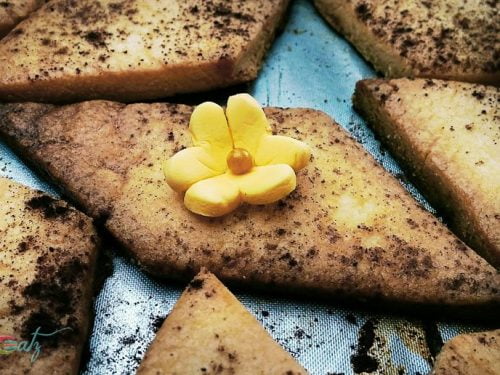 Buttercups on Sand Tarts
Ingredients  
1

cup

sugar

1 1/4

sticks butter

1

egg

2

cups

flour

Egg wash

one egg white + 1 tsp. water, whisked

cinnamon

Buttercup flowers made from marshmallow fondant
Instructions 
In a medium bowl, start by creaming the butter and sugar together. Mix in the egg well, then slowly work in the flour, fishing the mixing with your hands when the dough gets too stiff to mix.

Roll out the dough with a rolling pin to a 1/4-inch thickness. Cut the rolled dough into diamonds about 2 inches wide. Transfer the cookies to lined cookie sheets with a flat spatula, about one inch apart.

With a pastry brush, apply a thin layer of the egg white to the cookies. Dust with cinnamon.

Cover with a dish towel and leave the cookies out to dry at room temperature for eight hours.

Bake in a pre-heated oven at 375 F for 12-15 minutes. Cool on a rack.

Place a buttercup flower in the center of each sand tart.