Ro-be-yann nashif is a magical dish from the United Arab Emirates where plump shrimps cook slowly with loads of exotic spices, bezar, loomi and curry leaves.
It's time for the MENA (Middle Eastern & North African) Cooking Group. This monthly group has for goal to help us discover the culture and cuisine of the countries found in these parts of the world. The host of the month will choose two savory and a sweet dish from the country and the members pick one dish to make. This month we are off to United Arab Emirates where we will savor Ro-be-yann nashif, or Shrimp Fried with Spices.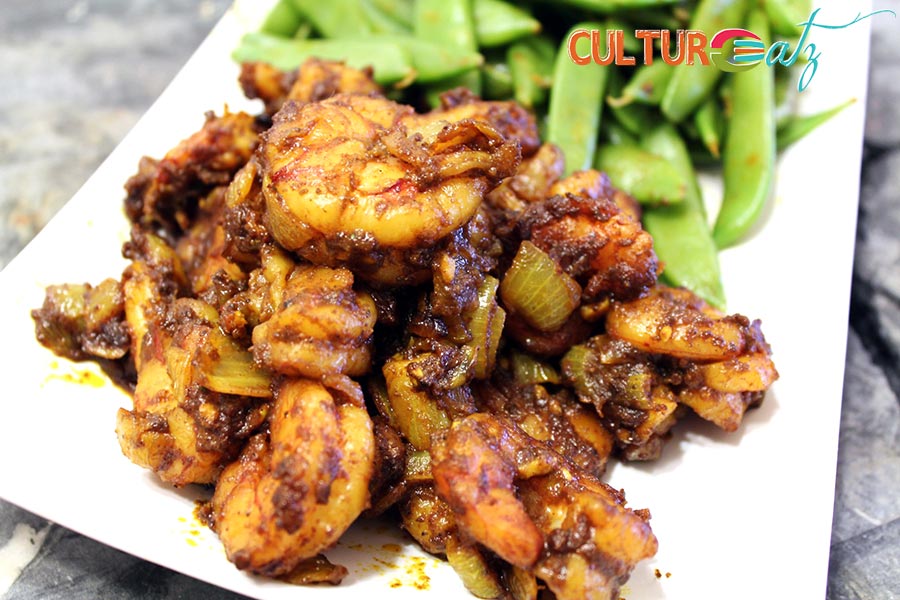 The United Arab Emirates, often referred to as the UAE, is a federation of seven emirates on the eastern side of the Arabian peninsula, at the entrance to the Persian Gulf. It has coastlines on the Gulf of Oman and the Persian Gulf, with Saudi Arabia to the west and southwest, and Oman to the southeast. It is a country rich in history and culture. You can find everything here, from the extraordinarily modern malls with crazy entertainment centers in Dubai, to the magnificent desert dunes on the edge of the Empty Quarter.
Emirati cuisine is a blend of many Middle Eastern and Asian cuisines. The traditional food of the United Arab Emirates uses a lot of meat, grain, and dairy. Vegetables are easy to grow in some areas, and are strongly featured in the diet. Traditional dishes include Ma'louba, Margooga, Harees, Machbous, Frsee'ah, Fireed, Jisheid, and Mishwy. Camel milk is highly so camel meat is normally reserved for special occasions. Saffron, cardamom, turmeric, and thyme are the core flavors used in Emirati cookery.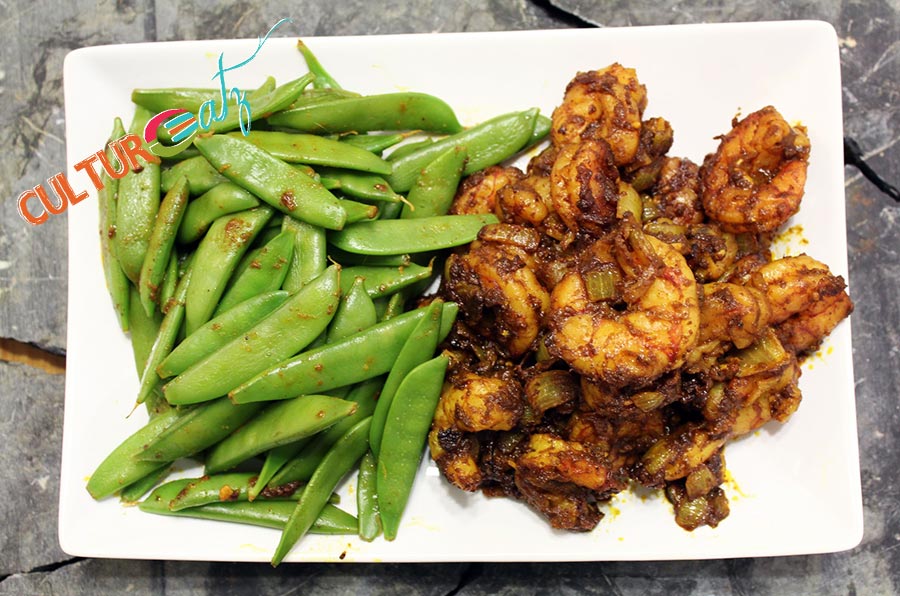 I made a popular main course meal called Ro-be-yann nashif, which is basically fried shrimps in a fabulous spice paste. This is super flavor packed and the kitchen smells wonderful. The onions are fried in quite a bit of oil, the spices are added and cooked until fragrant, and finally the shrimps are cooked in the onion mixture on low heat. The shrimp remains so moist and have taken on all the flavors. And it is a very quick dish to make. Serve with rice and some veggies.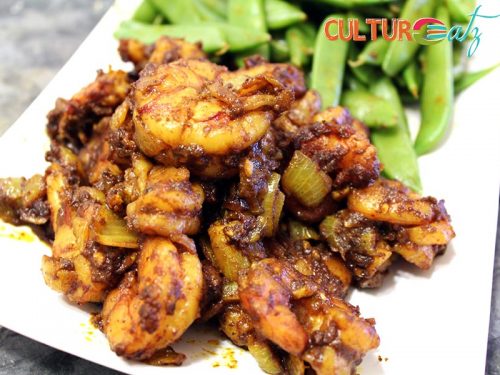 Ro-be-yann nashif (Shrimp Fried with Spices)
Ingredients  
1

lb

450gr fresh shrimp, cleaned

2

large onions sliced

1/2

cup

corn oil

1

tablespoon

bezar

1

teaspoon

turmeric

pinch

of ground fennel seeds

2

garlic cloves crushed

1

tablespoon

loomi

1/2

teaspoon

cumin

6

curry leaves

or kaffir leaves

1 1/2

teaspoons

tomato paste

1

tablespoon

grated ginger

salt to taste
Instructions 
Heat oil in a sauce pan and fry onion in oil until brown.

Add all remaining ingredients except the shrimps. Cook on low-medium heat for 2-3 minutes.

Add shrimp and a little water, mix well. Turn heat to low and cook for 12-15 minutes, stir frequently.

Serve immediately with rice and/or vegetables
Bezar, or Bzar, is a Emirati spice mix in the garam masala family. I made a small quantity but here is a full recipe of the spice mix from Saveur: Mix and grind in a spice grinder:
1/4 cups black peppercorns
1/4 cups cumin seeds
1/4 cups coriander seeds
1 tbsp. cloves
1 tbsp. green cardamom pods
3 dried chiles de arbol, stemmed
2 sticks cinnamon, broken in half
1 whole nutmeg, broken into pieces
1 1/2 tbsp. ground ginger
1 tbsp. ground turmeric
This Ro-be-yann nashif recipe can be found at Fahad. Thank you to MENA Cooking Club and to our host this month, Tamar.