Are you ready for a another gluten and dairy free recipe? One that actually worked this time! I was suppose to do this dessert when Melanie came over for her birthday dinner but things came up. She is gluten and dairy intolerant and I was trying to play with rice flour, a first ever. My rice flour gnocchi were not a perfect success and need to be reworked. But I found a rice four sponge cake recipe that was perfect for her. Alas she does not get to taste my first attempt but I had to try is asap. I am giving you the basic recipe below but I added 1/2 tbsp of Matcha powder for flavor.
Rice Flour Sponge Cake
2 eggs, separated
1/3 cup sugar, divided
1/4 cup sifted rice flour
Dash Salt
1 tsp lemon juice
Beat egg whites until frothy. Add 1-1/2 tablespoons sugar and beat until stiff but not dry. Sift together twice rice flour, remaining sugar, and salt. Beat egg yolks until thick and lemon colored. Add lemon juice and flour mixture. Beat only until smooth. Add a small amount of beaten egg whites to yolk mixture and stir until blended. Fold in remaining egg whites with a rubber spatula. Pour into a small loaf pan (7×3.5×2.5 inches) or a small round pan (inches) which has been lined with wax paper. Cut gently through batter to remove any air bubbles. Bake at 350F for 25 to 30 minutes. If using glass baking dish, reduce temperature to 325F. Invert onto cake rack and let cool before removing from pan.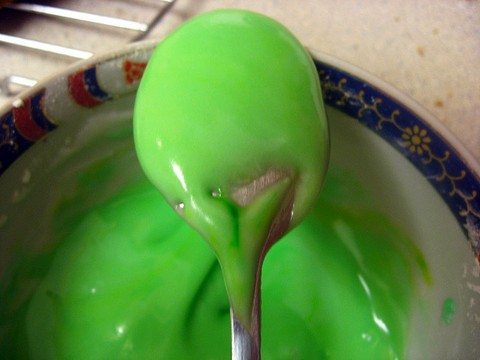 I decided to do a glace icing, following the dietary restrictions imposed. But now having tasted it I would do half the glace recipe only, it was too much quantity wise for this cake.
Glace Icing
4oz icing sugar
1tbsp water
food coloring, optional
Mix water and icing sugar, add food coloring to desired color, rectify consistency with a tad more water or sugar if need be. It needs to be thick enough to coat the back of a spoon. Spread very gently with a spoon over the entire surface. Be gentle pushing the icing but work fast as it will crust pretty fast. Let in set before serving so icing can solidify.
It is perfect if you want a small dessert for 2 instead of making a huge cake for 10. OK 2 good pieces or 3 small pieces. Wow this rice flour cake was a huge success. It was both light and consistent. If you want to experiment with a different type of flour this is a great intro recipe.  Yum-my! Next visit Mel!