There are many Persian rice dishes but this Reshteh Polow, or Persian Rice with Noodles, particularly stands out with beautiful sweet, nutty, and aromatic touches.
It has been a while since I posted a recipe for Food N' Flix. There was a long break for the summer and I just could not fit it in my schedule till now. I am so glad to finally participate again and it was a pleasure to discover this foreign movie I had never heard of. For this month's Food N' Flix the movie pick was A man called Ove and my inspiration was a Persian Rice with Noodles dish called Reshteh Polow.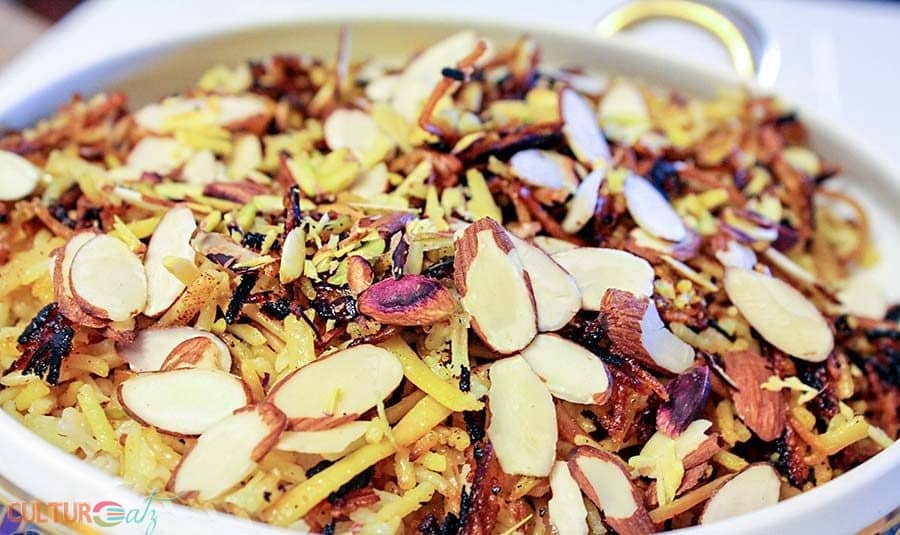 A Man Called Ove
This Swedish film was a delight. Now it was not a happy go lucky movie at all but I really enjoyed it a lot. The film was sad at times, can make you uncomfortable here and there, and there are touches of dark humor. It's a bit of a tear jerker at the end too. It is not your typical American everybody is happy and rides into the sunset kind of film. A Man Called Ove was release in 2015 and was nominated as Best Foreign Film at the Academy Awards of that year.
It is the story of a man called Ove (duh), a widower who wishes he was dead so he can be with his wife again. He is stubborn and stuck in his ways, a perfectionist and a rule monitor for the community he lives in. He is lonely.
That is until new neighbors move in, the wife, Parvaneh, being Persian. They really shake up his belief system and view of people. It is not neighborly love at first sight. Still, a deep bond is formed and Ove opens up, a little bit, to the people around him. We also learn a bit about why he is the way he is and about his love story and loss of his beloved wife.
I don't want to give away the ending, but we see the extent of how many lives he really has touched. Ove really reminded me of my dad a lot in some ways. The stubborn older European man who comes off cold but inside he hides a large giving heart. Click here to see the movie online or buy a copy.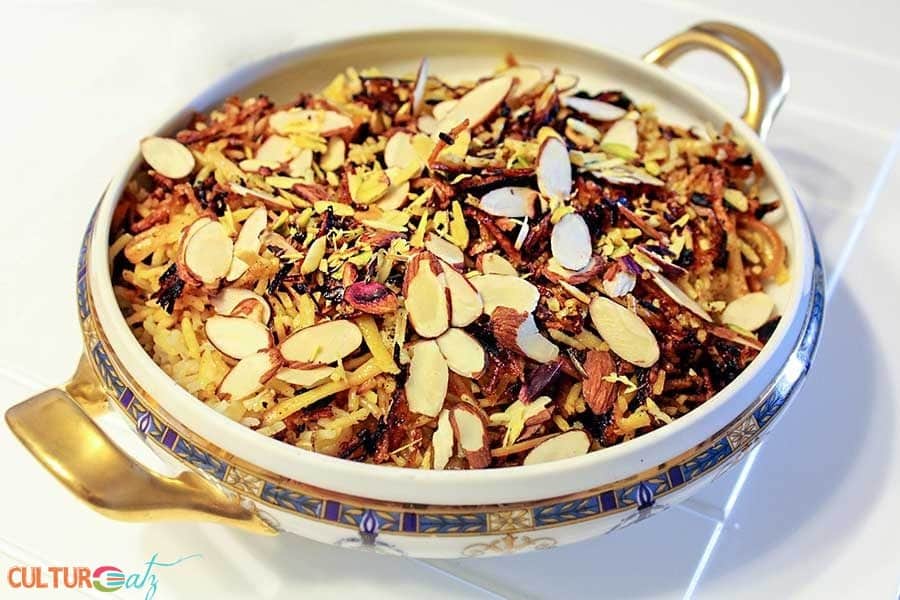 Why I chose the Persian route
I could have gone with Swedish recipes or Iranian dishes. I am particularly fond of the food from Iran so I went with the 'very good rice' comment Ove made at one point. But this is a special rice filled with many surprises.
I am lucky and happy to say my life has been blessed with many Persian acquaintances. I met quite a few in my early 20s and the meals I enjoyed in their home really opened up my general ethnic curiosities in food. One Persian girlfriend was even married to a Swedish guy. My neighborhood is filled with Persians too. I can choose from 5 different Iranian restaurants within a few blocks of my place.
Food sightings: Persian chicken rice saffron, lots of lunches no idea what they were, thermos soup, meat and potatoes, stuffed cabbage, wine, soup, Persian cookies, Napoleon pastry, kebab stand, toast, coffee, cheese sandwich, lunch buffet
I have a FREE PRINTABLE for you
Surprise! I have prepared a Cheat Sheet that includes 41 Cooking and Baking Ingredient Substitutions that are commonly found in a kitchen. Click here to get your FREE Ingredient Substitutions Cheat Sheet right now!

In my experiences, Persians are also one of the kindest, warm, most sincere and generous cultures I ever met. Here is one quick story. A few years back I was walking in the hallway of my apartment building when I ran into my neighbor across the hall. We had spoken a bit here and there but she barely spoke French or English.
This time she came out with a tray of 4 big bowls of fragrant rice pudding that she was bringing to fellow friends in the building. When I mentioned it looked amazing she insisted I take one. It was huge, about 4-6 servings, and she would not take no for an answer. I was so touched. I brought her back a clean bowl and a Canadian dessert.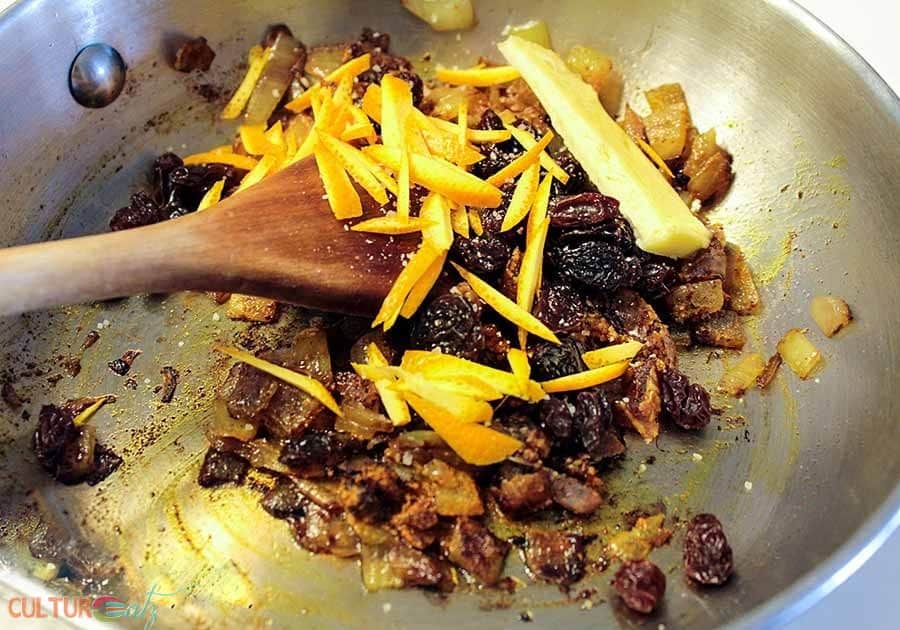 Reshteh Polow, or Persian Rice with Noodles
Fragrant rice is the staple of Iranian food. Boiled and then steamed, it is often colored with saffron or flavored with a variety of spices. When served as an accompaniment, it is served with kebabs or rotisserie chicken. Flavored rice, known as Polow, is often served as a main course or as an accompaniment to a meat dish.
At home people most often eat rice with a thick stew (khoresht) or hearty soups containing a modest amount of meat.  The most popular soup is made from herbs, chickpeas, and thick noodles, and garnished with yogurt and fried onions.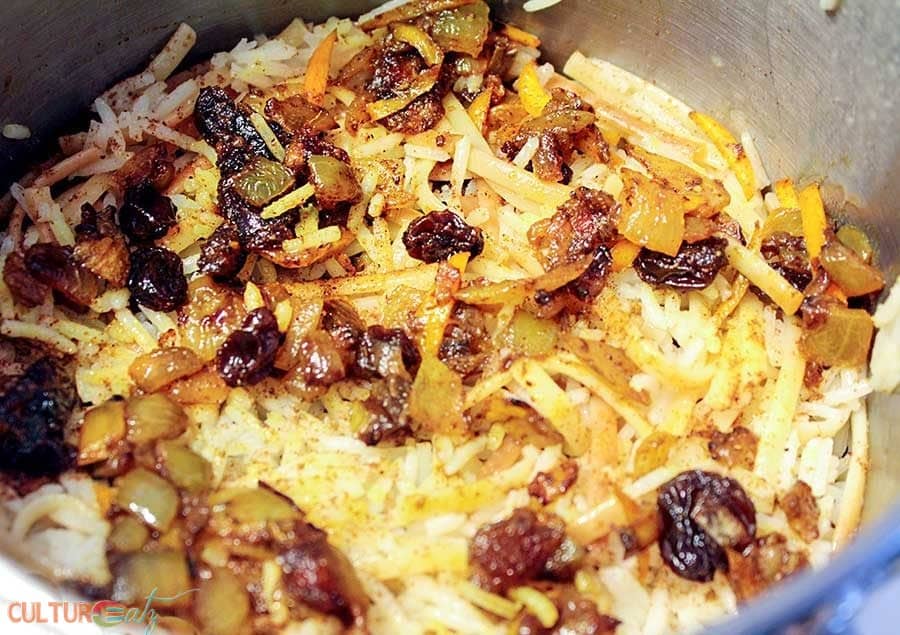 A Jewel of a Rice
The Reshteh Polow recipe I am preparing today falls under the Polow rice dishes and it is adapted from My Persian Kitchen. It is a classic Persian New Year's dish and for other celebrations. The uniqueness of this type of rice is the tahdig, a golden rice crust created at the bottom of the pot. It is served plain, with thin bread such as lavash or slices of potato.
My Persian rice with noodles did not really turn out well as far as the rice crust and I burned my pan but I have enjoyed tahdig that Persian friends have made, so amazing.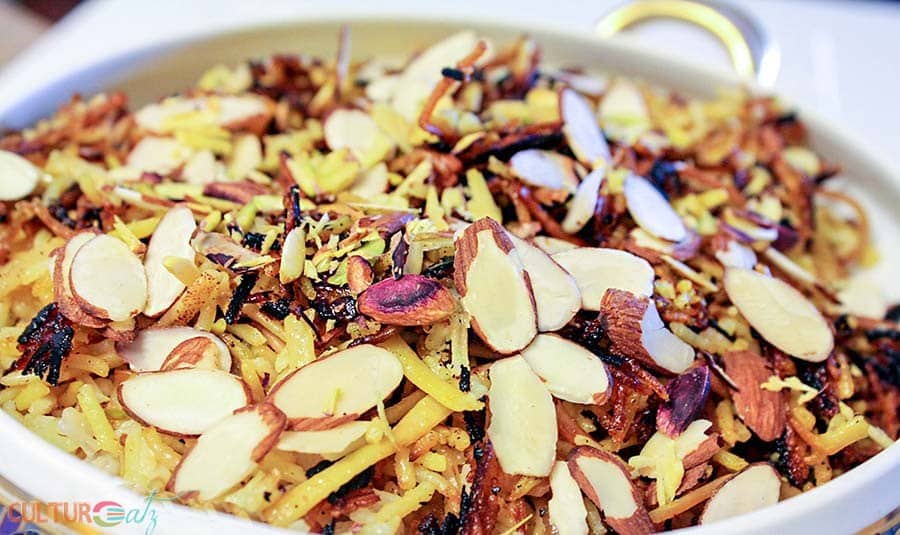 Reshteh Polow: Persian Rice with Noodles
Ingredients  
1

onion

fine dice

5

dates

pitted and diced

4

oz

of reshteh

substitute with capellini/spaghetti

1 1/2

cups

basmati rice

1

tsp

cinnamon

1/8

tsp

turmeric

1/4

cup

raisins

1/4

cup

slivered orange peel

white removed

salt

2

tbsp

canola oil

Advieh

mix of cinnamon, nutmeg, cardamon, cumin, dried rose petals

1

tsp

saffron

3/4

cup

water

4

tbsp

butter

handful of slivered pistachios and almonds
Instructions 
Heat 1 tbsp of butter in a pan and saute onion until nice and golden. Remove pan from heat.

Brown reshteh in 1 tbsp butter until golden in a saucepan. Add rice, salt and 3 cups of water. Boil, lower heat and simmer for 6 min. Drain rice in a colander.

Add 1 tbsp butter, turmeric and cinnamon to onions. Give them all a nice stir. Add dates, raisins, orange peel, salt and stir. Set aside.

Place 2 tbsp of canola oil at the bottom of the saucepan. Add 1/3 of the rice. Sprinkle about 1/4 tsp of advieh. Place half of the date, raisin, orange peel, and onion mixture on top. Repeat all layers once and end with a layer of rice.

With the back of the spatula make 5 holes around the rice.

Ground the saffron. Dissolve ground saffron in 3/4 cup of hot water with 1 tbsp of melted butter, mix well. Pour the saffron-scented water over the top layer of rice.

Cover the lid of the pot with a clean dish towel and place lid on the pot. Wrap the sides of the towel up over the top of the lid.

Place the pot on high heat for 5 minutes, then reduce to low and steam for about 45 minutes. Remove from heat and let rest for 10 minutes.

Carefully invert the pot onto a large serving dish to pour out the rice. Serve any crusty rice from the bottom of the pot crumbled over the top. This is called the tahdig. Sprinkle the almonds and pistachios on top.
Food 'n Flix is hosted this month by Wendy at A Day in the Life on the Farm! In this monthly group, a host picks a movie of their choice that pertains to food. Everyone watches the movie and then makes a recipe which the film inspired. It can be any recipe you want. Join us!
See more Persian recipes:
PIN IT FOR LATER! https://www.pinterest.ca/pin/266275396704502540