I was running late a bit for my bus to meet friends for a birthday dinner. As I was locking my door my new neighbor from across the hall came out with a tray of 3 big bowls of what looked like a yellow rice pudding. My new neighbours are Iranian, actually like the ones before. The lady barely speaks English (although I noticed her vocabulary has already somewhat improved) but we try to communicate. I think my eyes getting big like saucers was an international sign.
I told her that looked really good. She got that. Then she kept pushing the tray a bit towards me. We mumble a few words we both understood. Finally she actually meant what I though: please take a bowl. Wow! She gave me a bowl of her homemade dessert and I barely know her. How sweet! I was so touched. I thanked her profusely and quickly got back into my apartment to put the bowl in the fridge. But before that I tried to ask her what was in it. All I got was Sholleh Zard. Yeah that meant nothing to me. What I did know was that sharing food is a sign of respect and saying 'I like you'. I knew it was rice pudding but what was in it. I had to wait till I got back home that evening to investigate.
I am not a stranger to Persian cuisine as I have had several Iranian friends in my adult life. It took very little time for me to find a recipe online. It is a Sweet Persian Rice Pudding flavored primarily with rose water and saffron which gives it a distinctive yellow color. This perfumed bowl of rice is divine!
Sholleh Zard
1 cup of basmati rice (or any rice)
6 cups of water
a pinch of salt
1/2 cup of rose-water
1.5  or 2 cups of sugar
250 grams of butter
1/2 teaspoon of saffron
1/3 cup slivered almonds
1/3 cup slivered pistachios
Cinnamon, pistachios and/or almonds to garnish
Wash rice a few times until the water is clear, then drain. Add water, rice and salt, and bring to a boil, removing the foam. Simmer until the rice softens completely, about 45min. add sugar and stir well.
Crush and dissolve saffron in 1/4 cup of hot water. Add to rice rose water, sugar, butter and saffron. Stir well and cover. Simmer on lowest setting for another 30 min until the pudding is thick and creamy. Add a bit of water at a time if necessary  Serve with pistachio, almond and cinnamon sprinkled on top.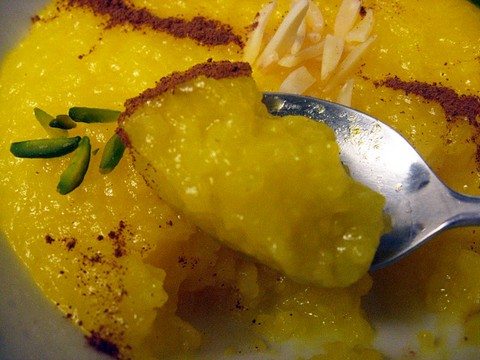 Obviously I will be returning her clean bowl once I am done with a English translation of the name of her recipe and will prepared a sweet Quebec treat for her! I am thinking Maple Syrup Pie.