Quick Raspberry Flatbread: a unique fruity twist to the classic thinner bread with a little raspberry puree mixed in. Make it all with fruit or half and half for fun twists.
#twelveloaves is a great group where we bake a bread with the addition of the monthly theme flavor or ingredient. Exploring a less full-on yeasty road this month, we were asked to prepare an original Cracker, Crisps or Flatbread. I was originally planning on going with down the cracker route but settled on an unusual fruit based bread with a Raspberry Flatbread.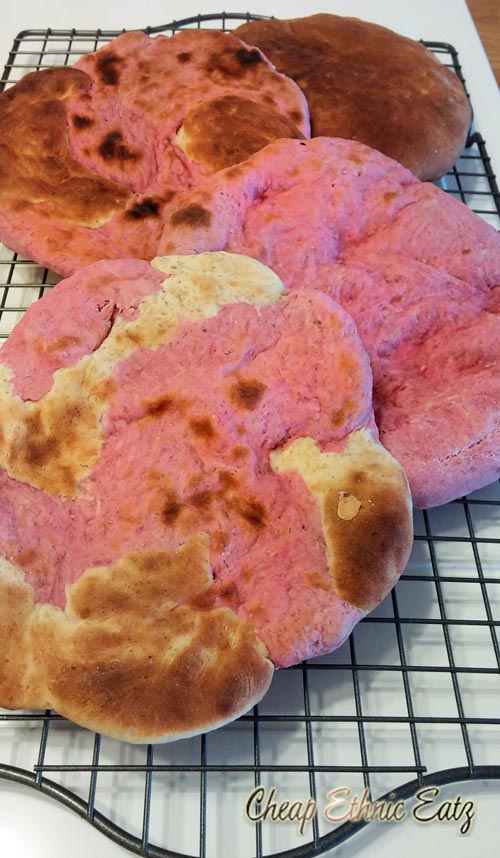 I posted a masoub breakfats recipe and it just so happens that the recipe requires a plain flatbread. I found a recipe for a quick flatbread over at Arabic Bites. I made one plain flatbread but to change it up for this post I added a fruit puree to the rest of the dough to make a sweeter and fun treat.
If you search for fruit flatbread recipes you will get lots of plain flatbreads covered with fruit slices but I could not find any recipe with fruit in the dough. I was going into unchartered territory. By making half the dough plain and adding raspberry puree to the other half I was then able to play with both doughs by mixing them up.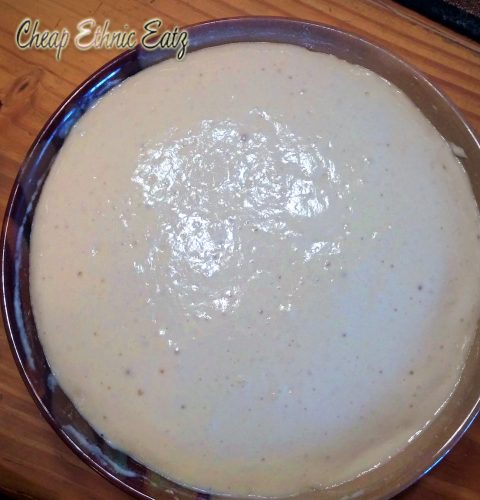 This quick flatbread is made with an unusual technique I have not tried yet. Yeast and sugar is added to water and then a little flour is mixed in. The mixture quickly bubbles up. Just toss in your flour and other ingredients to make your dough. Is there a name for this method? I did not find one.
The result was a denser bread in the fruit version but quite acceptable and loved the subtle taste of summer raspberries. Definitely a recipe I would like to experiment with more.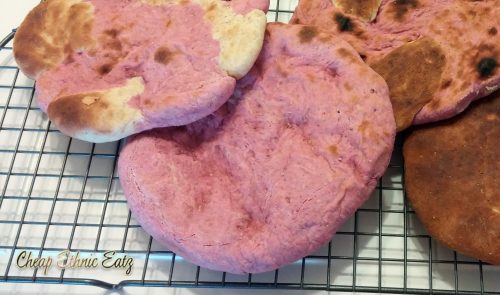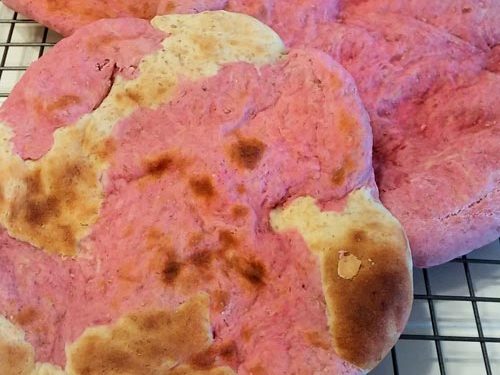 Quick Raspberry Flatbread
Ingredients  
1

cup

warm water

1

Tablespoon

yeast

2

Tablespoons

sugar

3 1/2

cups

flour

unbleached, whole wheat, or a mixture of the two

2

Tablespoons

oil

1

teaspoons

salt

1

cup

raspberry puree

frozen, thawed and crushed
Instructions 
for "sponge" mix the yeast, sugar and water. Add 1 cup flour to liquid. Cover the bowl and let rise for 10 minutes.

Place 2 cups of flour and all the other ingredients with the "sponge" in the bowl of a mixer and beat for 10 minutes with a hook attachment until you get a soft ball of dough. Add more flour slowly if necessary.

Preheat the oven to 550F with rack in middle of oven.

Divide dough into 4 pieces and shape into 4 balls. Let rest for about 10 minutes on the counter.

Roll or stretch each piece out to a round to about 7 inches in diameter.

Place onto oven trays and bake for 1 1/2 to 2 minutes per side, until golden.
Notes
I used 1/2 cup of raspberry puree and added it to half the ready dough mixture. I made 1 plain, 1 raspberry and 2 mixed dough flatbreads. Have fun with it!
October 2015 HTML + Links: Crackers, Crisps, and Flatbreads
#TwelveLoaves is a monthly bread baking party created by Lora from Cake Duchess and runs smoothly with the help of Heather of girlichef, and the rest of our fabulous bakers.
Our host this month is Camilla from Culinary Aventures with Camilla, and our theme is Crackers, Crisps, and Flatbreads. For more bread recipes, visit the #TwelveLoaves Pinterest board, or check out last month's mouthwatering selection of #TwelveLoaves enter last month's #TwelveLoaves Seeded Breads!
If you'd like to bake along with us this month, share your Crackers, Crisps, and Flatbreads using hashtag #TwelveLoaves!
Check out more MENA group recipes here: