Did you know you can make protein bars at home for a fraction of the cost of store bought ones? These Raspberry Coconut Protein Bars are healthy and a fun energy snack.
It's Food 'n Flix time again! In this monthly group a host picks a movie of their choice that pertains to food. Everyone watches the movie and then makes a recipe which the film inspired. It can be any recipe you want. This month's pick is hosted by Amy of Amy's Cooking Adventures, who suggested a fun chick flick, Failure to Launch, for which I made Raspberry Coconut Protein Bars !
Failure to Launch is a romantic comedy starring Matthew McConaughey and Sarah Jessica Parker. It's the story of a woman who makes a living getting 30ish year old men who still live with their parents to move out. So why does Tripp, a hot guy who seems to have it together, still lives with mom and dad. And how will Paula get her job done and will she fall in love? I am not a chick flick type of gal normally but this one is light and entertaining. I loved Zoe Deschanel's character as a gothy pessimist (she is so hyper and positive normally).
This movie is not a food film but you see a lot of food in it, easily identifiable food. I spotted chocolate cake, coffee, champagne, asparagus and the full Sunday dinner, peanuts, power bars, sushi, beer, crab, salad and croissants.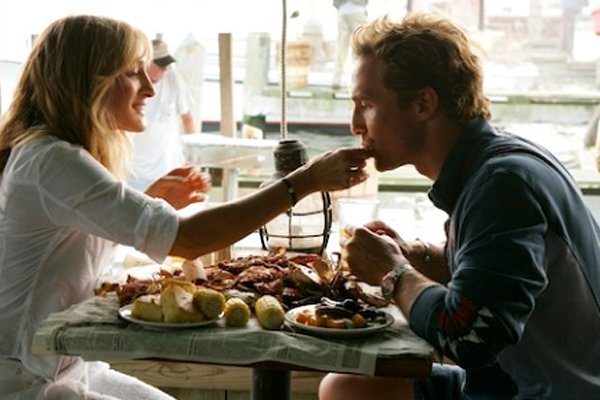 I have no idea why but what stuck with me was the protein power bar. Tripp gets bitten by a chipmunk when he tries to feed him a piece of the bar. I thought that would be a fun challenge. Plus I found a recipe to use more of that coconut flour I have. This Raspberry Coconut Protein Bars recipe does qualify for a raw food diet and it can be easily made gluten and dairy free if you pick the appropriate protein powder.
I like to think my Raspberry Coconut Protein Bars help close the gap between the sexes: it's a snack that feels more BOY like but I made mine pink with raspberries so they are GIRL-y and delicate 🙂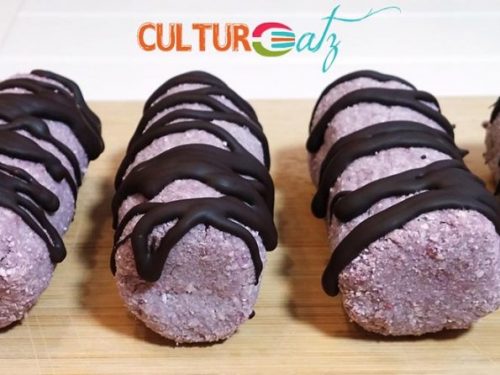 Raspberry Coconut Protein Bars
Ingredients  
1/2

cup

raspberry puree

3/4

cup

coconut flour

1/4

cup

whey vanilla protein powder

1

tablespoon

coconut oil

6

tbsp

soy milk

or any milk

2

tbsp

dark chocolate

melted
Instructions 
Mix well raspberry puree, coconut flour, protein powder, and coconut oil in a bowl.

Add soy milk and thoroughly mix. It will be crumbly but squeeze the mixture in the palm of your hand to hold a shape. If not, add 1 tbsp of soy milk at a time until it does.

Shape into 6 logs with your hands, squeezing.

Drizzle melted chocolate over the logs. Let is set in the fridge for 1 hour. Store in the fridge.
Notes
This recipe can be easily made gluten and dairy free if you pick the appropriate protein powder.