The New Year is a great time to try new ingredients, like healthy and gluten-free coconut flour for this delicious Coconut Flour Zucchini Bread recipe.
#twelveloaves is a great group where we bake a bread with the addition of the monthly theme flavor or ingredient. Since we are in the New Year the theme this month was to make a bread with a New-to-You flour. I knew exactly which flour I was going to pick. I bought it a while back and I had yet to open the bag. My flour is coconut flour and I made a Coconut Flour Zucchini Bread.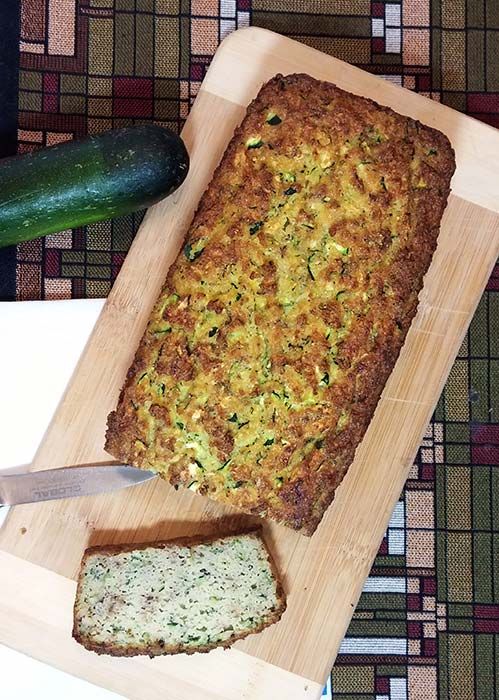 Some time ago I was showing around a local favorite farmer's market to guests visiting for the weekend. One store we stopped in was a natural health food store. I saw a bag of coconut flour and I bought it on impulse. I kind of left the bag there for, oh let's say, about 1 year without making anything with it. I have heard horror stories about baking with this fickle flour so I put it out of mind. But this twelveloaves challenge was the call I needed to lose my coconut flour virginity.
So what is coconut flour? Basically it is finely ground defatted and dried coconut meat. This flour is perfect for the Paleo diet as it is high in fiber and low in carbs. How does it taste? Like coconut! One thing you will notice is that you need a lot less coconut flour in a recipe than regular flour, but you need the right liquid ration which is 50-50. So better to stick with tried and true coconut flour recipes before experimenting on your own. It has a learning curve.
I have been looking at recipes to use this flour with for some time, including breads. But I just thought they looked so boring! Not bad tasting, just plain to look at. I was not inspired. But then I came across a savory zucchini version and I knew I had found my recipe for this month's theme.
I do not have any dietary restrictions myself but that should not stop one from playing with such recipes. One thing I noticed in my search was that coconut flour breads are mostly held together by a lot of eggs. There are 6 eggs in this recipe. I was relieved that the bread turned out well. It is definitely eggy in taste, and you totally sense the coconut. It was a bit intense in butter flavor though. Bonus: this bread is gluten free, and if you opt for coconut oil the Coconut Flour Zucchini Bread is also dairy-free.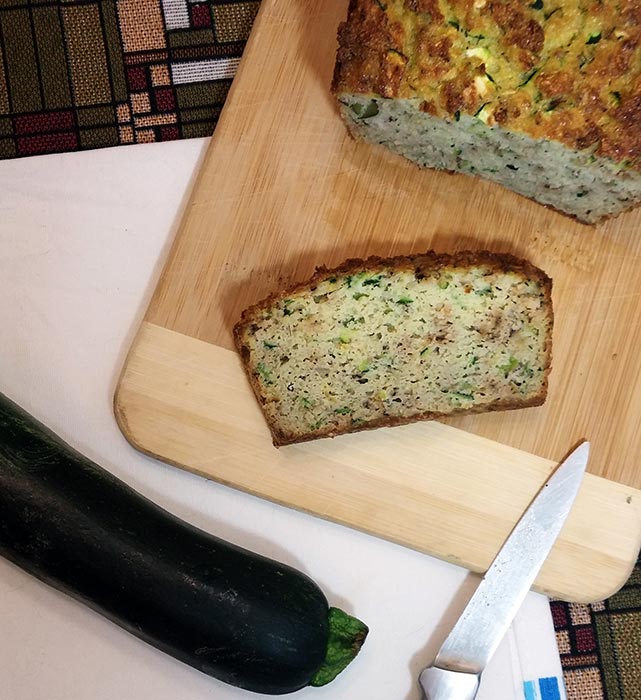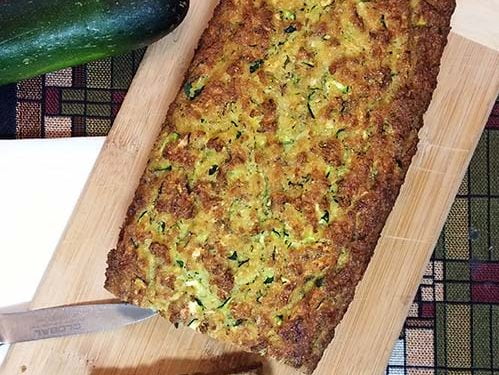 Coconut Flour Zucchini Bread
Ingredients  
6

eggs

1/2

cup

melted butter or coconut oil

2

tsp

apple cider vinegar

2

cups

shredded zucchini

3/4

cup

coconut flour

Scoop with your measuring cup then level off the top with a knife

1/2

tsp

sea salt

1

tbsp

fresh thyme

1/2

tsp

organic garlic powder

1

tsp

baking soda
Instructions 
Mix in a bowl eggs, butter or coconut oil, apple cider vinegar, and shredded zucchini.

In another bowl, mix well coconut flour, sea salt, thyme, garlic powder, and baking soda.

Add the liquid mixture into the dry ingredients, fold til well combined.

Pour mixture into a greased parchment-lined loaf pan. Bake at 350 degrees for 50-60 minutes or until cooked through. Cool completely before slicing.
#TwelveLoaves is a monthly bread baking party created by Lora from Savoring Italy and runs smoothly with the help of Heather of All Roads Lead to the Kitchen, and the rest of our fabulous bakers.
This month we are baking New-to-You Flour Breads that are perfect to celebrate the holiday season. For more bread recipes, visit the #TwelveLoaves Pinterest board, or check out last month's inspiring selection of #TwelveLoaves Holiday Breads!
60% Kamut Sourdough Bread from Karen's Kitchen Stories
Coconut Flour Zucchini Bread from CulturEatz
Five Grain Loaf with Dried Cranberries & Pecans from All That's Left Are the Crumbs
Gluten-Free Artisan Bread from A Shaggy Dough Story
Rustic Loaf using Pumpernickel Flour from Hostess At Heart
Rye Soda Bread from Savoring Italy
If you'd like to bake along with us this month, share your New-to-You Flour Breads using hashtag #TwelveLoaves!