When I moved out of my parents home I invariably inherited some kitchen items that my mom had in 2s or 3s, or some of my grand mother's old things. One such treasure handed down to me was a dark avocado green aluminum pressure cooker. You know the kind with the chrome metal heavy weight that you had to check carefully in case it would explode right of the vessel. Gee, thanks mom!
I have to admit I used it only a handful of times. Not so much out of fear – although I kept a very watchful eye – but I knew only one recipe, the classic brisket with the onion soup mix. It's good but I associate that taste with the 70s. Everything I tried tasted passé. I gave it away eventually. Little did I know then that I had yet to write the final pressure cooker chapter of my life. All good things get better with time and anything retro is in. Cue in the revisited and modern pressure cooker by T-Fal, the Clipso. And I prepared the very fragrant Indian Pork Sag Curry from the included recipe book.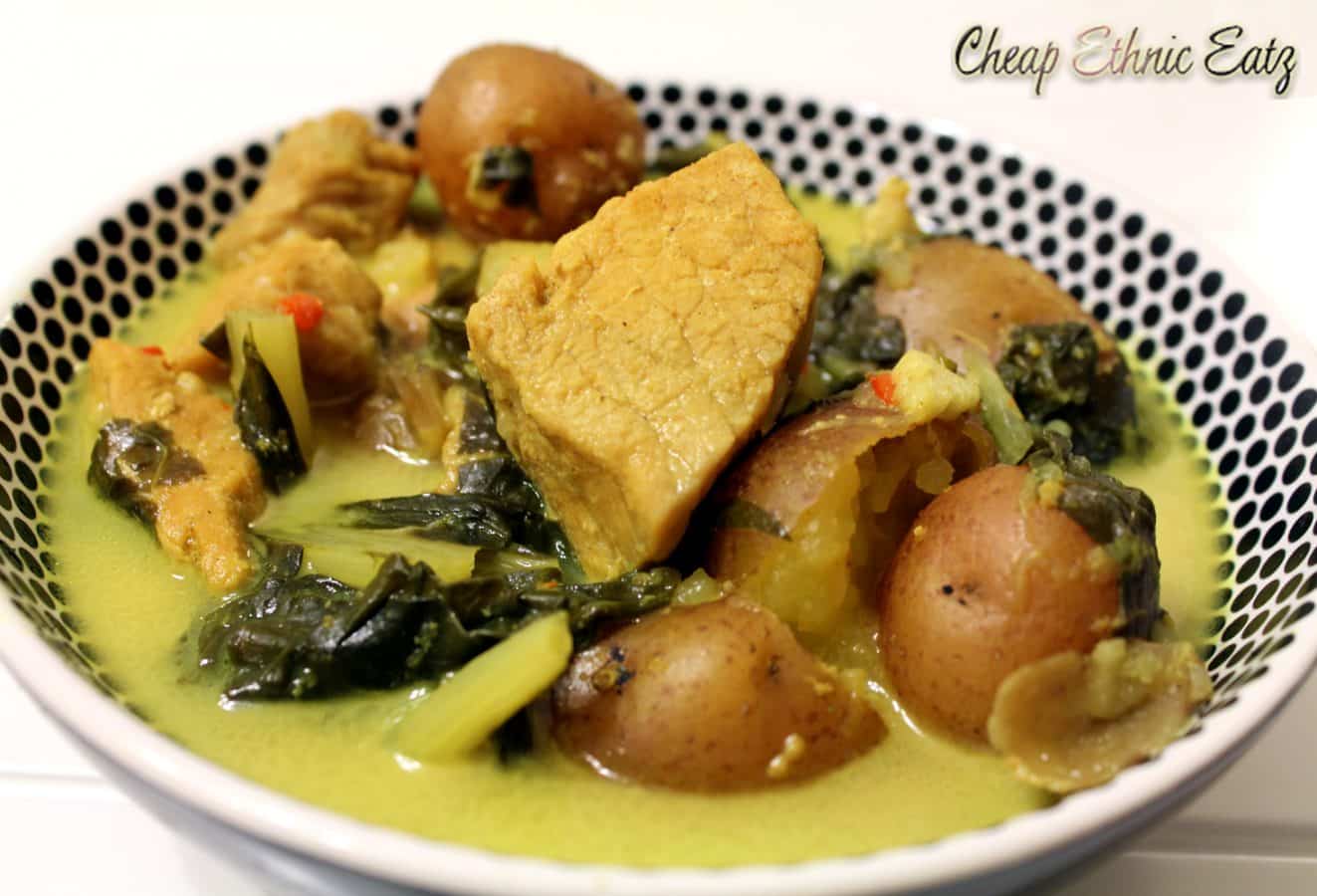 For those of you who are not familiar with pressure cookers here is a little background on this method of cooking. Pressure cooking is the process of cooking food with a liquid in a completely sealed vessel. A high pressure is created inside once the boiling point has been reached. The trapped steam increases the internal pressure and temperature, and the cooking can be compared to a rapid alternative to long braising or simmering.
Once the cooking is done one must release the pressure before opening the vessel safely. This is achieved by opening a release valve or by placing the vessel in a partial bath of cold water. Read your instructions books carefully for further details.
The Clipso pressure cooker from T-Fal is a high quality stainless steel pressure cooker at an affordable price. The interior and exterior are 18/10 brushed stainless steel with a thick triply bottom suitable for all types of cooking surfaces including induction. It has safe closing and opening systems along with a safety valve which automatically releases steam for you.
The Clipso Pressure Cooker features:
– Durable brushed stainless steel encapsulated, interior and exterior
– Patented one hand easy opening and closing system
– Safety Steam Release Valve controls steam release for added safety
– Safe closing and opening system
– Suitable for all cooktops, including induction
– Triply thickness bottom
– two capacity sizes available: 6 QT and 9 QT
– Includes steam basket, stand and recipe book
I had my concerns about safety when I received my Clipso. It has been at least 10 years since I had used a pressure cooker and I felt insecure. It took me a while to muster the courage just to read the instruction booklet. Lurking in my mind was the 30 year old story of my uncle Eugene who had left unattended an old style pressure cooker which did explode open, spraying the walls and ceiling with a spaghetti sauce.
Back then one had to align groves on the lid to the vessel and turn the handle to lock the mechanism.  If you did not close it tight enough…well accidents could happen. With the Clipso such fears are a thing of the past. On each side on this model there are semi circle clips – I like to think of them as claws – that completely shut the pressure closed. There is no way this lid will fly off. And you simply have to press down the top button to lock and press the side button to open.
So many lovely spices in this recipe!
Biggest tip: do not forget to put enough liquid as stated in your recipe before placing it on the stove top. I clipped my lid on and turned the pressure dial to the food symbol. Now bring it to a boil and nostalgia does step in with the familiar HISSSS coming for the steam valve once pressure has been achieved. Also the sunken red button will pop up. Lower your heat as low as possible,  for me it was a lo-lo-medium, while maintaining a light hiss sound for the remainder of the cooking time.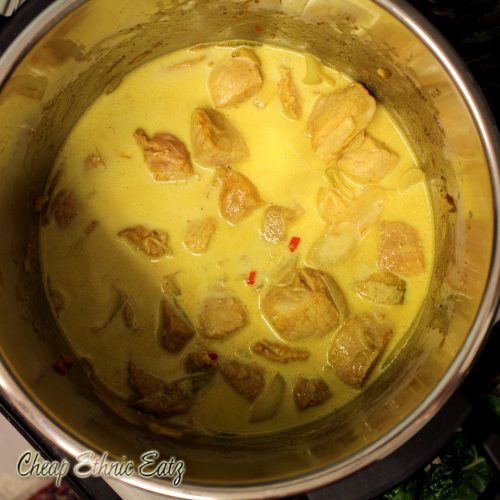 Once my meat was browned I added my liquids and added my veggies on top.
In 20 minutes my curry was cooked and ready to eat. At this point take your Clipso of the stove top and turn the pressure dial to the steam symbol. I timed my Clipso with every use so far and it always takes about 2 minutes for the pressure to drop. You know it is safe to open when there is no more noise and the red button sinks back down.
I am no exceptional curry expert but I have cooked quite a few curries and I have too say this one was quite on the authentic side. It was super fragrant and pungent in taste. I took the recipe from the World Cuisine chapter in the recipe book provided with the Clipso pressure cooker. For me my measurement of success was testing a more modern and exotic dish. This did not taste like the 70s at all and I was thrilled.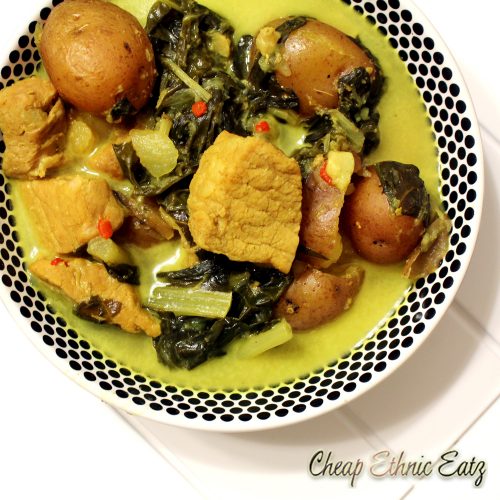 Also the meat was fork tender. My weakness in the kitchen is meats, I am good at maintaining stew meats tough. Tasting a tender piece of pork for a change was great. I definitely give the Clipso my stamp of approval. It is very well built and will last for decades. This is a great appliance to own if you want to dramatically cut down on your cooking time. So are you feeling cool and retro enough to go back to using a pressure cooker soon?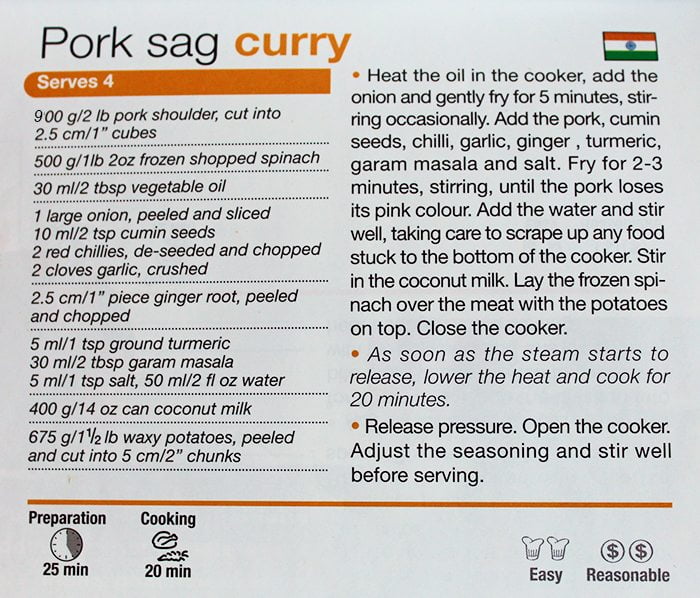 The products featured in this post were provided to me free of cost. Any personal opinions reflected in this post are my own and without influence.