Looking for a twist on lasagna? This Puerto Rican Plantain Lasagna, or Pastelon, switches pasta for plantains. You'll love the Puerto Rican meat filling too.
This month the Eat the World Challenge is taking us to Puerto Rico. And what a great choice with so many fun Latin flavors. Well, a melting pot of Latin flavors I should say. They mix European, African and Tainos flavors that result in fusion dishes like this plantain lasagna recipe called Pastelon.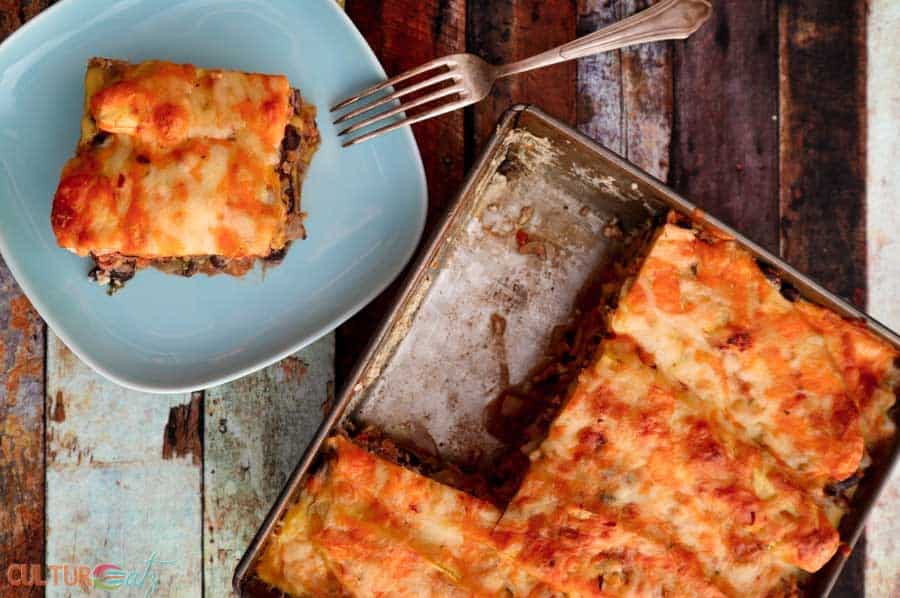 The Puerto Rican table
Puerto Rican cuisine is really defined by the mix of its original inhabitants and the colonists. The flavors of mostly Spain and Africa are intertwined with the indigenous Tainos. It is often referred to as Cucina Criolla.
Grains and legumes feature prominently, as do the variety of local starchy tubers. Plenty of vegetables abounds, fruit as well. All types of meats, poultry, and abundant seafood are featured. Puerto Rican empanadas are popular.
The Puerto Rican cuisine shines when it comes to the variety of sauces and condiments made with the large range of spices and seasoning available.
The list of traditional Puerto Rican dishes is long, so check them out here to read about them.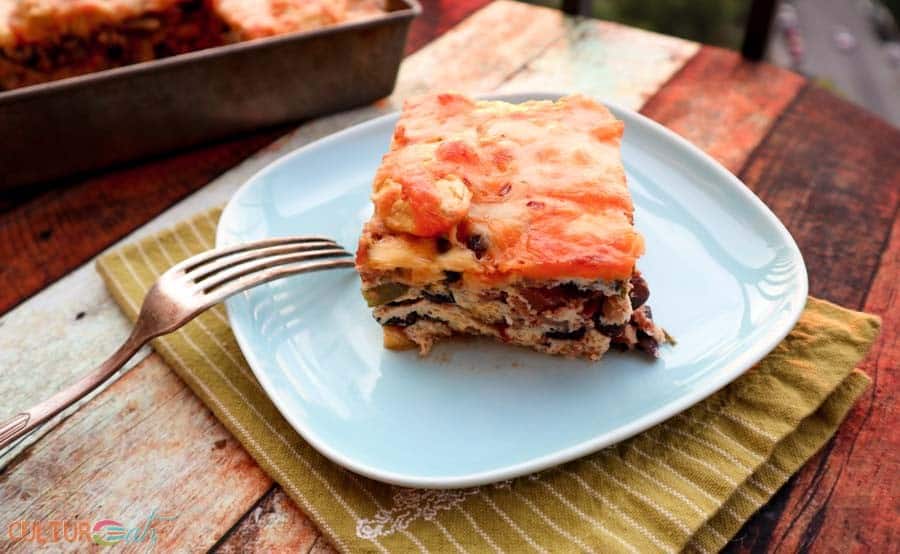 Plantain Lasagna, a Puerto Rican Lasagna Pastelon Recipe
Lots of Puerto Rican recipes caught my eye but when I read about the Puerto Rican lasagna made with plantain, I was sold. I have been putting off cooking with plantains for years ou of fear. I know crazy coming from me.
Plantains are in the family of bananas but contain more starch and less sugar. They are sometimes called cooking bananas as they ideally need to be cooked for consumption.
Plantains can be cooked many ways but the absolute best is fried. For this dish, you can fry or, as I did, bake them first.
The sauce is nicely "Puerto Ricanized" if you will, with cumin, black beans, cayenne, and a few sliced olives. Beaten eggs fold the lasagna together and the more cheese on top the merrier.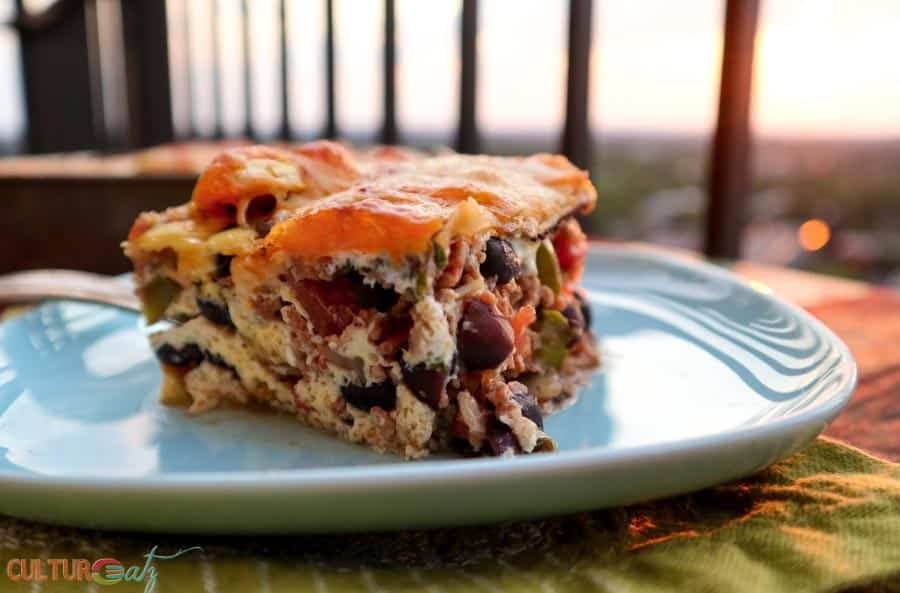 Italy has its traditional Lasagna, Greece has the Moussaka, now why not try a Pastelon from Puerto Rico next time.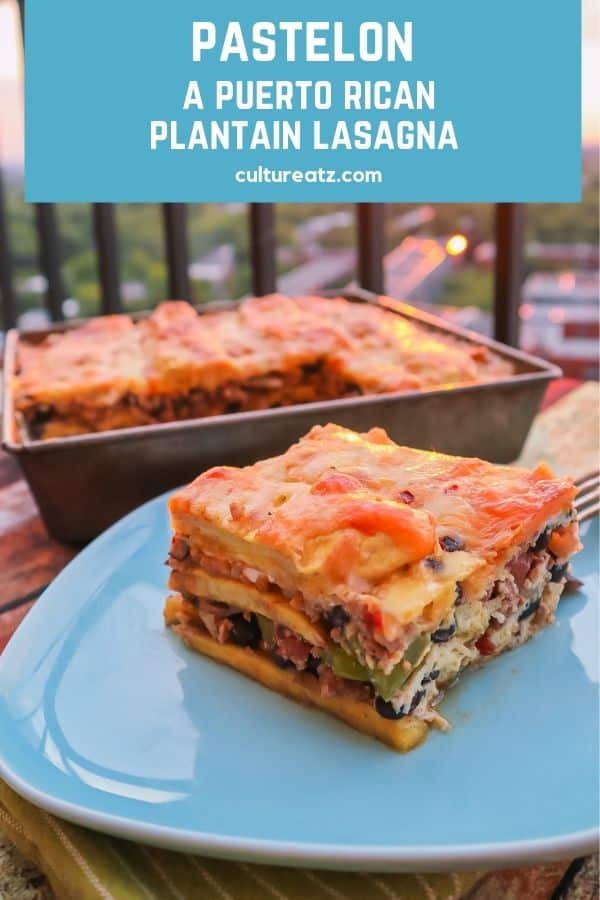 Plantain Lasagna, or Puerto Rican Pastelon
Looking for a twist on lasagna? This Puerto Rican Plantain Lasagna, or Pastelon, switches pasta for plantains. You'll love the Puerto Rican meat filling too.
Ingredients  
3-4

Large ripe plantains

1

medium onion chopped

1

red/ green bell pepper chopped

3

teaspoons

minced garlic

1

teaspoon

cumin spice

1

teaspoon

smoked paprika

1

teaspoon

dried oregano thyme

1/2 -1

teaspoon

cayenne pepper

2 to

matoes chopped or 1 cup tomato sauce

1

pound

ground beef/chicken/pork

1 16

ounces

black beans drained and rinsed

1/4

cup

sliced olives

1/4

teaspoon

ground coriander

1/2

teaspoon

salt

1/2

teaspoon

freshly ground black pepper

2

cup

shredded cheese

1

packet sazon or 1 tablespoon chicken bouillon

2-3

Tablespoon

parsley chopped

3

tablespoons

water

2-3

large eggs
Instructions 
Cut both ends off the plantain and slit a shallow line down the long seam of the plantain. Remove the peel. Slice the plantains into 4 or 5 horizontal pieces.

Cook the plantains: If you wish to fry them, heat a large skillet with halh an inch of oil on medium-high heat. Add the plantain in batches, turning once, until lightly brown. Transfer cooked plantains slices onto paper towels. To bake them, spread a bit of olive oil on a baking sheet and place plantains in a single layer. Brush the top pf the slices with more olive oil. Bake at 400 degrees F for 8 minutes, turning over slices, and bake another 12- 20 minutes or until slightly brown.

In a large skillet, heat 1-2 tablespoons of olive oil and add the onions, garlic, cumin, smoked paprika, cayenne, oregano. Cook for 1 minute or until fragrant.

Add bell pepper and tomato sauce, and bring to a simmer. Add the ground meat and beans, and cook for about 7-10 minutes, stirring frequently. Season with salt, pepper, cayenne to taste, chicken bouillon or sazon, and add the olives and parsley.

Gtease a 8x8 inch pan. Line the bottom with the plantain. Spread evenly half the meat mixture and a handful of cheese. Repeat the process another time and top with the final layer of plantains.

Beat the eggs and water in a bowl and pour over the lasagna, spreading it over the entire pan. Top with remaining cheese

Bake at 350 degrees F for 25-30 minutes, or until all the egg has cooked through and the cheese is bubbly.

Let it cool for a bit before serving.
Eat the World Recipe Challenge
Check out all the wonderful Puerto Rican dishes prepared by fellow Eat the World members and share with #eattheworld. Click here to find out how to join and have fun exploring a country a month in the kitchen with us!
Sue: Sofrito Rice
Sharanya Palanisshami: Marrallo
Pandemonium Noshery: Pernil – Puerto Rican Crispy Roast Pork
Simply Inspired Meals: Epcot Frozen Torched Cherry Colada
Culinary Adventures with Camilla: Empanadillas de Carne
Evelyne: Pastelon, a Puerto Rican Plantain Lasagna
Margaret at Kitchen Frau: Classic Pina Colada Recipe
Amy: Arroz con Tocino (Puerto Rican Rice with Bacon)
House of Nash Eats: Patacones or Tostones (Fried Green Plantains)
Elizabeth at Literature and Limes: Mango Piraguas
A Day in the Life on the Farm: Pinchos