I had a few other titles in mind for this post, such as: Food Orgy for One or Martin Picard Made Me Do It But I decided to stick with the brand new name of this brand new monthly event, Jeroxie's brainchild: the International Incident Party. Long Live the International Incident!
Basically we are given a theme and then we have free reigns to come up with a submission. I saw the first "party" on a few blogs I follow about a month ago and I was jealous with envy I had not know about it. After that I put Jeroxie's RSS in my feed. Well my feed program is not so hot because I think it missed a few new posts in general of the blogs I follow. Hence I found out THIS MORNING that the deadline for this new event was tonight!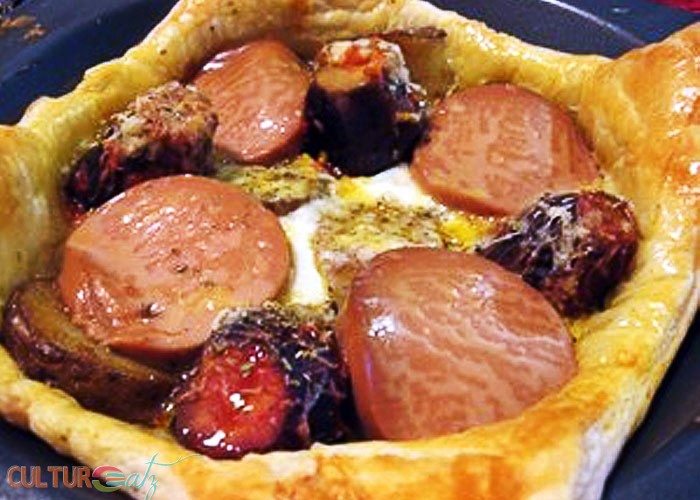 I decided to throw caution to the wind as I was planing a quiet day and come up with insane recipes and a finished post for tonight. Actually as soon as I saw the theme I knew right away what I was going to make. The theme was Pizza Pie. I had both a savory and sweet inspiration so I did both.
First let me describe the savory version. Next weekend I will have a special visitor. The gentleman I met in North Carolina who took me to Lucky 32 is coming for a visit. Now he will be here for 2 suppers. The Saturday is already spoken for with friends. I have been debating all week if Friday we should stay in and cook together or if I should take him to Au Pied de Cochon. Its chef, Martin Picard, has been called notorious, wild, a rebel and a non-conformist. Anthony Bourdain considers Picard one of his favorite chefs.  The main ingredient at Au Pied de Cochon is foie gras and its signature dish is the foie gras poutine. So I have had Pied de Cochon and foie gras on my mind all freaking week.
All week I could not stop thinking off what I was going to order: the PDC Pizza which consists of foie gras, blood sausage and potatoes. So suddenly I am asked to make a pizza recipe and I just happened to have a can of foie gras in the pantry from a Bordeaux foodie exchange I did recently. I took his concept but came up with my own version. I present to you the…
Foie Gras à la Evelyne de Cochon Pizza Pie
serves 4
1 cup tomato sauce
1 tbsp olive oil
4 baby eggplants
1 large potato, cut into large chunks
1 tbsp duck fat
puff pastry
3/4 cup emmental cheese
1 tsp oregano
1/2 tsp salt
4 slices of foie gras
egg wash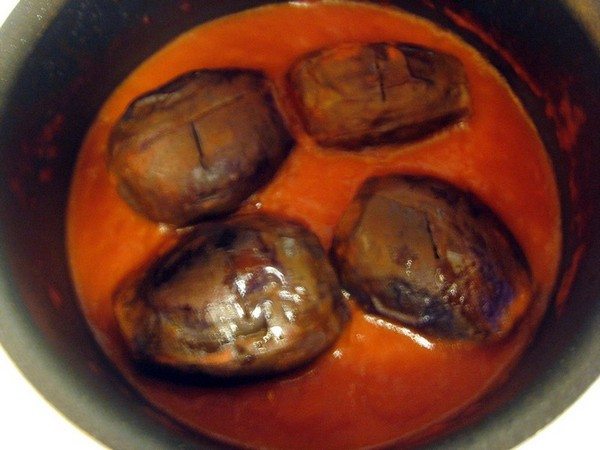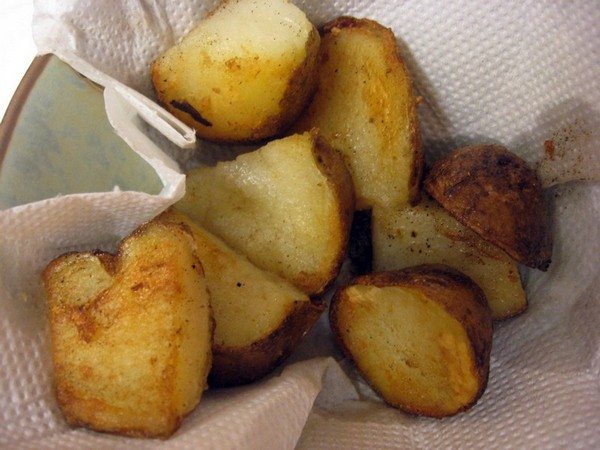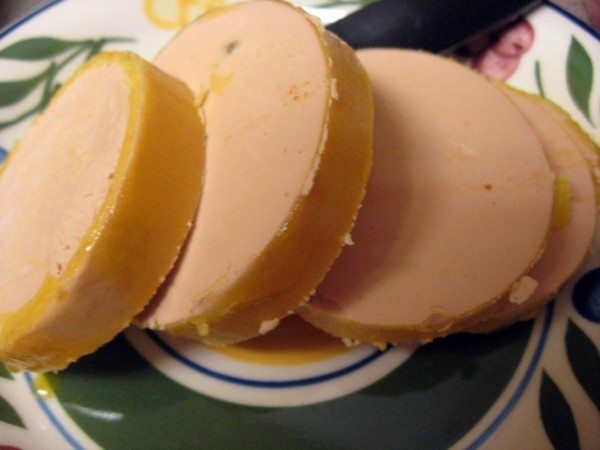 Cut base of eggplants so they can stand up. Heat olive oil in small pan and brown eggplant on all sides.
Add tomato sauce, bring to boil, then simmer till tender
Boil potato chunks till just tender but not falling apart.
Pan fry them in the duck fat till nicely browned. Drain on a paper towel.
Roll out puff pastry to fit a deep dish pie dish.
Spread tomato sauce from the eggplant mix on the bottom of crust.
Place the eggplants standing up, the potatoes in pie dish.
Sprinkle with oregano, salt and cheese.
Add the 4 slices of foie gras in pie dish
Brush egg was on exposed puff pastry dough.
Bake about 35 min at 390F or till puff pastry is golden.
Yes it is as decadent and outrageous as it sounds. My stomach is grateful but my liver is hating me right now.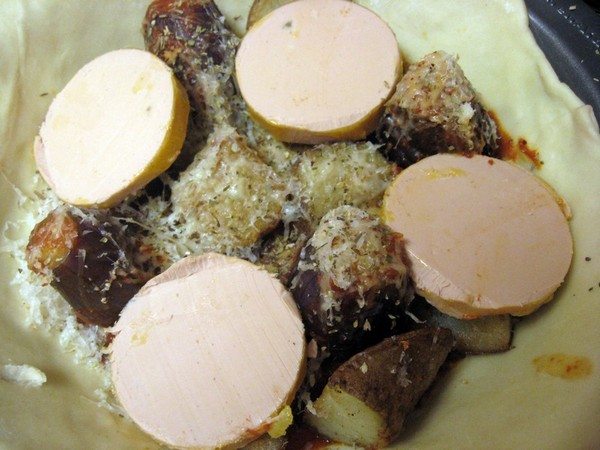 before baking above – after baking below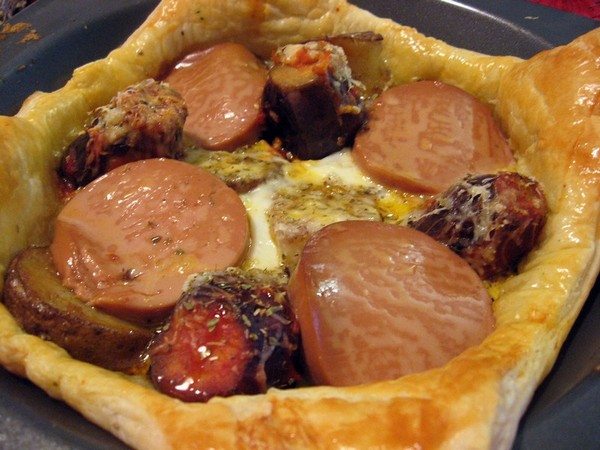 The sweet pie is just as unforgiving on my digestive system but who cares I am floating on a cloud in foodie heaven right now. This idea just came to me instantly….chocolate and pears. Oh yeah I also had left over coconut cream+milk AND figs. I served it with a side of lavender ice cream. For dessert I present to you the …
Pear and Fig Coconut Custard Pizza Pie
serves 8
1 ripe pear, cut in 8 wedges
4 figs cut in 2 (fresh or dried re-hydrated in hot water)
puff pastry
3/4 coconut cream and milk
2 eggs
1/2 cup sugar
1 tsp vanilla extract
some dark chocolate, melted
cinnamon and ginger powder, optional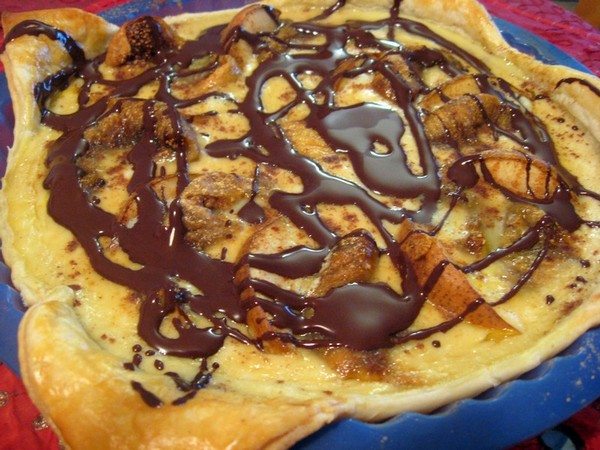 Roll out puff pastry to fit a deep dish pie dish.
In a bowl mix coconut cream and milk with eggs, sugar and vanilla extract. Pour in pie dish
Place alternately in a circle a slice of pear and a piece of fig.
Sprinkle if desired a bit of cinnamon and ginger
Bake at 390F for about 40min or till custard is set. Let cool.
Drizzle with melted chocolate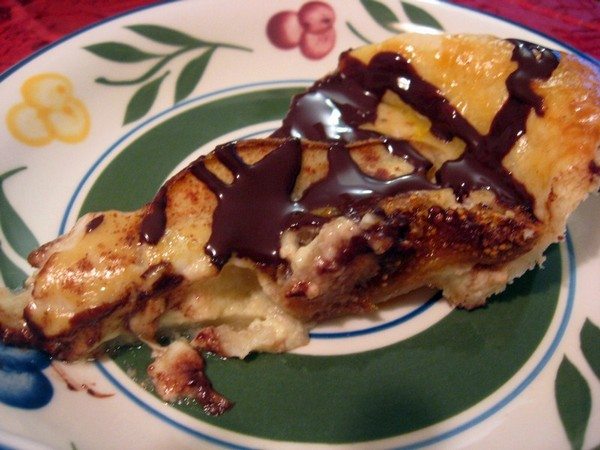 I am telling you…this dinner is a guaranteed food orgasm! Thank you Jeroxie (Happy Birthday!!) for this first of many opportunities. I had a blast of creativity with this challenge. Cannot wait for the next!
Make sure to check out the other participants of this event: