Nothing beats the summer heat like a Neapolitan frozen treat. Yonanas comes to the rescue with a healthy fruit "ice cream" which will also be kind to your bikini line.
It's really summer and it is officially frozen dessert season here in the Northern Hemisphere. As you all know I am a huge fan of ice cream but I have been watching what I eat and when I look at the calorie count of ice cream…yikes. That does not mean I will completely deprive myself of ice cream pleasures but for everyday treats finding a healthier alternative is a huge step in the right direction.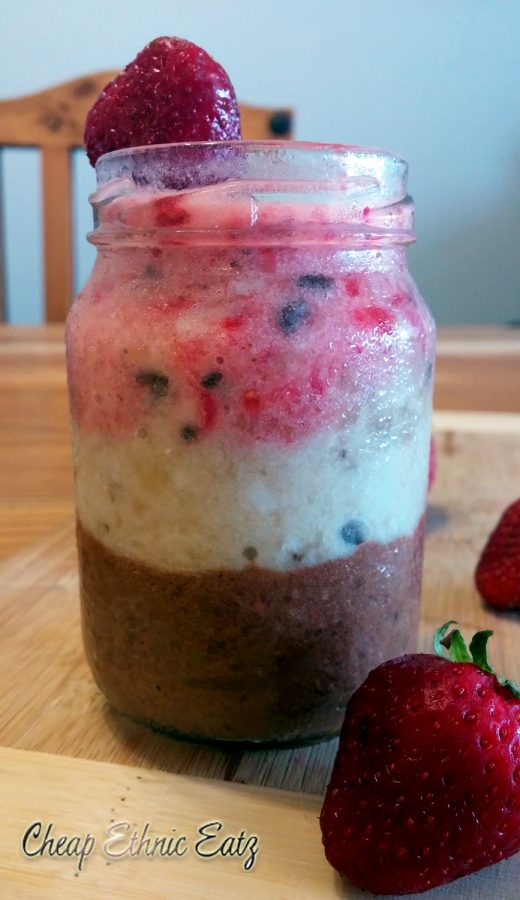 And that is just what I found when I was asked to review the greatest little appliance, the Yonanas gadget. What is that I hear you say? Well this little device 'churns' frozen bananas, fruits and other ingredients into a soft serve textured frozen treat. This "ice cream" is vegan, gluten-free, dairy-free, made with 100% fruit! This also means no added sugar, no saturated fat and no cholesterol. Great for anyone lactose and casein intolerant! And the kids will eat it up.
To get the dairy like feeling you have to make one of the recipes with a banana. Statement here: "dairy like" feeling, it will taste a bit like bananas plus added flavor. Bananas are so good for you and have lots of potassium, something many of us do not consume enough. You can add chocolate chips, crystallized ginger, cinnamon, coconut and similar thing to your mix in the machine too. Not a banana fan? No worries there are plenty of non banana recipes which will give you sorbets – like berries, pineapple, or mango.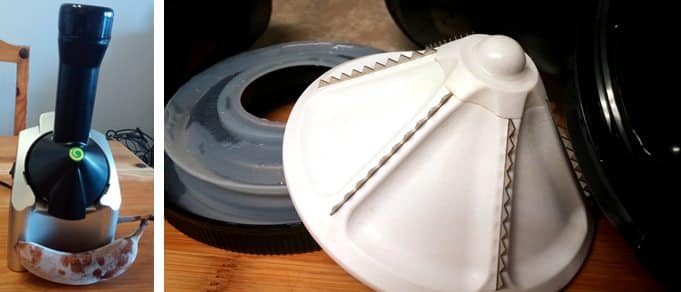 How does it work? The fruit is pushed down a chute and ground by metal teeth to a fine frozen pulp. It kinda looks like baby food which could be a whole other use for it. Unlike a blender, you do not need to add liquid. Like a blender, it is not silent but it will not wake up the neighbors either.
Clean up? Super easy just take apart the pieces and rinse off. Wash with a bit of soap or place the removable parts in the dishwasher.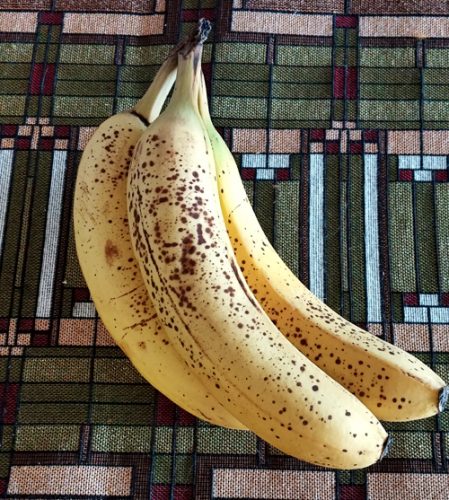 Tips? Freeze all ingredients 24 hours ahead. Bananas should be spotted and look like the ones above as this is their "sweet spot". Peel them and freeze them. Thaw all frozen ingredients 10 to 15 minutes before making your treat. And you may want to freeze your just made yonanas a bit to harden as it is a bit soft when just out of the machine.
Could be better? Nothing major. The one thing that bugs me is that the last piece of fruit that goes in never makes it to the grinding part. And you have to open the removable parts to scoop out what is left in the mechanism into your dish. You cannot make just 1 portion either as there is not enough fruit to be pushed out really. And finally the gadget is not as big as I expected but still I need to find more room in my kitchen cupboard to store out of the way when not using lol.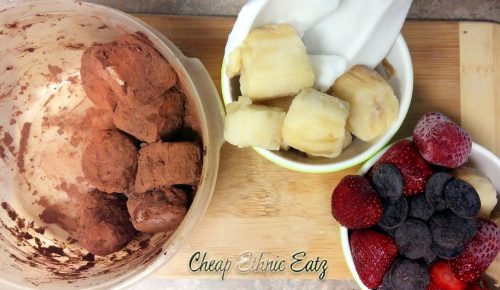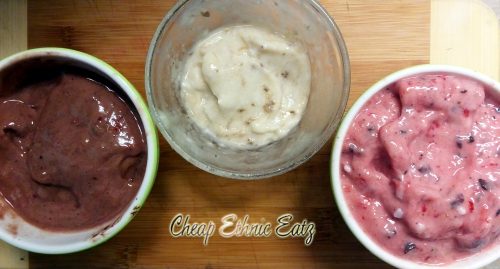 Yes it will save you tons of calories, fat and sugar compared to ice cream. But keep in mind that each yonanas recipe is 2 servings. Almost every recipe is about 3 fruit portions so there is still plenty of sugar there. A serving is 1/2 up and it is somewhere between 100 and 150 calories.
Not being able to leave a simple recipe alone, I decided to make 3 flavors and make a Neapolitan Yonanas but with a twist: bottom layer is of course the Chocolate Yonanas, next the white stuff is a Coconut Yonanas and finally we have a Strawberry Chocolate Yonanas inspired by the cherry version. All recipes courtesy of Yonanas. Neapolitan ice cream was named in the late 19th century as a reflection of its presumed origins in the cuisine of the Italian city of Naples.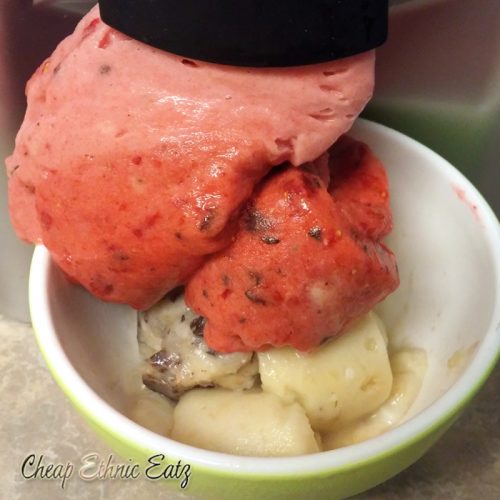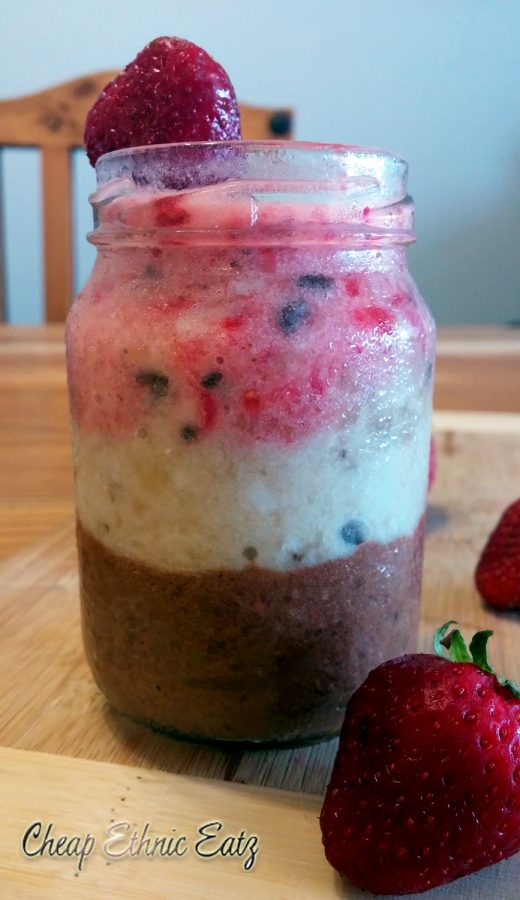 Not Yo Mama's Neapolitan
Ingredients  
For the Chocolate Yonanas
2

frozen overripe bananas

3/4

tbsp

cocoa powder
For the Coconut Yonanas
2

frozen overripe bananas

4

frozen coconut milk cubes
For the Strawberry Chocolate Yonanas
2

frozen overripe bananas

3/4

cup

frozen strawberry

1

oz

dark chocolate
Instructions 
For the Chocolate Yonanas
Toss frozen bananas with cocoa powder while thawing for 10-15 minutes

Insert frozen bananas. Stir in bowl to combine
For the Coconut Yonanas
Make the Coconut Milk Cubes: Freeze coconut milk in ice cube trays overnight.

Thaw bananas for 10-15 minutes

Insert 1 frozen banana

Add 2 frozen coconut milk cubes

Alternate remaining ingredients. Stir in bowl to combine
For the Strawberry Chocolate Yonanas
Thaw bananas for 10-15 minutes

Insert one frozen banana

Add 3/4 cup frozen strawberry

Add 1 oz dark chocolate

Insert second frozen banana

Stir in bowl to combine. Stir in bowl to combine
Assembly
In 6 jars layer first the chocolate, then coconut and finally strawberry yonanas. Return to freezer for a bit.
The products featured in this post were provided to me free of cost. Any personal opinions reflected in this post are my own and without influence.