My regular readers know how much I enjoy a food challenge. From friendly recipe challenges to figuring out what is the name of that exotic vegetable I bought at some ethnic grocery store with the illegible (to me) item sign, I have fun pushing my kitchen limits. So when I was asked to participate in a watermelon carving event how could I resist!
Only problem is I have never carved a watermelon before. I must have a good 15 to 25 pumpkin carvings under my belt since my parents let me hold a knife, but a watermelon carving, this is a first. And the design must be original. OK time to roll-up the sleeves.

The National Watermelon Promotion Board was kind enough to supply a set of paring knives, a double ended melon baller (one round scoop and one v-shaped cutting tool) and a small watermelon. Thankfully we could get a different  watermelon then the one provided as it was too short for what I had in mind.
I had sorbet on my mind, yep watermelon sorbet. Ever since I saw Emily Maloy's post for a watermelon sorbet recipe I have been salivating for a cold spoonful of this sorbet. Now all I had to do was come up with a way to combine a carving and sorbet. Finally I had a vision for my submission for the Watermelon Blogger Carving Challenge. How about building an art deco inspired stage showcasing the watermelon sorbet? I can almost hear Bessie Smith sing.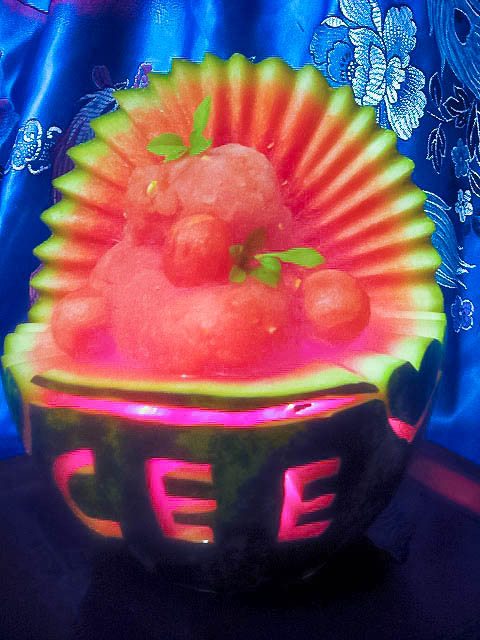 Yes, the Halloween pumpkin tradition was too strong, I had to incorporate a candle in there. Unlike a pumpkin though, watermelon gives off a gorgeous neon pink glow. What a great way to show case Cheap Ethnic Eatz, or CEE. I really liked my watermelon carving experience. Perhaps you think my Watermelon Sorbet Stage was a difficult and time consuming exercise but it was actually quite simple, as long as you mentally picture the architecture of your design.  Let me walk you though the steps…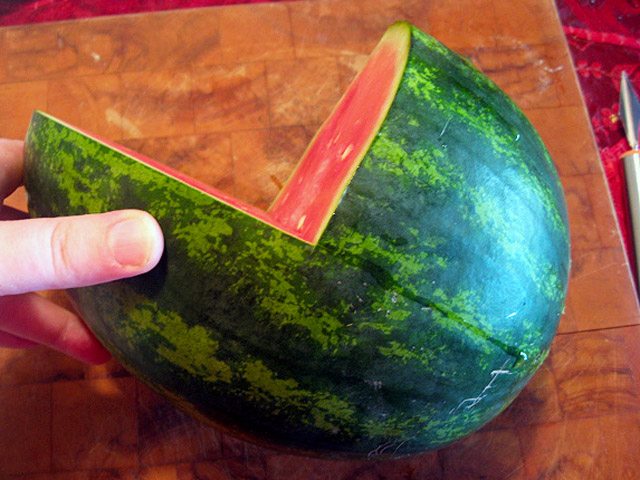 With the watermelon standing make a horizontal cut halfway up, then cut out your piece by making your vertical cut a bit further to the back then half way.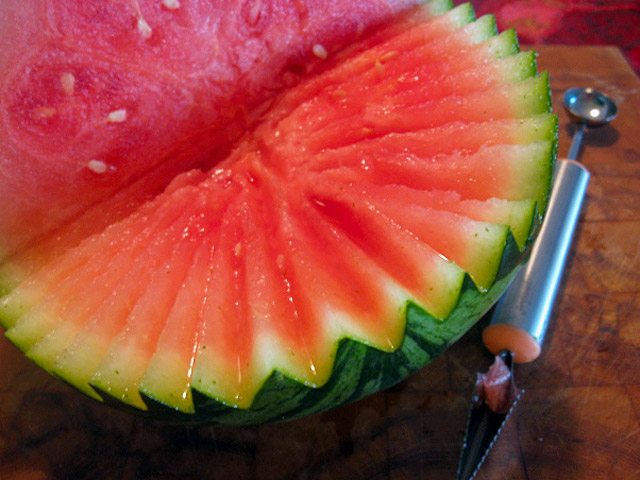 With the v-shaped cutting tool I cut out an accordion pattern which would represent my stages background, very art deco and linear. Oh and I LOVE this tool, so easy to cut.

Next I drew my letters CEE with a marker and cut them out. My first cuts where at an inward 45 degree angle so they could pop out easily. Then I cut my lines clean. I turned my watermelon around and I cut out the place where my candle would be. I fleshed out the interior with the scoop melon baller carefully to have a thin flesh layer remaining where my letters were. I adore the pink color it gives off.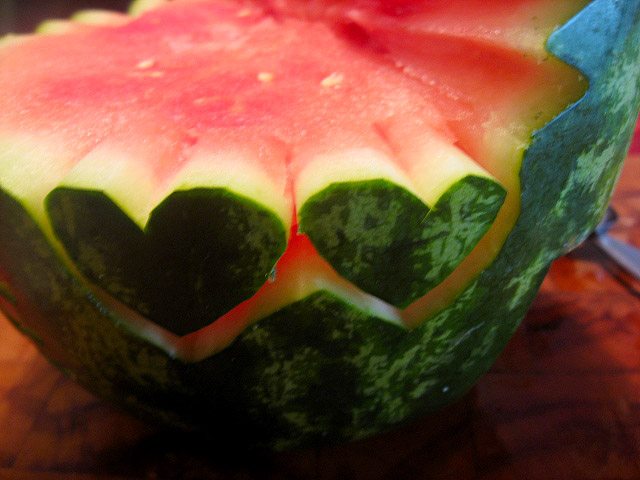 Finally I added a bit of decoration with the paring knives by cutting out 2 hearts on each side and cutting a thin line below the stage to give a floating floor effect. That is it. See! It was not that difficult.
And now I have all this beautiful watermelon flesh left over for the sorbet. But before make a few pretty watermelon balls with the scoop tool.
Ξ Watermelon and Basil Sorbet Ξ
adapted from Cleanliness is Next to Godliness
Ingredients:
4 cups pureed watermelon
1/2 cup of granulated sugar
1 tsp fresh basil
Directions:
1. Puree watermelon with basil.
2. Boil 1 cup of the pureed watermelon with the sugar for 3 to 5 minutes, making a syrup, and allow it to cool completely.
3. Add to remaining pureed watermelon and and process for 25 minutes in an ice cream machine.
4. Freeze for 3 hours or up to overnight.

Place some sorbet balls on the stage, add a few melon balls and a couple of basil sprigs.
And the final touch: light the candle and dim the lights! A natural electric pink neon light!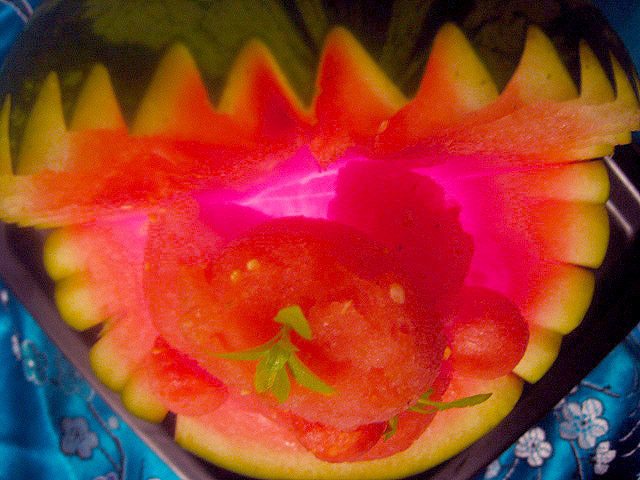 A few watermelon health facts:
Watermelon has 92 per cent water content and is an excellent hydrator. So take some with you on your hike.
Watermelon is low in fat and cholesterol-free.
Watermelon is an excellent source of an important amino acid, citrulline. The human body uses citrulline to make another important amino acid – arginine – which plays a key role in cell division, wound healing and the removal of ammonia.
Watermelon contains high levels of the antioxidant lycopene – a 2 cup serving of watermelon contains 18.16 mg.
Watermelon is low in sodium and a source of potassium.
Watermelon is a good source of the following (per 250 mL or one-cup serving):

Vitamin C
Thiamine (vitamin B1)
Vitamin B6
Vitamin A
Thank you to The National Watermelon Promotion Board for hosting this great challenge and introducing me to the fun art of watermelon carving.