I received an email that made me blush the other day. I was actually quite honored. I am part of an organization called the Food Bloggers of Canada and every week they chose a Canadian blogger to showcase as the Featured Blogger of the week. This week I am that Featured Blogger. Please take a moment to head of to the FBC and check out the post featuring Cheap Ethnic Eatz. Thank you FBC!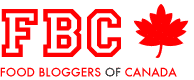 It is always flattering when we get a little bit of recognition for our work, even if we do it purely because it is our passion. This blog is far from perfect but I am proud and have worked hard at it. The first two years this blog sort just gathered internet dust. My topic was too local (short Montreal restaurant reviews) and I did not know how to share more effectively.
The last 3 years have been a huge growing experience. I did my research, applied many ideas, put myself more out there, etc. There is always more to learn, ways to improve and keep it fun. Here are my tried and true 10 tips that have helped me take my blog a little bit further.
1. Join a topic related community
The first community I joined was Foodbuzz and my stats skyrocketed instantly because I had a large new audience of peers.
2. Make contact with other bloggers
Leaving comments gets you connected with people who share a mutual interest. This is the #1 networking tool. I have met tons of wonderful people and a few have become friends. The best is meeting up over a meal when the opportunity arises.
3. Review your blog's goal periodically
My first posts were exclusively short restaurant reviews or anecdotes of the dinner group I ran. My audience was very small. I realized quickly that popular food blogs were focused on recipes. So I took my blog into the kitchen and posted recipes I prepared. I try to keep the majority of my recipes on them: cuisine from around the world. This is also a perfect opportunity to work on a great About page – I just redid mine, comments are very welcomed, please! And make sure to check your writing with a good online grammar checker like this free one before posting.
4. Participate in online group activities
The first group I joined was The Daring Kitchen. The formula varies but the idea is basically the same: a theme, an ingredient or a recipe is suggested and everyone posts at the same time their result. Today I am part of the Secret recipe Club, the 5 Stars Makeover and the Love Bloghop. Join as many groups as you like as long as you can respect the schedule impositions.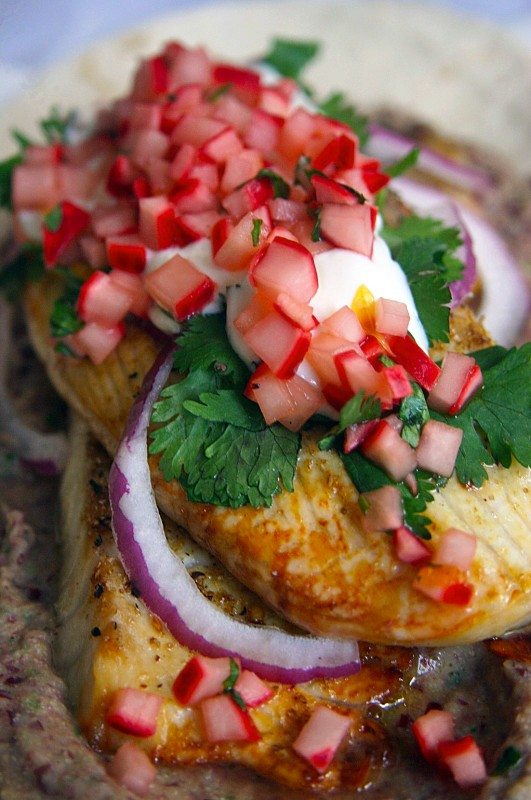 5.  A picture is worth a 1,000 words
I once read women are more likely to read a long article whereas men are more likely to just look at the pictures. I think we all do a bit of both but eye candy does go a long way. I could write a whole other post about food photography. Taking a great picture of a dish can be a very intimidating. Learn from food bloggers with a photography knack. Write to them and ask for advice or find photography tutorials. People love to share their knowledge. With practice your skills will improve. Getting a DSLR camera makes a huge impact. Here are some of my favorite food photography resources:
45+ resources to improve your food photography
My Pinterest Food Fotography board
The Ardent Epicure has a great ongoing guest blog series on food photography
If you have Photoshop check out the Photoblog Tutorials
Food Photography for Bloggers by Vegan Yum Yum
6. Social, social, social networks
Get an account for all of them: Twitter, a Facebook page, Google+, Pinterest, StumbleUpon and Digg are some of the biggest. Once your accounts are set up follow people. Post new blog articles on every social network. It's viral marketing.
7. Guest blog or write articles
I wrote an article 2 years ago on exotic ice cream recipes for The Daring Kitchen. I took a look at my last referrers today and 10 of them came from that article. Why? Because it is summer and everyone loves ice cream. A pertinent and well written article posted on another related site can get you new readers for years to come. A fun guest post I did was with Foodiva remaking a recipe we loved from the others blog.
8. Read advice blogs or websites about social media and SEO
One of the best reliable sites is Mashable. They can give you great tips and inspire you. I fell on a site that offered a program called 31 Days to Building a Better Blog. You can find it without cost online. I am doing it at my own pace, not in 31 days. This very post is actually one of the daily tasks: write s list post.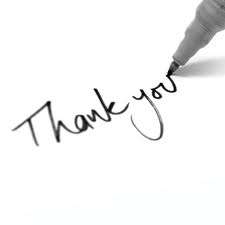 9. Praise and say thank you
This can take many forms. Someone leaves you a touching comment…email them directly saying how much you appreciated it. You fell in love with a recipe on a blog, made it and are posting about it…mention and link back t the post you got the recipe from. In this post I have linked directly to a few bloggers and sites I admire. That is a form of praise. Pay it forward!
10. If you are not having fun, stop blogging
Every effort you make will have a positive impact on your blog. But if you are not having fun then what is the point? If you keep comparing yourself to more successful blogs you are just discouraging yourself. I kept this point for last but it is the most important point on this list. Have fun. Blogging should be a passion, not an effort.