The Indian Navajo Taco recipe is a great way to get creative with your tacos. By replacing the usual tortilla with fry bread, which is then served with chili, this dish will impress even the pickiest eaters!
I asked fellow members of the Eat the World challenge to prepare a Native American dish. It could be from any tribe they liked. I chose the Indian Navajo Taco. Here in Canada, the topic of Native American people has been on the news a lot, both in victories and a great historical defeat, specifically of a mass grave at one of the many obligatory boarding houses from decades ago. The victories included the first-ever female chief elected to represent all Canadian Natives affairs in the government. Exciting times.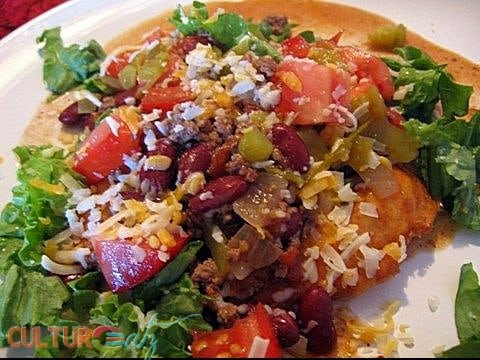 I wanted to revisit a Chili and native American fry bread recipe I posted here 11 years ago, which I prepared following my return from a vacation. Please excuse the small photos that were taken before social media and foodie concepts even existed.
I did a quick detour via Washington DC to visit a friend I had not seen in 7 years! It was also my first time in DC. I LOVED this place a lot and wish I had more time to visit. I ran like a madwoman trying to see as much as possible in the sweltering heat. With most of the famous monuments and Smithsonian museums located along the Mall, I crammed in quite a bit in a day.
How I discovered the Indian Najavo Taco recipe
One museum on my list was the National Museum of the American Indian. I have no Native American blood in me but in college, I had two friends who were. One is part Navajo and the other a full-blooded Mohawk who lived in the Kahnawake reserve. During that time, I spent 2 very memorable days there and it created a lifelong interest.
Back to DC! I really enjoyed the museum and I was super peckish after the tour. I was directed to a massive cafeteria in the basement and I headed straight to the Mitsitam Native Foods Café. It's actually five separate counters located in the food court·so you could sample several indigenous cuisines of the Americas: Northern Woodlands, South America, the Northwest Coast, Meso America, and the Great Plains.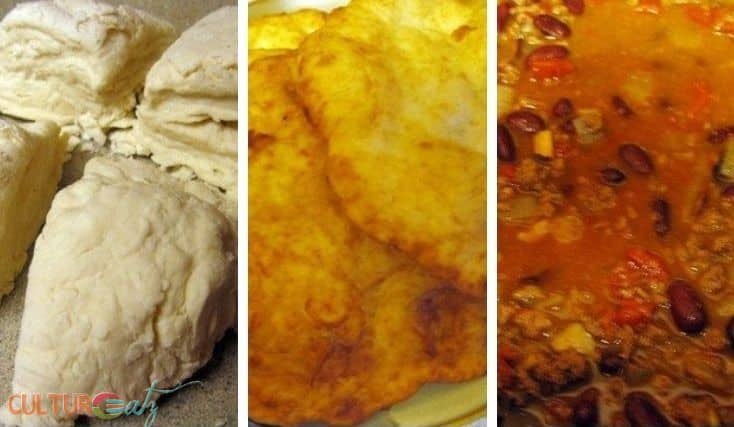 I ended up having an Indian Taco which was made with Buffalo Chili and fried bread.
My highly adapted fry bread recipe comes from a website that describes the history of Navajo Fry Bread. It's actually a quite emotional story and explains the need for survival.
The fried bread I made versus the one at the museum does not even compare. Mine was TO DIE FOR. It is the easiest bread I have ever made in my life, so fast and so so good. I hate frying but it is so fast to make I think it's totally worth it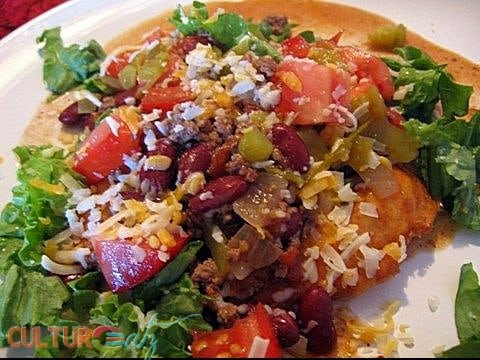 Indian Navajo Taco: Chili and Native American Fry Bread
The Indian Navajo Taco recipe is a great way to get creative with your taco toppings. By replacing the usual tortilla with fry bread, which is then served with chili, this dish will impress even the pickiest eaters!
Ingredients  
1

cup

unbleached flour

1/4

teaspoon

salt

1

teaspoon

baking powder

1/2

cup

milk

Vegetable oil for frying

1

pound

ground meat

beef, lamb, buffalo, or venison

1 1/2

medium onions

coarsely chopped

3

cloves

minced garlic

19

oz

can kidney beans

drained

8

ounces

beef broth

14

oz

can diced tomatoes

1 1/2

tbsp

oregano

1

tbsp

chili powder

salt and pepper to taste

1

head iceberg lettuce

shredded

3 to

tomatoes

diced

2

cups

shredded sharp Cheddar cheese

diced green chili
Instructions 
Sift together the flour, salt, and baking powder into a large bowl. Pour the milk over the flour mixture all at once and stir the dough with a fork until it starts to form one big clump.

Using your floured hands, begin to mix the dough, trying to get all the flour into the mixture to form a ball. Do not knead otherwise you will have a heavy fry Bread.

Cut the dough into four (4) pieces. Using your floured hands, form disks of about 6 inches in diameter.

Heat the vegetable oil to about 375 degrees F. Your oil should be about 1-inch deep in a large cast-iron skillet or other large fryer.

Take the formed dough and gently place it into the oil, being careful not to splatter the hot oil. Press down on the dough as it fries so the top is submersed into the hot oil. Fry until brown, and then flip to fry the other side. Each side will take about 1 to 2 minutes.

In a large frying pan over medium-high heat, brown ground meat, onions and garlic until you see no pink meat.

Add beans, broth, diced tomatoes, oregano, chili powder, salt and pepper. Bring to a boil and simmer 20 min.

Place one fry bread, cupped side up, on a plate. Layer ground meat, lettuce, tomatoes, Cheddar cheese, and green chili onto top of each fry bread.