I just recently joined the Daring Kitchen. This 'club' prepares 2 monthly challenges done as a group. You join the Bakers' or Cooks' Challenge (or both), do the recipe of the month by the deadline date and post it after the official reveal date on your blog. Of course you can post your results before on the website's forum.
And being a good procrastinator I waited till the last evening to do it lol. I was very nervous at first feeling I could not rise to the 'competition' but I am very pleased with my result and of course the taste is heavenly if you like curry and coconut. On thing that baffled me is how there can be so many entries and no two look alike. Its an eye opener.
So I am revealing my first challenge today to you. This is the Cook's Challenge. The September 2009 Daring Cooks' challenge was hosted by Debyi from Healthy Vegan Kitchen. We had to prepare a dish I never heard of before, Indian Dosas. Traditionally a dosas is a crepe made from rice and black lentils. They can be stuffed with vegetables, meats and sauces to create a quickly prepared meal. This dish is 100% vegetarian, lactose- and gluten free. And you can substitute so many things too, feel free to do your own variations.
Indian Dosas
This recipe comes in 3 parts, the dosas, the filling and the sauce. You can serve them as a main course with rice and veggies, or as an appetizer.  Serves 4
Dosa Pancakes
1 cup (120gm/8oz) spelt flour (or all-purpose, gluten free flour)
½ tsp (2½ gm) salt
½ tsp (2½ gm) baking powder
½ tsp (2½ gm) curry powder
½ cup (125ml/4oz) almond milk (or soy, or rice, etc.)
¾ cup (175ml/6oz) water
cooking spray, if needed
1.Combine the dry ingredients in a bowl, slowly adding the almond milk and water, whisking until smooth.
2.Heat a nonstick skillet over medium heat. Spray your pan with a thin layer of cooking spray, if needed.
3.Ladle 2 tablespoons of batter into the center of your pan in a circular motion until it is a thin, round pancake. When bubbles appear on the surface and it no longer looks wet, flip it over and cook for a few seconds. Remove from heat and repeat with remaining batter. Makes 8 pancakes.
Coconut Curry Sauce
This makes a great sauce to just pour over rice as well. This does freeze well, but the texture will be a little different. The flavor is still the same though. My picture of this sauce is one that I had made, had to freeze, then thaw to use. It tastes great, but the texture is a little runnier, not quite as thick as it was before freezing.
1 onion, peeled and chopped
2 cloves garlic
½ (2½ gm) tsp cumin, ground
¾ (3¾ gm) tsp sea salt (coarse)
3 TBSP (30gm) curry powder
3 TBSP (30gm) spelt flour (or all-purpose GF flour)
3 cups (750ml/24oz) vegetable broth
2 cups (500ml/24oz) coconut milk
3 large tomatoes, diced
¼ cup (125gm) grated coconut
¼ cucumber, sliced
1.Heat a saucepan over medium heat, add the onion and garlic, cooking for 5 minutes, or until soft.
2.Add the spices, cooking for 1 minutes more. Add the flour and cook for 1 additional minute.
3.Gradually stir in the vegetable broth to prevent lumps. Once the flour has been incorporated, add the coconut milk and tomatoes, stirring occasionally.
4.Let it simmer for half an hour.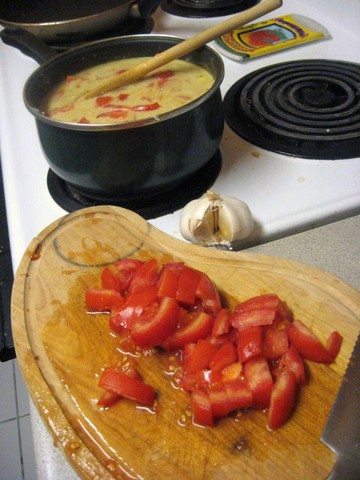 Dosa Filling
This filling works great as a rice bowl topping or as a wrap too, so don't be afraid to make a full batch.
5 cloves garlic
1 onion, peeled and finely diced
1 carrot, peeled and finely diced
1 green pepper, finely diced (red, yellow or orange are fine too)
2 medium hot banana chilies, minced
2 TBSP (16gm) cumin, ground
1 TBSP (8gm) oregano
1 TBSP (8gm) sea salt (coarse)
1 TBSP (8gm) turmeric
4 cups (850gm/30oz) cooked or canned chick peas (about 2 cans)
½ cup (125gm/4oz) tomato paste
1.Heat a large saucepan over medium to low heat. Add the garlic, veggies, and spices, cooking until soft, stirring occasionally.
2.Mash the chickpeas by hand, or in a food processor. Add the chickpeas and tomato paste to the saucepan, stirring until heated through.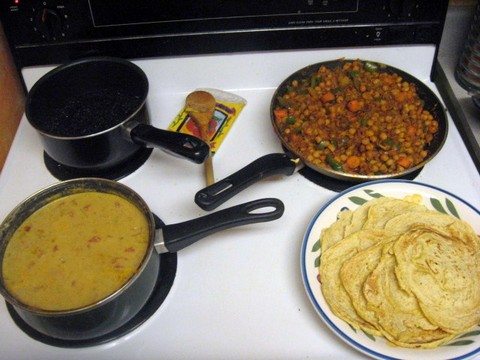 Here above I have my 4 serving components: the 3 recipes plus my rice. To decorate I shredded a little cucumber and sprinkled with some coconut. I served mine on a black rice called Forbidden China. I had one portion for dinner last night and I really enjoyed it. Its very filling and you won't miss the lack of meat! I have a feeling I am going to have a lot of coconut curry sauce though.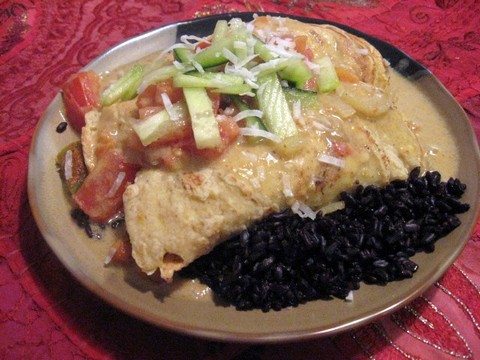 I am serving the rest on Wednesday as I have 2 girlfriends coming over (one may read this before hand too lol). It just so happens one of them is a vegetarian so its perfect. Can't wait to get there comment.
Hugs and Biscuits
Evelyne