How much more festive can you get than this Hungarian Christmas Wine Soup. The flavor is tart and sweet, also very rich with the addition of egg yolks. Bookmark it now for next year!
I know, a bit late for a Christmas recipe, but who cares you can make this festive Christmas wine soup year round. Hungary has a weird obsession with unusual soups. When I was there I had strawberry soup and elderflower soup. When I got back I made the classic sour cherry soup. While researching a recipe for ATW12P I came across a Christmas Wine Soup. The bulk of the soup is white wine. How could I not give this recipe a try!
PIN IT FOR LATER https://www.pinterest.ca/pin/266275396702661928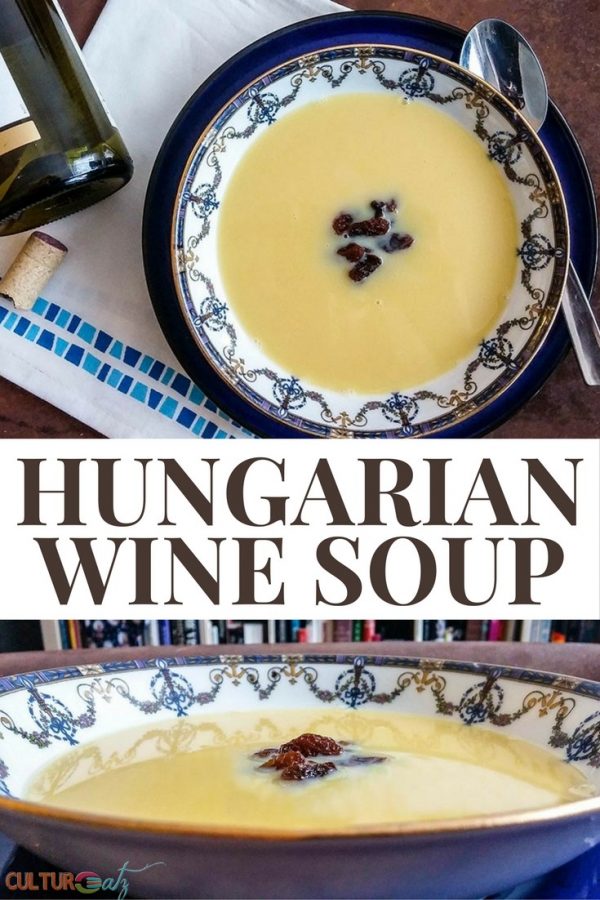 This post is my contribution to the Around the World in 12 Plates group. Each month the group explores a suggest country. For this month we are off to Hungary…a country I have visited in June 2016! The food is delicious there but very heavy.
Let me show you what I mean with some food pics from that trip.
Are you "Hung-ary" after seeing these pics?
Fancy dinner at Karpatia: this building was built by Franciscan monks and has been a restaurant since 1877. Grilled catfish steak with paprika served with tagliatelle, sausage, cottage cheese and lecsó (a Hungarian ratatouille). Great list of Hungarian wines. Did you know Hungary is a huge producer of excellent wines?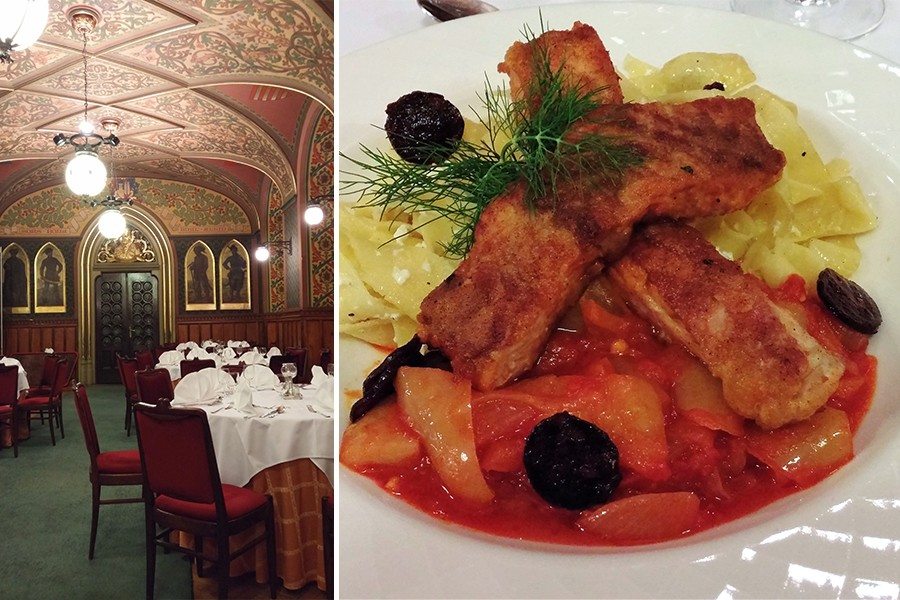 For breakfast, lunch or snack time, why not try a few open sandwiches?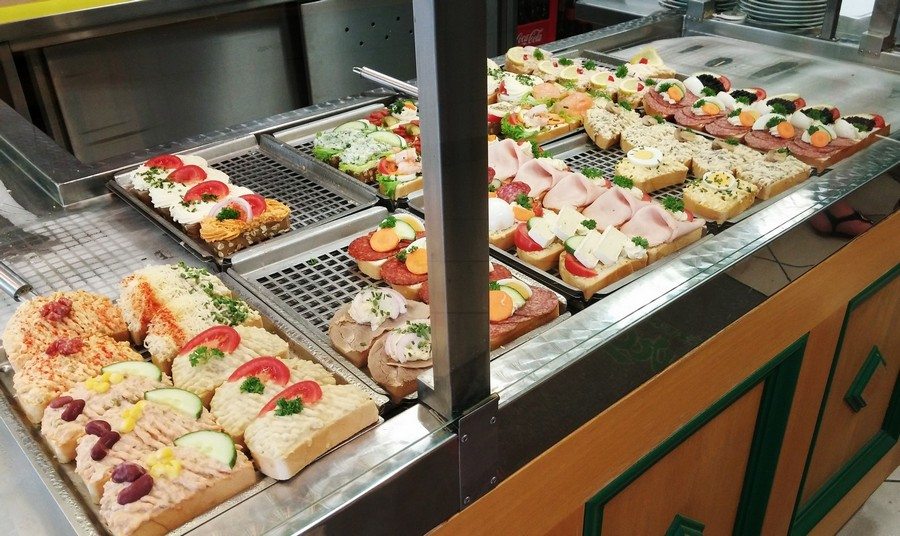 You can find so many farmer's markets in Budapest but the biggest one is Nagyvásárcsarnok, or Great Market Hall, which opened in 1897. The ground floor is filled with locals choosing local produce, sausages galore and paprika in every form.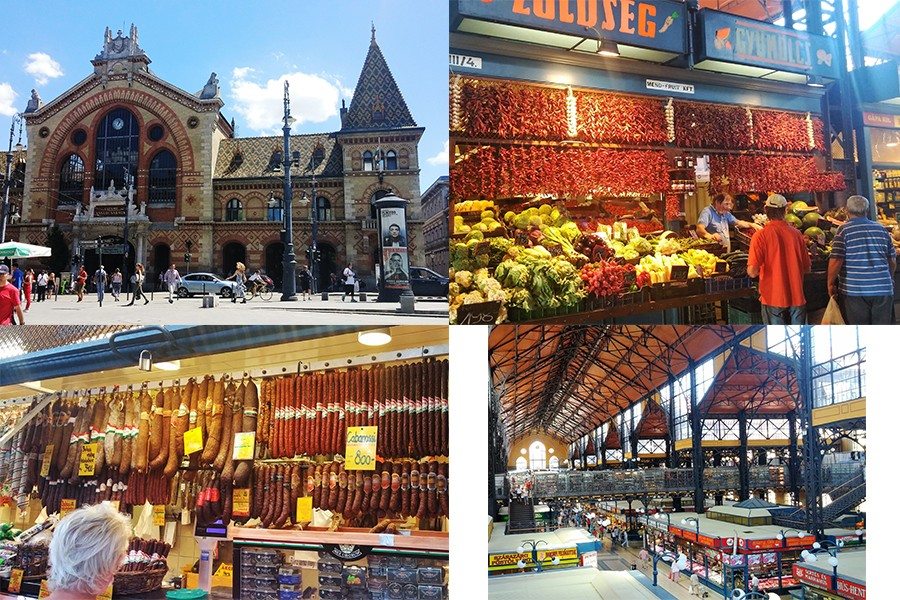 Dinner at the charming Kazimir restaurant in the Jewish Ghetto. A local brew and Kedvessy pork medallions with duck liver, porcini sauté and cottage cheese dumplings.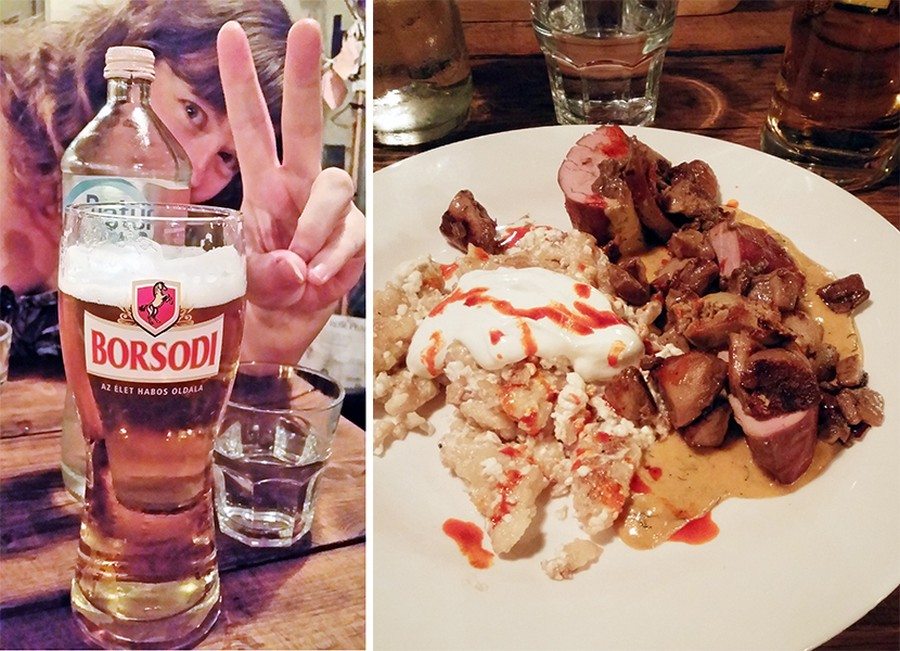 All these food wonders are from the Pest side. Yes Buda and Pest are 2 cities. There is plenty of fine dining and amazing sites to explore in old town Buda as well.
Waiter, there is booze in my soup
Like lots of booze, most of the Christmas wine soup is made with alcohol. Will you get drunk on it? The answer is probably not. To prepare the soup we must bring the wine to a short boil. This will not make all the alcohol evaporate but I would say 3/4 of it will. So better still stick to one portion 😉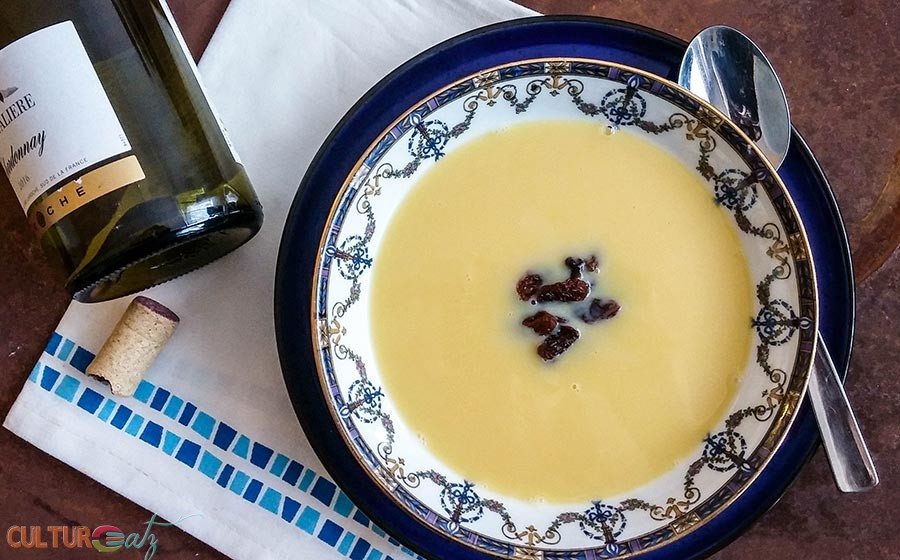 Borleves | Hungarian Christmas Wine Soup
Ingredients  
3 1/2

cups

dry white wine

3/4

cup

water

1/2

cup

sugar

1

cinnamon stick

4

cloves

4

egg yolks
Instructions 
To a saucepan, add 3 cups of the wine, water, sugar, cloves, and cinnamon. Bring to a boil and lower heat to medium.

In the mean time, beat well the egg yolks with the 1/2 cup of wine.

Once the soup is boiling, add a ladle of the soup slowly to the egg mixture, beating constantly. Add another ladle in the same fashion.

Beat the egg mixture into the saucepan, stirring constantly, until the soup thickens a bit (don't let the eggs curdle). Strain and serve immediately.
If you want to learn more about Budapest and see pictures of the city, head over to my post which also includes a recipe for the quintessential Hungarian summer soup: Cold Sour Cherry soup, or Hideg Meggyleves.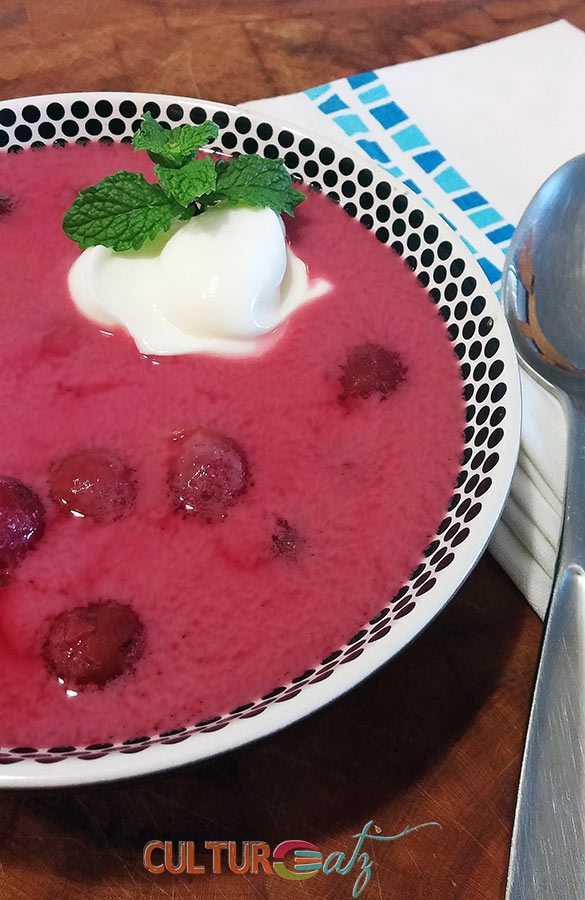 I have 2 more posts from that trip as well, which includes the southern Austrian countryside, Vienna market and Buda, and more of Vienna and a cruise on the Danube.
Check out all the wonderful Hungarian dishes prepared by fellow Eat the World members and share with #eattheworld. Click here to find out how to join and have fun exploring a country a month in the kitchen with us!
Sneha's Recipe: Hungarian Beef Goulash
Magical Ingredients: Langos – Hungarian Potato Fry Bread
Sugarlovespices: Hungarian Gerbeaud Cake
Culinary Adventures with Camilla: Lamb Soup With Sour Cream (Palócleves)
Making Miracles: Beef Goulash
A Day in the Life on the Farm: Hungarian Short Ribs
Pandemonium Noshery: Rakott Krumpli – Hungarian Potato Casserole
Kitchen Frau: Túrós Csusza (Pasta with Cottage Cheese)
CulturEatz: Borleves | A Hungarian Christmas Wine Soup
Amy's Cooking Adventures: Hungarian Braised Short Ribs