Well if you think I was going to make my lobster broth and move on without another word you were oh so wrong! Of course I was planning on using a good amount of my many liters pronto. And my first use of the lobster broth will be for a delicious fish stew.
I am not normally a big fan of fish stews or soups but I came across a flavorful recipe with good potential. I gave it a go and I was very satisfied with the results. It makes a big batch and I live alone….3 days 3 bowls an I am still in love. Today for lunch I topped it of with a hard boiled egg and it was a lovely addition. So if you are also not a big fan of fish soups I would keep an open mind and give this one a shot!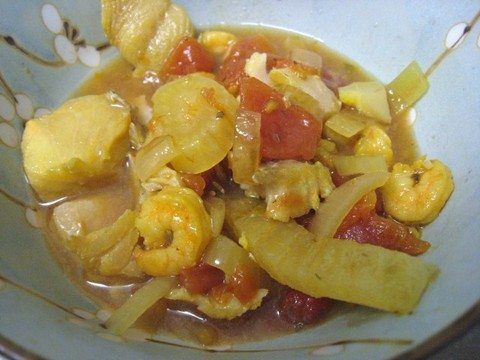 Fish Stew
Ingredients
1 fennel bulb, green tops and core removed, white part chopped
2 onions, chopped
4 garlic cloves, sliced
3 tablespoons of olive oil
1 1/2 cups white wine
14 oz canned tomatoes
2 tablespoons of fennel seeds
1/2 teaspoon of hot pepper flakes
2 pinches of saffron threads
3 bay leaves
4 cups of fish or lobster stock
salt and pepper
zest of 1 orange
24 ounces of any assorted fish scraps: lobster, shrimp, salmon, halibut, haddock, cut into large chunks
Directions
In a large soup pot, sauté the fennel, onions and garlic in the olive oil until they soften.
Pour in the wine and simmer for 15 minutes.
Add the tomatoes, fennel seeds, hot pepper flakes, saffron, bay leaves and stock.
Season with salt and pepper and let simmer for 15 minutes.
Add the orange zest and fish to the simmering soup and bring back to a boil while stirring gently.
Lower heat again and let simmer for 15 minutes and serve immediately.