Staying on the theme of street food from my previous post, did you know street food in Montreal is illegal? Apparently there is a municipal by-law banning the sale of street food has been on the books since the 50s. I always enjoyed having my NYC hot dog or roasted peanuts when I went down to the Big Apple for a long weekend but I have to admit I was pretty happy Montreal was free of a hot dog cart on every corner. Back then street food was junk food.
But now street food is the new chic dinner outing amongst the big cities foodie world. Parks have dedicated weekends where the best street food vendors sell their tasty small sized treats in a group. Cities that allow street vendors have seen the quality of the dishes rise, it's a dog eat dog cut throat competition now to impress your customers and have them come back.
But not in Montreal, or are the times a changing? Queue the entrance of Grumman '78, a taco truck that can operate during events when hired by the event organizers. This suggested loop in the law was allowed by City Hall. So if you want to hire Grumman '78 for an event and have them sell their tacos on the street…that is OK. I have enjoyed their tacos twice: once at a cookbook launch event and once at the Food Court @ Foodlab, an event that was organized by Grumman '78 of course.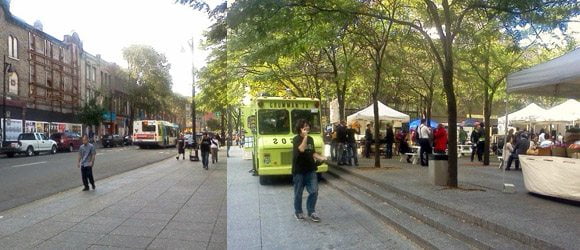 Setting up shop on the now deserted stretch of Saint-Laurent street between Sainte-Catherine and René-Lévesque (due to a business offices/condo political fiasco), at the Place de la Paix urban square,  the Food Court @ Foodlab took place on September 30th 2011. I went there with another wonderful foodie friend of mine, Johanne. Here is a sampling of what we enjoyed…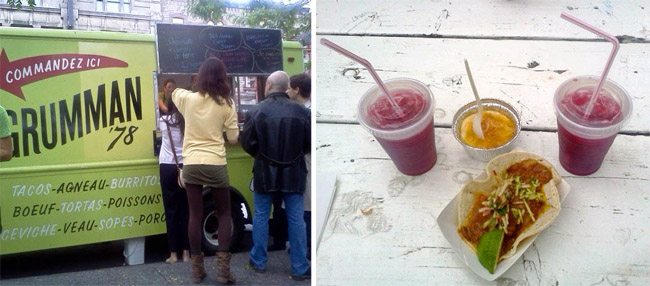 A Grumman '78 taco of course! The menu changes all the time and today it was curried goat. It was so finger liking good. With this taco we ordered each a hibiscus juice and we shared a gooseberry cheese cake. Who else would think of gooseberry for a cake! I love the white picnic tables set up to eat our goods.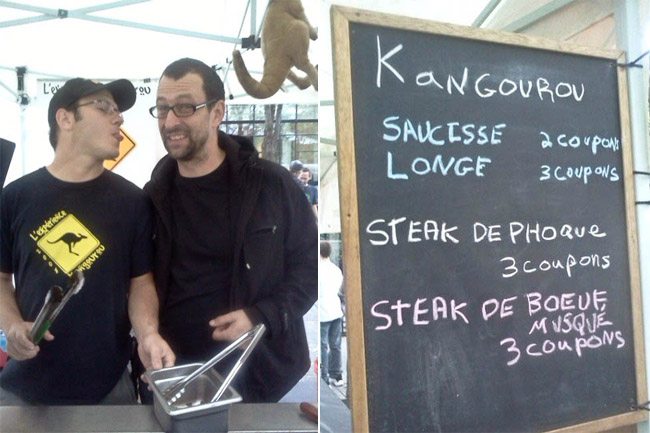 L'Expérience Kangourou is run by these 2 wacky dudes! I first hear about them about 3 years back when the dinner group went to the Mondial Gourmand. Back then allt hey served was exotic kangaroo meat. If you have not tried it I urge you to taste this succulent meat. They had kangaroo on the menu but we decided to try the other 2 meats….
The first was seal, double verdict: gross! If you like liver you will adore it, if you hate liver don't even try. It had a strong iron taste with a meat texture. But the second meat oh so made up for it, we had muskox which is also an Arctic animal. Now this was heavenly meat, a perfect marbling of fat and muscle nicely grilled up. I wanted a full steak after.
Next we shared a very nice pulled turkey sandwich from Pas d'cochon dans mon salon, which translates into No pigs in my Living Room, what an awesome name.
We followed it up with delicious meatballs from Nora Gray. I just love to witness to what extent my friends will go to make a good pic for the blog when I make a request!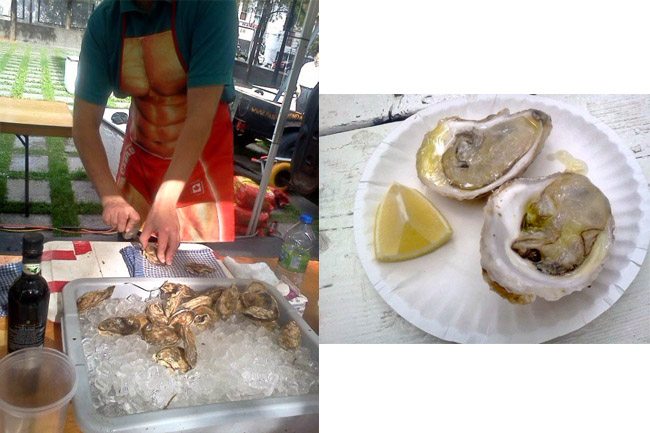 Still sometime a challenge for me when it comes to acquired tastes, Curtis Vargo did not disappoint with wonderful fresh oysters. Oh Curtis, LOVE the apron!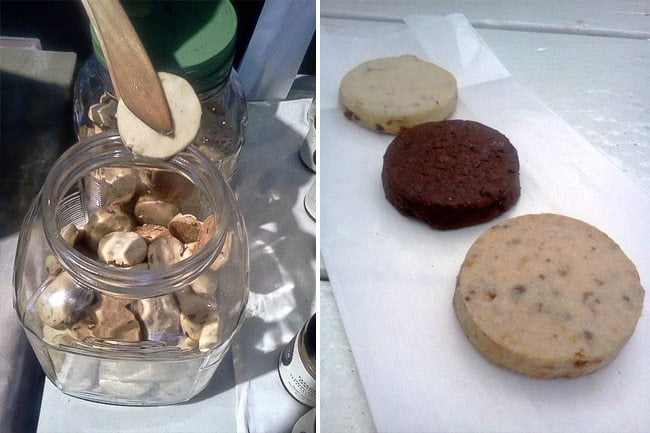 After all these small dishes I think a dessert is well deserved. From la Dinnette Nationale we tasted 3 shortbread cookies: white peaches and anise seeds, goat cheese and hazelnuts, and both our favorite chocolate and black olives. I know it sounds like a weird combo but I was quite a revelation…just make sure to use only dark chocolate.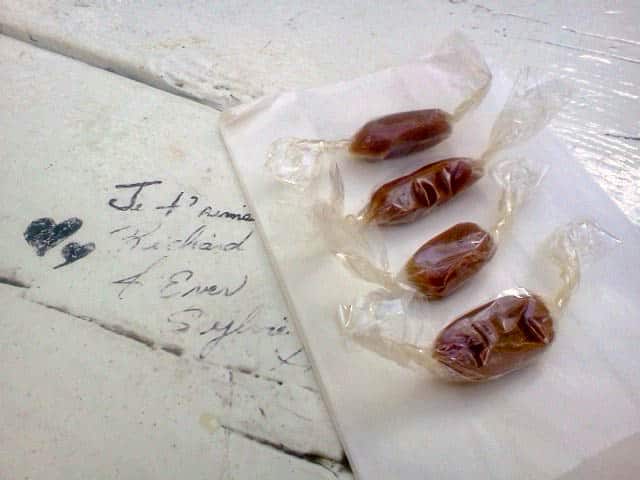 And the finale of our foodlab experience were soft and addictive homemade caramels: one honey flavored the other fleur de sel. Fleur de sel was the winner but it was a close call!
Our mini street food event was declared a big success, Johanne and I had a blast exploring the various food here. I hope there is many more such event to come in Montreal. Do you have street vendors in your city?