A wonderful new way to enjoy a fish tortilla: top it with a fabulous citrus & vanilla gastrique and a radish salsa! Served with battered radish leaves.
Well, I guess it had to happen sooner or later. Ladies and Germs: 5 Star Makeovers is at WAR this month. Yes you read me right. We have created our very own friendly competition based on Restaurant Wars, like the popular part of the Top Chef show. Members of this fabulous gourmet group were divided into teams of 3. We had to come up with a restaurant or menu based on an ingredient or concept. My personal challenge: radishes meet fish tortilla!
Does life imitate art or art imitate life? Who knows but unfortunately we did loose some teams along the way following incidents. Mine survived without any battle. I am so happy to have worked with my 2 particular team members Faith and Shannon. We all got along fabulously, came to decisions rather fast and we were very encouraging of one another.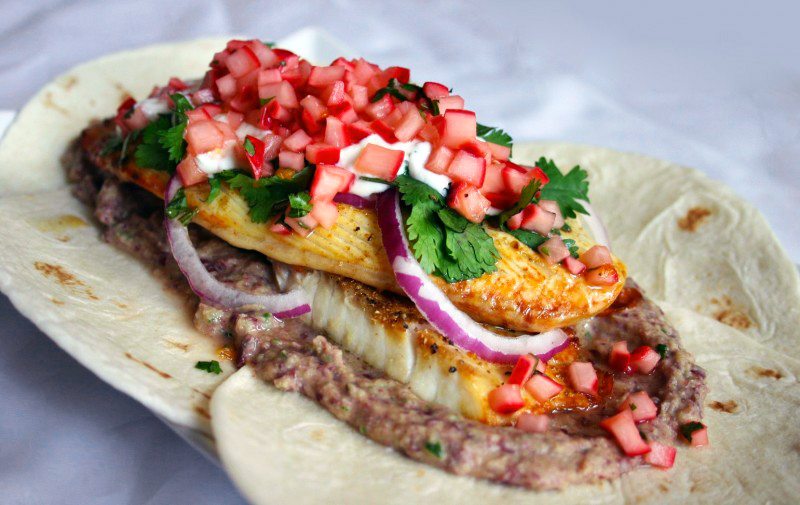 My team chose radishes and we announced our menu about a month ago here: Raphanus! Celebrating the Radish. Not one of us were particular fans of this vegetable but we all appreciated the challenge of turning this foe into a shinning star for our dishes. And since that was not tough enough we added another aspect: there must be a citrus vanilla component to our dish. All 3 of us were ready to confront our radish dish with our chef's sleeves rolled up. Who won? In the end the radish won us all over.
After reading my post please go visit the rest of my team so you can see our complete menu. You will find Shannon's radish themed appetizer and Faith's radish themed dessert  by clicking on their respective links. I can't wait to go check them out. But first let's take a look at my dish, the main course:
Fish tortilla with a citrus & vanilla gastrique radish salsa, battered radish leaves.
Say that 3 times fast lol. It's a mouth full…but a so delicious one. OK so my vanilla component is a vanilla gastrique. I never made one before so this was new. A gastrique is a reduction of a sweet and sour element, usually sugar and vinegar. I added a vanilla bean to mine. This stuff is freaking addictive it's ridiculous. I used it as part of my Radish salsa vinaigrette.
I more then covered the citrus factor. In total I used satsuma mandarin juice, Yuzu lemon juice, dried orange peel and lime juice. I also wanted to add a little heat to my dish since it has a Tex Mex flair. I chose a Serrano pepper and some habanero infused salt, just a touch.
My radish salsa plays the crowning jewel atop of a fantastic fish tortilla dish. Although I enjoy it I don't prepare a whole lot of Tex Mex, it's not part of my culture. And I had never had a fish in a tortilla before, something I had been curious about after seeing such a dish featured on a few blogs. Well it was just fantastic and the sweet tanginess of the radish salsa gave it a perfect flavor kick.
And there is a side dish surprise recipe all the way at the bottom of this post!
Vanilla Gastrique
1/3 cup sugar
1/3 cup Zinfandel vinegar (you can use any vinegar)
1/2 vanilla bean, split length wise
Add all ingredients to a pan and place on medium heat. Bring to a boil, then reduce heat and simmer for 8-10 minutes or until the mixture has reduced by 1/3 and is syrupy. Allow to cool and discard bean.
Red and Black Radishes, the Stars of the show
Radish Salsa adapted from Figareau
12 radishes
1/2 cup fresh cilantro, chopped
Juice from 1 satsuma mandarin (or orange)
1 1/2 tbsp Yuzu lemon juice (or lime)
1 tbsp vanilla gastrique
1 tbsp balsamic vinegar
Pinch habanero infused salt (or plain salt)
Pepper to taste
Washed, trim and dice finely the radishes. Put all the ingredients in a bowl and mix well. Season to taste with salt and pepper. Cover and chill for at least an hour before serving.
Ξ Fish tortilla with a citrus & vanilla gastrique radish salsa Ξ
For the fish
1 1/2 lbs firm white fish (I used Tilapia)
1 teaspoon lime juice
1 tablespoon olive oil
1/2 teaspoon cumin
1/2 teaspoon fenugreek
1/2 teaspoon dried orange peel
Dash of salt and pepper
Heat grill or oven to 400F. Place fish in an aluminum pan, coat with olive oil, lime juice and spices. Cook about 10 minutes (more or less) until fish comes apart with a fork.
Assembly
tortillas
red bean paste
prepared fish
red onions, thinly sliced
cilantro
sour cream with a touch of lime juice and diced Serrano pepper.
radish salsa
Line plate with tortillas. Spoon a layer of red bean paste. Place fish on top of red beans.
Top fish with red onions, cilantro, sour cream and radish salsa. Makes 4 individual servings or 1 big plate to divide.
WAIT, one more recipe, a SIDE DISH adapted from Kitchen Gossip. Why throw away those lovely radish greens? These fritters are like a cross between hush puppies and an Indian Bahji – unique to say the least.
Ξ Battered radish leaves Ξ
2 cups radish leaves, chopped
3 heaping tbsp cornmeal
2 tbsp rice flour
1 Serrano chili, finely chopped
1 tsp Cumin Powder
1 tsp Turmeric
1 tsp Paprika
Salt to taste
Oil to Deep Fry
Water
Mix leaves, flours and spices in a bowl. Add a little bit of water at a time and mix until batter is sticky
Shape into small balls and deep fry in oil at 375F until golden brown.
Drain on paper towels before serving. Enjoy hot or cold.
Don't forget to go visit Shannon's radish themed appetizer and Faith's radish themed dessert  by clicking on their respective links after leaving a comment. Thank you to our amazing organizer who came up with this brilliant concept: Natasha at 5 Star Foodie &  Laz at Lazaro Cooks!