This Fiji Traditional Food Find is quite unique and so delicious. If you are a fan ceviche you have to try this creamy Fijian Coconut Milk Ceviche.
This month the Eat the World Challenge is heading to paradise, the Fiji islands.  Gosh, I really hope I can make it there one day. Being an island, seafood and fish is an obvious guess as to what Fijian recipes must look like. And that is what we are doing today, but with a recipe, we usually identify more with Peru (no connection). Kokoba is one of the best ceviche recipes I have tried. It's a perfect Fiji Traditional Food to try.
Also, if you think Poke bowls are so yesterday, this may be your next obsession.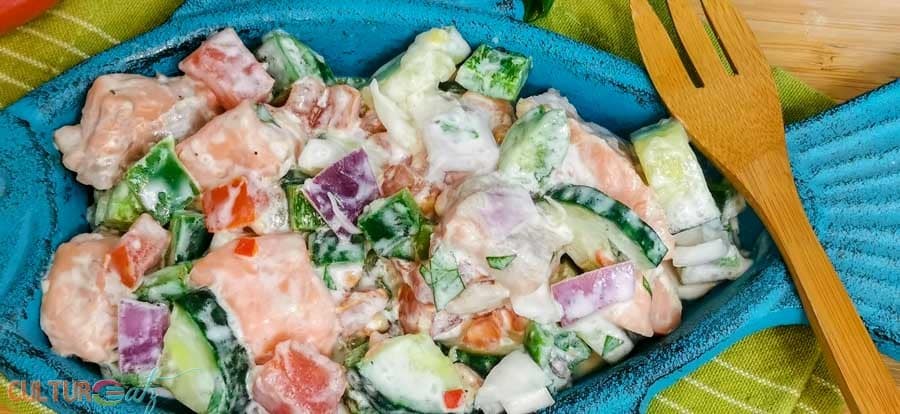 Similar to most fish ceviche recipe, this Fiji food recipe asks very little: some cubed raw fish into, citrus marinating liquid to cook the raw fish dish, and a handful of other chopped vegetables like onions, cucumbers or tomatoes.
What could be more perfect for the Fiji natives? It's simple to make and all you need is a knife and a bowl. And a coconut. That is the kokoda way.
Fiji Traditional Food: what is the best fish for ceviche?
Every country has its favorite raw fish recipe and the fish to go with it. Mahi Mahi is an abundant fish in Fiji, and it's a great fish for any ceviche, particularly the best recipe for ceviche in the plethora of Fiji cuisine.
The Mahi Mahi 's firm pale flesh is made for ceviche as it holds its structure throughout the curing process. But it is an expensive fish and not available everywhere, so here a few substitutes you can use below.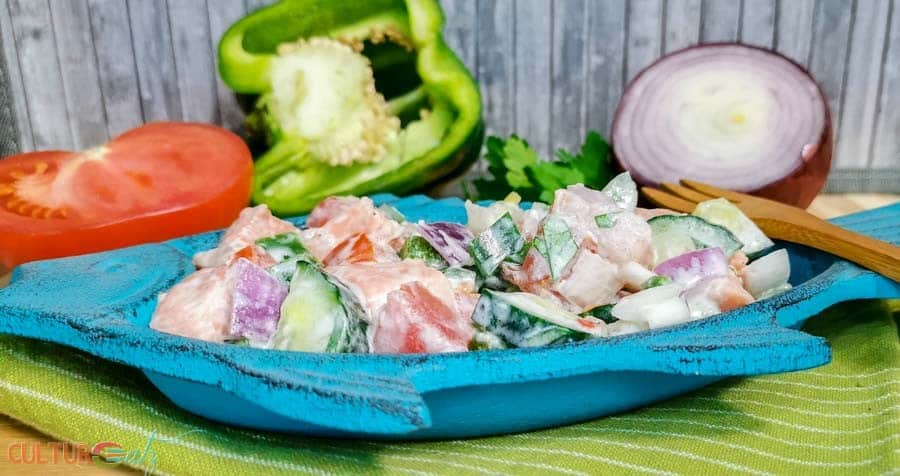 A white firm-fleshed seawater fish is what you need. Good choices include grouper, bass, sole, or flounder. None of those hit my radar at the grocery store so I went with salmon. I have made ceviche with salmon before and it was a success.
What you do want to avoid are oily fish, such as sardines, mackerel, tuna or jack. And freshwater fished can have a muddy flavor.
A fair warning, although the fish is cooked in citrus, it has not been heated, therefore one cannot guarantee your fish is free from any harmful parasites. Just make sure to aim for a very fresh fish with no strong smell.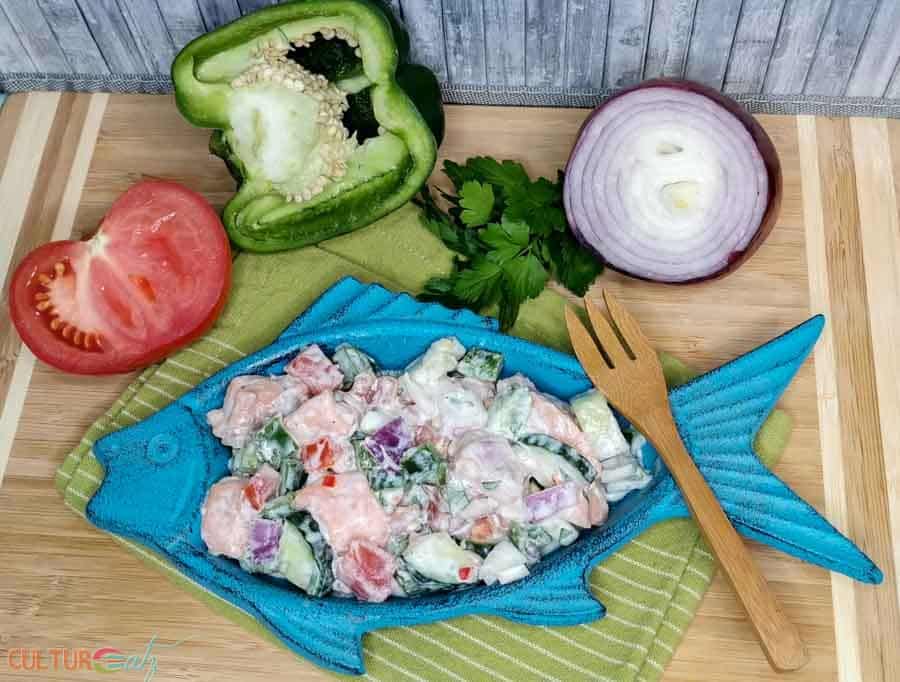 Fiji fish in coconut milk, say what?
A couple of notes on the recipe…
Please ensure that you uniformly cube the fish in pieces of about half an inch big. It's very important to keep the size even as to ensure the fish "cooks" evenly.
I added salt and pepper and the end to add a bit more flavor. The article I based my recipe from suggested a fish sauce which I think is a great idea. But it makes it less authentic.
And the bizarre coconut fish recipe. Ceviche with milk, coconut milk, but still. Not a combination that comes naturally. But there is actually a very pleasant balance between the acidity of the citrus fruits and the richness of the coconut milk.
If you think the balance is off due to too much coconut milk,  just keep a few lime wedges around when serving to your guest. This way they can zest up the ceviche to their liking.
Besides lying on the beach with no plans for the day but to rest, enjoying a bowl of five of Kokoba is one of the best things to do in Fiji.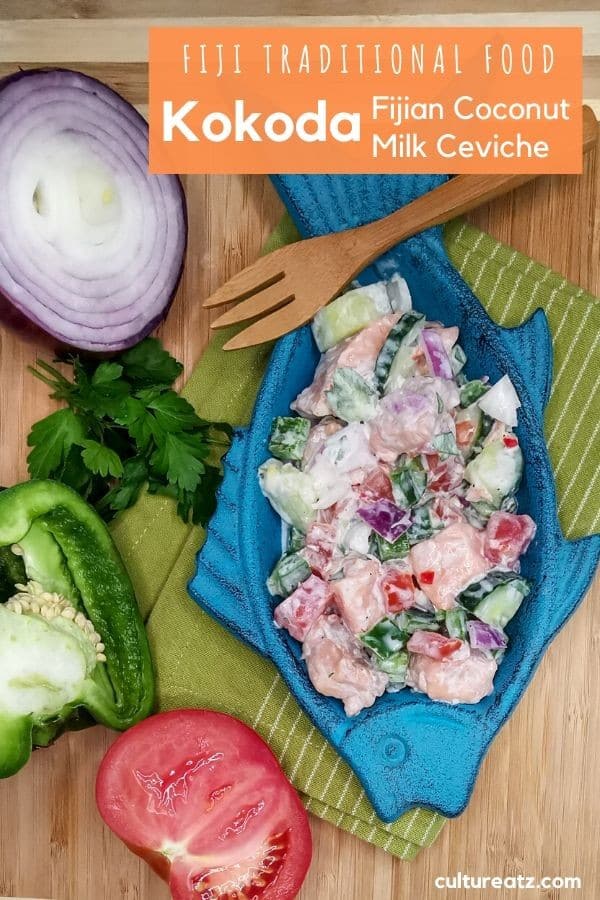 Kokoda: Fijian Coconut Milk Ceviche
This Fiji Traditional Food Find is quite unique and so delicious. If you are a fan ceviche you have to try this creamy Fijian Coconut Milk Ceviche.
Ingredients  
1

lb

fresh Mahi Mahi fillet

cubed (or see substitutes in the article)

4

limes

juiced

2

lemons

juiced

1

cup

coconut milk

1/3

medium red onion

finely diced

1

medium sized green bell peppers

finely diced

1

Persian cucumbers

finely diced

1 to 3

long red chilis

finely diced

2

tablespoons

parsley

finely diced

2

Roma tomatoes

finely diced
Instructions 
Place your cubed fish in a mixing bowl, cover with the citrus juices, making sure the fish is completely submergerd. Cover annd refrigerate for at least 3 hours. It is ready once the fish is opaque.

Drain the citrus liquid and pour the coconut milk over the fish.

Add all your chopped vegetables, peppers, and parsley, then stir well.

Serve your kokoda ceviche cold in small bowls.
PIN IT HERE for Later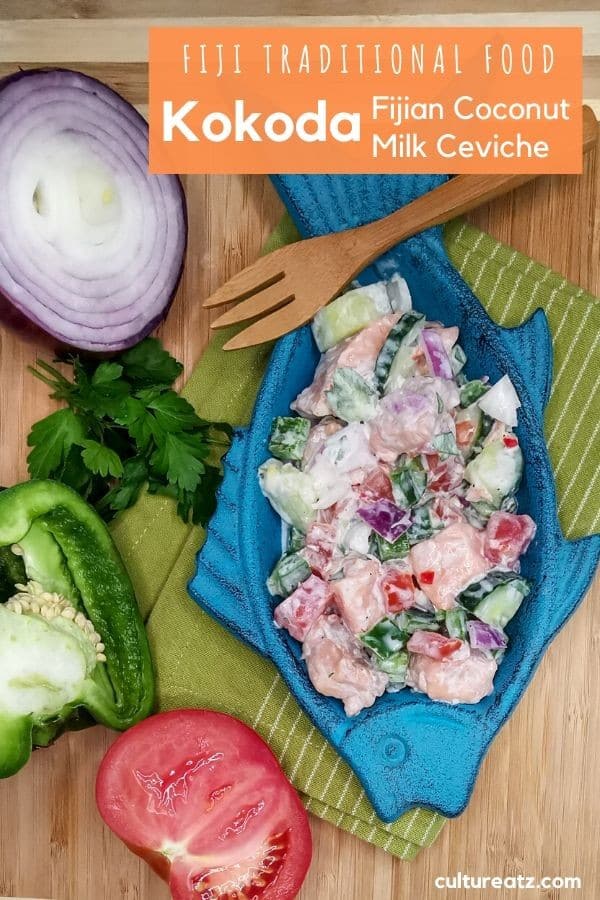 Eat the World Challenge
Check out all the wonderful Fijian dishes prepared by fellow Eat the World members and share with #eattheworld. Click here to find out how to join and have fun exploring a country a month in the kitchen with us!
Palatable Pastime: Pawpaw Curry with Lolo
Making Miracles: Lolo Buns
Culinary Adventures with Camilla: Fijian Food for a Crowd: Curry, Pulao, and Cassava Cake
Dinner By Dennis: Palusami
Sneha's Recipe: No Oil Or Butter Fijian Coconut Bread
CulturEatz: Kokoda, a Fijian Coconut Milk Ceviche
Pandemonium Noshery: Fijian Banana Cake with Dates and Coconut
Amy's Cooking Adventures: Fijian Creamy Lentil Soup (Dhal)
Kitchen Frau: Spiced Sweet Potato and Banana Salad
A Day in the Life on the Farm: Kokoda