I recently discovered a monthly challenge group which could not have fallen any closer to my epicurean interests. The International Food Challenge group was created to explore the cuisines of the world, as well as the heritage of those country. A monthly host pics a part of the world and shares with us a few of the local recipes to make on our own.
For my first time participating we were assigned California Cuisine and I chose to go with the California Pizza suggestion with a Fiddlehead and Wild Asparagus California Pizza.
Our host this month for the California Cuisine is Joanne from Whats on the List. It is actually through Joanne, a wonderful fellow blogger friend,  that I found out about this group.
California cuisine can basically be explained with only two elements: fusion cuisine and local ingredients. One will notice a lot of attention put into presentation, as well as an abundance of produce, seafood and lean meats. The fusion aspect is greatly influenced by French, Italian, Mexican, Chinese and Japanese cuisine. Classic California dishes include Cobb ans Crab Louie salads, sourdough breads, California sushi rolls and the California Pizza. This dish is usually a single-serving pizza that combines New York and Italian thin crust, with fresh and original toppings rather than the traditional ones we know.
I have been to California 4 times: 3 times to San Francisco (visiting a friend who lived there) and another time during a road trip were some stops included LA and San Diego. One trip on my bucket list is to drive down the whole Pacific Coast. Alas I do not recall having tried a California Pizza back then. I hunted for my photo albums and I was obviously still not a foodie because I had almost no food pics.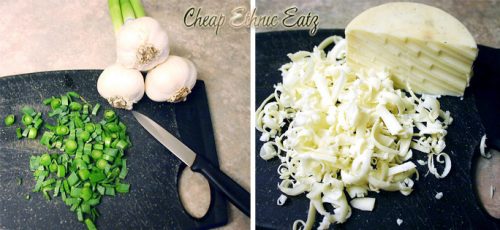 Since a California Pizza consist of original toppings I went with one of Quebec's current seasonal produce: fiddleheads. This vegetable is the furled fronds of a young fern and it is know for its curled shape which resembles the head of a violin. They are only available in late spring for a few weeks so it is best to buy a big bunch to blanch and freeze. I also used chopped stems from fresh garlic bulbs in lieu of onions,  wispy wild asparagus and my very own homemade Romano cheese. I did cheat on the crust: I am just not the biggest fan of pizza dough so I went with my fave: puff pastry.
To prepare fiddleheads one must cut off the brown bits, rinse well twice and boil or steam them very well. They are said to contain an unknown toxin that can cause some people to get sick. It is recommended that they should be boiled for 15 minutes or steamed for 10 minutes. That said, I have eaten fiddleheads my entire life and I have never gotten sick. I usually boil them for about 5 minutes, in my opinion more than that you kill the experience.
The International Food Challenge is a joint effort by Sara from Sara's Yummy Bites and Shobana from Kitchen Secrets and Snippets. Check out their Facebook Group where the challenges are announed.
Fiddlehead and Wild Asparagus California Pizza
Ingredients  
1

teaspoon

olive oil

1

stem from a fresh garlic bulb

chopped

half a sheet of puff pastry

thawed

1-2

cups

Romano cheese grated

9

fiddleheads

blanched

asparagus stalks

wild ones even better

salt and pepper
Instructions 
Heat the oil in a pan over medium heat and cook the garlic stalk until tender. Salt and pepper to taste.

Place puff pastry sheet on a baking tray lined with parchment paper. Sprinkle the cheese on top. Place fiddleheads and asparagus decoratively. Top with garlic stalk.

Bake in a preheated 400F the cheese has melted and the puff pastry is golden, about 20 minutes.