Now you all know how I love ADORE trying unknown foods. My favorite activity in Chinatown is to scout out a food I am unfamiliar with – sometimes I don't even have the name since the tag was in Mandarin or something – and take it home, research it and eat devour it.
It really started this summer after reading a book called The Fruit Hunters by Adam Leith Gollner. Just so happens he is a Montrealer. Driest read ever but I learned so much about exotic fruits, most I will never see or taste. But I was determined to hunt out a few in my local ethnic grocery stores.
One of the first finds, mentioned many times in the book, I came across was the mangosteen. I even have a picture of the first bunch I saw in Toronto's Chinatown. I was completely mesmerized by these stunning purple orbs. What could they taste like? Needless to say I bought a few.
The mangosteen grows on small evergreen trees in Malaysia, Thailand, Indonesia and southern India. The inedible  rind of the fruit is deep reddish purple when ripe. The fruit is about the size of a tangerine and the edible part has segments just like any citrus fruit. The flesh is white. It is really hard to describe the taste as nothing else really compares, but the best I can say is the taste is sweet and tangy, citrusy with notes of caramel and butter, also peach like. Confused but curious yet lol?
Well it is one of the most refined fruits I have ever tasted and I was happy to learn I was far from being the first person to be so enamored with the mangosteen fruit. There is a legend about Queen Victoria offering a reward of 100 pounds sterling to anyone who could deliver to her the fresh fruit. This legend has earned the Mangosteen the nickname "Queen of Fruit". If you want to taste it your best bet is to go to your nearest Chinatown when the fruit is in season because you will not find it in your local grocery store. If it is not in season Asian grocery stores usually sell canned or frozen mangosteens.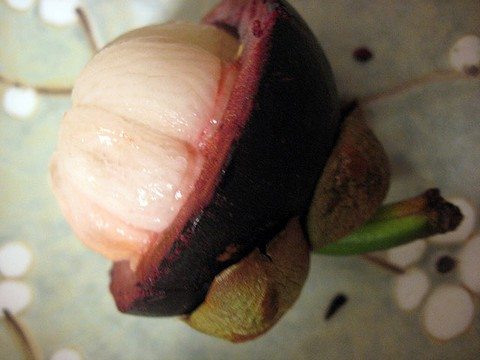 Now the fruit has also been used for centuries as a medicinal tool. Humans have claimed the fruit can cure or aid everything from dysentery, eczema, diarrhea, cystitis, gonorrhea and urinary disorders. In our modern age inventors and investors have taken the mangosteen to the science lab. It turns out the fruit, mostly the rind,  is full of antioxidants and over 40 xanthones which are under study for potential disease amelioration effects. Honestly at this point nothing has been proven and the potential health benefits of fruit are now at the center of a debate. Only 6 xanthones have been studied yet and no actual clinical trials have been done yet. This potential ' cure-all rejuvenation' fruit remains speculative.
But if it tastes good and it may keep you healthy why not have some! Most mangosteen juice products contain whole fruit purée, including some healthful extracts from the inedible rind. One such company is XanGo and the people at Xango were kind enough to send me a bottle of Mangosteen juice for me to try out.
I believe they are the first to bring mangosteen juice to an international level. I just love the elegant bottle and the gorgeous burgundy color. The taste of the juice is not comparable to the fruit I have to say because of the tartness of the rind…but that is where the health benefits are. It is still a lovely juice to enjoy for sure.
Now this is not the kind of juice you want to guzzle back from a large glass. I was actually a little surprised when I saw the daily recommended dose of 2 to 6 tablespoons per day! Almost sounds like medicine. Now I understand why they say a bottle can be good for over a week per person.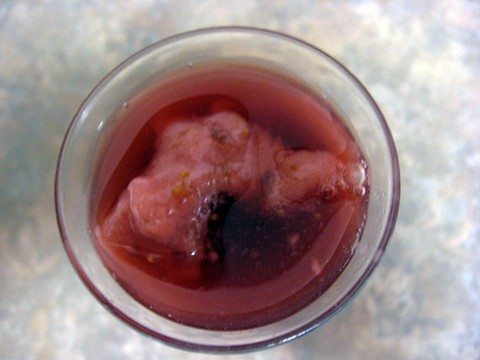 Now you won't find this juice in a store either, it is sold through private distributors, mostly online. And it has the price of medicine too. A bottle averages around $37 (or around $120 for a 4-pack). I was sent some recipes for XanGo juice that included Xango Turkey Meatballs, Xango Cream Cheese and Berry Pie and a Xango Tropical Salsa. But I decided to hoard my bottle for the daily usage and see if I feel any healthier in a week or so. I did try the juice out on a bit of homemade fig ice cream and the tartness was a perfect contrast to the sweet iced treat.
Obviously it is not a product, at least for now, that can suit every budget but in time and with popularity the price may go down and it will become more accessible. If you can afford it then why not try it once and see what you think.
I have my daily shot in hand and I send a toast to your health!