Please accept this very simple post that I have prepared while I am away on vacation. Simple it is but delicious.
This happens to be my 700th post! A momentous occasion! I can't wrap my mind around that concept, 700?
When I had my friend over for brunch last weekend, I served her homemade Brown Sugar Bacon Waffles. But I had to serve a little something more on the side to complete the brunch experience. By pure chance I came across a picture on Facebook of eggs cooked in the ring of a bell pepper. Brilliant!
No recipe here, just cut a ring from a bell pepper, what ever color you like. rush your pan with olive oil and heat. Place the ring in the pan and break an egg in the ring while holding the bell pepper down briefly. Add anything you want: I added a sliced tomato and a small portion of kimchi, plus a dash of salt and pepper. The trick here is to cook on a med-low heat. I call them Egg in a Gorgeous Bell Pepper Hole.
Beautiful berries to go with the brunch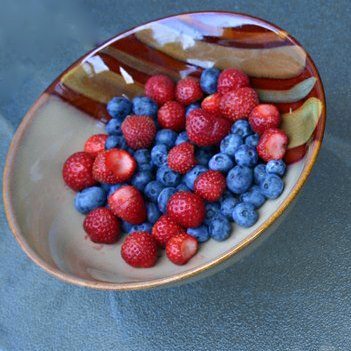 Since it is so freaking hot right now I was not going to serve hot coffee. I love cold brewed iced coffee actually but I have struggled to find the right recipe for it. Well I finally found one the works, recently posted by Faith and An Edible Mosaic. I think the secret is leaving it on the counter overnight and not in the fridge. Sublime cold coffee, you have to try it.