Our October 2010 hostess, Lori of Lori's Lipsmacking Goodness, has challenged The Daring Cooks to stuff grape leaves. Lori chose a recipe from Aromas of Aleppo and a recipe from The New Book of Middle Eastern Food.
Stuffed grape leaves are a part of many cultures including the Syrians, the Turks, the Greeks, the Lebanese, the Albanians, the Israeli's, the Iranians, the Iraqis and the Armenians (just to name a few). Generally speaking the stuffed part could be in zucchinis/courgette, eggplant, tomato or peppers. Really it also extends to stuffing certain types of fish as well. It is suggested that the origin of stuffed grape leaves goes back to the time when Alexander the Great besieged Thebes. It has also been suggested the Byzantines refined and spiced up the recipe and used the leaves of other vines such as hazelnuts and figs.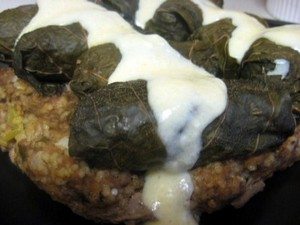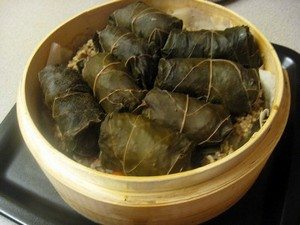 So yeah if you get a feeling of "déjà vue" your are correct. I am fessing up at least lol. I did this recipe about a month ago for the first time in my life prior to knowing this was going to be the October challenge. I even picked the leaves fresh out of my friend's backyard. And with time constraints well I am going to use those pics and call it a done challenge. Forgive me? **batting eyes**
Preparation time: The recipe will take up to 2 hours, depending on how fast you roll. You can freeze them before boiling if you want to try to do half of the recipe ahead of time.
If you want to see the recipe given for the challenge go here. But this is what I did a month ago, to see how to prepare fresh vine leaves go here or get a jar of store bought ones. Then do your filling.
Cousous and meat filling
ground beef
couscous
1 egg
onions
garlic
tomatoes
ginger
coriander
cumin
salt, pepper
Cook couscous as per package. Mix everything in a bowl with your hands.
Trim stem off. With  with shiny of leaf down, place a small spoonful of prepared stuffing at the stem end of the leaf, roll about one turn. Fold in the two sides. Continue rolling to the tip of the leaf. The package should be firm, but not tight, as the stuffing will expand while cooking.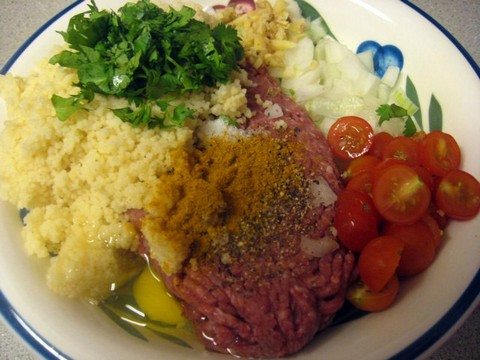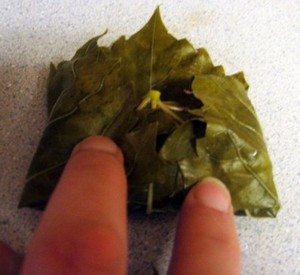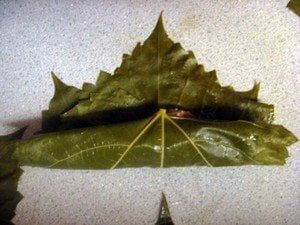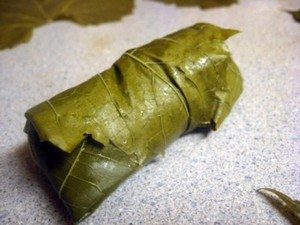 I steamed mine. I did no have enough leaves for all the meat so I lined my steamer with parchment paper and flattened my leftover meat on the bottom…like a thin meatloaf. Then I placed the rolled leaves with the seam side down. I placed the basket in a large enough pot with 2-3 cups of broth. Once the broth was boiling I lowered to simmer and steamed about 45 minutes covered.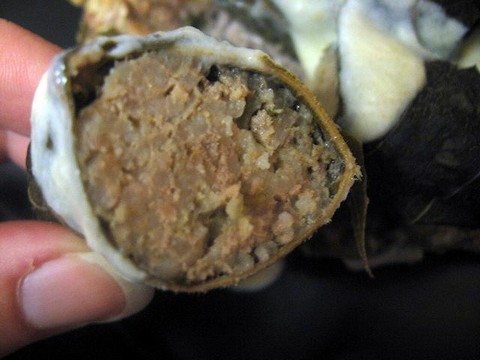 Finally I prepared a quit sauce to serve with….
Egg and lemon sauce, Greek style:
2-3 eggs, separated
1 tablespoon of water
juice of 2-3 lemons
broth from the dish being cooked (or hot beef or chicken broth or stock)
Beat the egg whites until foamy. Beat in egg yolks, water, lemon juice, and 2-3 ladle full of broth, beating continuously. Transfer mixture to a small saucepan and heat gently. Whisk while heating, until mixture thickens enough to coat the back of a spoon. Do not boil.